DJ Cedric Gervais feeds off Vegas' 'crazy energy'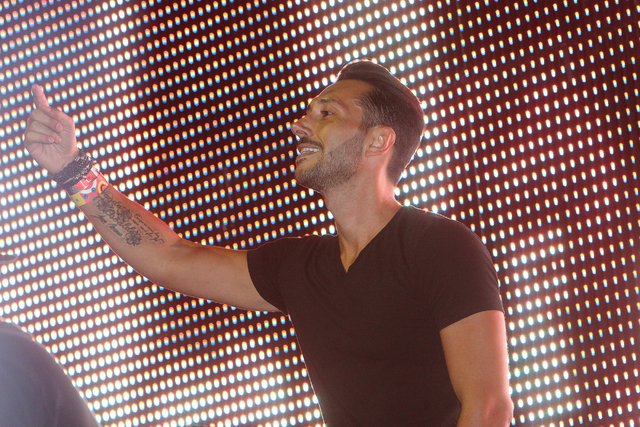 Grammy award-winning DJ Cedric Gervais won't be feeling any summertime sadness at Marquee Nightclub this month.
When he took home the gold gramophone in 2013 after remixing Lana Del Rey's hit "Summertime Sadness," it was the most pivotal time in the French DJ's 15-year electronic music career.
"Winning a Grammy was the proudest moment," he answered without hesitation in March.
Now, the Miami-based DJ has a residency at The Cosmopolitan of Las Vegas club, where he brings that talent monthly to the booth.
"Every week it's something different," Gervais said of Las Vegas. "It's so international."
And of Marquee — "this club was built for electronic music," Gervais attested, citing its production and DJ setup.
It's also a long way from where he got his start.
In the south of France, Gervais' father owned nightclubs, where Gervais would listen to and fall in love with house music, he said.
At 13 years old, he became interested in performing, started shopping for records, and first dreamed of the night his father would allow him to spin in one of his clubs.
That didn't happen for another three years.
He never grew out of it and says DJing continues to be his main passion, because of travel and the chance to make people happy. Producing is a close second.
From the booth, Gervais says, he constantly scans the room to get a feel for the crowd. When someone doesn't appear to be having a good time, "it drives me nuts," he said.
Trap music also drives him nuts.
"Everybody's doing basic s—- now," he replied when asked who influences him, saying he's not a fan of today's hip-hop beats.
In the past he's found inspiration in artists like Daft Punk and in the EDM scene where he grew up.
Being raised around the French house music scene cultivated an appreciation that he doesn't believe he would have gotten in America, he said.
But Americans have jumped on the EDM bandwagon, providing another stage for electronic DJs to perform on.
"There's always crazy energy," he said of the scene in Las Vegas.
The same can't be said for every one of his sets, though.
Gervais said he's made a few non-crowd-pleasers — and then remixed them.
"I tried, I think it's going to be great, and I don't see any reaction," he said of playing songs he thinks will be hits that don't end up wowing audiences.
Then, he goes back to "tweak" it until it satisfies.
"That's the beauty of it," he said.
Gervais performs at Marquee on Saturday and April 8.
Contact Kimberly De La Cruz at kdelacruz@reviewjournal.com or 702-387-5244. Find her on Twitter: @KimberlyinLV