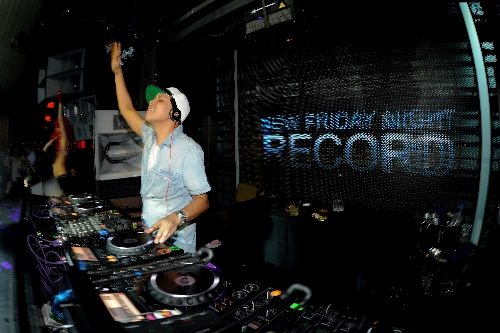 Many successful musicians toiled at day jobs before they worked their way up. Brandon Flowers was a bellhop. Jack White was a furniture upholsterer. DJ Chuckie was a barber.
Chuckie — the Dutch House DJ who plays club Marquee on Saturday — swears he was follicularly gifted.
"Before I got my break, I was barbering my way to the record stores. I was cutting hair. With the little money I made, I bought records.
"You gotta hustle," he says. "But my profession was music, so the moment I could drop it, I dropped it."
He still gives himself trims on the road.
"As a matter of fact, one time I did an interview while I was cutting my hair," he says.
There actually is a point to this day job story. Chuckie — Clyde Sergio Narain, 33 — sharpened his work ethic in the barbershop, then took that ethic with him into music to forge a huge career.
The DJ-producer has remixed songs by Rihanna, Bassment Jaxx, Enrique Iglesias, Lil Jon, Pitbull and fellow DJ-producers from David Guetta to Sidney Samson.
A native of South Africa who moved to the Netherlands, he has spun Dutch House music at Marquee throughout 2011.
In 2012, he is contracted to return as a resident DJ at Marquee and Marquee Dayclub, plus a few Tao gigs.
He loves Vegas for the energy, high-quality sound systems and the occasional Vegas-only attention to detail, such as women rolling around in rose-petal bathtubs at Tao.
"You don't see that anywhere in the world," he says about those bathtub girls.
He says DJs also feel free late at night/early in the morning to spin the music they themselves want to hear.
"Everything is a big blur after 3 o'clock," he says. "That's why DJs have fun. We get to play whatever we want after a certain time because people will enjoy it."
Chuckie was a headliner at this summer's Electric Daisy Carnival. He liked it so much, he wants other DJ events to relocate here, too.
"I think they should move the Winter Music Conference to Vegas," he says of the weeklong WMC in Miami every March.
"Vegas has got the outlets, the pools — everything," he says. "Or, Vegas should start their own Winter Music Conference. The possibilities are endless."
Chuckie's own personal goal for 2012 is to produce more mainstream songs for pop radio.
"This year, I was more in the clubs and not really on the radio, so" he says. "I'm gonna have fun with it, and just try to be more on the radio."
He's got a head start with his poppy new single "It's Not You (It's Me)," a collaboration with T-Pain and Pitbull.
This weekend, since he's spinning late Saturday at Marquee, this means his gig will turn into Christmas morning, come midnight. It will be his first Vegas Christmas, and without his family.
His kids are flying to South America with their grandma for the holiday.
"I'm going to be lonely without the family," he says. "But the good news is I'll spend all of January with them in the Caribbean."
Wow, a month in the Caribbean. That's how you turn a good work ethic into tangible rewards.
Doug Elfman's column appears Tuesdays, Thursdays and Fridays. Email him at delfman@reviewjournal.com. He blogs at reviewjournal.com/elfman.