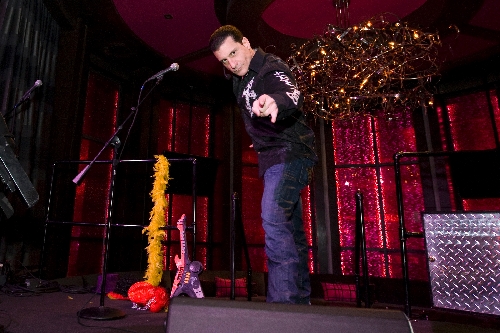 James Zito brings to his weekly karaoke sessions at Aliante Station's ETA Lounge a wealth of useful show business experience.
He's a DJ, of course (nom de turntable: DJ Jimmy Z). He's an actor whose list of credits includes a number of movies and shows.
And, given how weird karaoke nights can get, even Zito's experience as a stunt man could, conceivably, serve him well someday.
Zito originally is from Long Island, N.Y., and his earliest artistic leanings actually were toward drama. But he also liked music — he was in the school choir and played bass drum in the marching band — and, around the age of 18, discovered DJing.
"I started hanging out with different DJs in New York," Zito says. "They offered me the chance to have some gigs on my own, and I did, and I loved it.
"I used to do different things with reel-to-reel, and I used to mix with three turntables when I was in New York," where he worked in some of the biggest clubs, he says.
Around the same time, Zito also began to pursue an acting career. In 1989, he moved to Las Vegas, mostly because the cost of living in New York had become too painful but also to "keep me closer to Hollywood."
And, even as he continued to pursue an acting career, Zito began DJing around town. He's been doing the Sunday night karaoke event at Aliante Station for about a year and also performs in Laughlin on Friday and Saturday nights.
Zito enjoys the improvisational nature of hosting karaoke. "I never know what my audience will be like," he says.
He spices up the evening with bits — an "Aliante Idol" competition was, he said, a popular touch — and occasionally will sing backup for the performers and organize dance breaks.
The trick, Zito says, is to ride with "whatever the mood is. I'll go from rock 'n' roll to disco to old school up to today. Whatever the crowd is into.
"We just have fun," Zito says. "We've created, like, a family of people that come out.
"It's a great safe haven for them to meet and greet friends and family."
"Karaoke with DJ Jimmy Z" begins at 8:30 p.m. Sunday at the ETA Lounge at Aliante Station, 7300 Aliante Parkway, North Las Vegas.