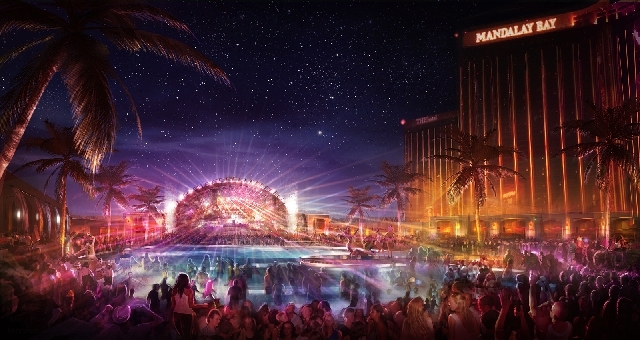 The nightclub scene in Las Vegas has become the most amped-up game of one-upmanship in town.
Last month, Hakkasan nightclub opened at the MGM Grand. But that was so last month.
This Wednesday, the Light Group will open Eclipse — a 50,000-square-foot, nighttime pool party at Mandalay Bay.
And Eclipse's debut performer is Axwell, also known as one-third of international hit-makers Swedish House Mafia.
The beach club is laid out "almost like an optical illusion," says Colin Comer, a vice president at Light Group.
"When you walk in, it doesn't seem overly big," he says.
That's because of a series of curves that make it feel intimate.
But then?
"When you look out over the stage you go, 'Wow, this is huge,' " Comer says. "You look at the (concert) truss and the half-shell stage and you go 'I'm here for an event.' "
Just to be clear about all of Light Group's new properties at Mandalay Bay:
■ This Eclipse night pool party will be open every Wednesday night and on holidays, catering not just to tourists but to industry workers and locals.
■ That same pool club will serve as the location for Light's new dayclub named Daylight Beach Club (starting May 24), and Daylight will be open Fridays-Mondays, for starters.
■ Also on May 24, Light Group will open its new Cirque du Soleil-themed nightclub Light inside Mandalay Bay (where rumjungle used to be).
All three of those clubs — Eclipse/Daylight/Light — will feed off of the same roster of resident DJs, including:
Skrillex, A-Trak, Zedd, Axwell, Bassjackers, Alesso, Andy Caldwell, Baauer, Carl Kennedy, Clockwork, Krewella, Mat Zo, Nicky Romero, Otto Knows, Sebastian Ingrosso and Thomas Gold.
Comer says Light Group is trying to make venues friendly to revelers, whether they buy a table or arrive via general admission.
"Either way, we're trying to make the experience as pleasant as possible, and not dealing with bull," he says.
That includes (theoretically) easy parking. Valet for Eclipse/Daylight will be right off Las Vegas Boulevard next to the Four Seasons.
"That's good for locals," Comer says. "Sometimes, you go somewhere and you have to park and walk a mile away to get there. For us, you pull right up to valet and you're there."
The new Light nightclub should be easy to get to, too, since the line forms there the moment you walk into Mandalay Bay from the parking garage (or The Hotel's valet).
The overall idea is for the new Light Group spots to feel upscale and sophisticated but accessible enough to let loose.
So Light Group really wants people to see Eclipse when it launches this week.
"Seeing the club for the first time, no matter what, will be a powerful experience. But seeing it under the stars with that production will take it to the next level," Comer says.
If you go, club executives want you to notice Eclipse's half-shell stage, with its massive lighting rig and sound setup, because it was made for concerts and patterned off of a popular DJ concert stage in Ibiza.
Comer says the Eclipse stage proves how different this venue is than other nighttime pool parties in Vegas, because Eclipse/Daylight was designed first as a club — whereas other pool parties on the Strip started as pools and were retrofitted as club spaces.
"When Daylight was conceived and built, it was inspired by these iconic nighttime pool parties in Ibiza," Comer says.
So naturally, there will be light-emitting diode screens and other crazy visuals, plus production costumes designed by David and Cathy Guetta's designer.
Each new Light Group space was built with input from DJs, who offered ideas about everything from the height of the DJ booth to the layout of stages.
And the DJs persuaded Light Group to build them a little something extra: a green room at Light for pre- and post-performance hanging, with a video feed so DJs can watch the debauchery in comfort.
Doug Elfman's column appears on Page 3A in the main section on Mondays, Tuesdays, Thursdays and Saturdays. He also writes for Neon on Fridays. Email him at delfman@reviewjournal.com. He blogs at reviewjournal.com/elfman.