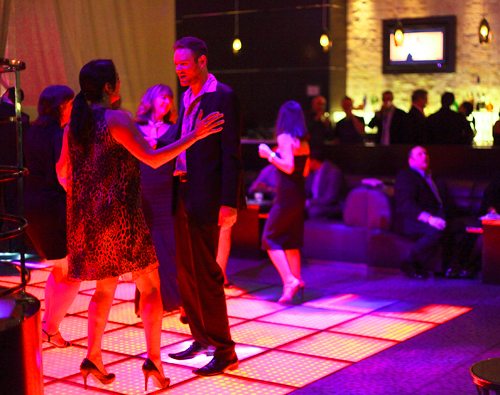 Mandalay Bay offers aficionados of nightlife several venues at which to play. And for those seeking a somewhat different vibe — a more intimate but just as high-energy — there's Eyecandy Sound Lounge and Bar.
Eyecandy, which opened in 2007, provides guests with a contemporary and colorful twist on the classic Las Vegas cocktail lounge, with woods and metallic accents augmented by several high-tech toys.
The idea is to meld the best of a lounge and the best of a nightclub in one package. Jeff Yedlin, Mandalay Bay's food and beverage director, notes that Eyecandy is "a place to dance and a place to mingle and a chance to network without having to go into a nightclub."
Befitting its loungeish qualities, Eyecandy is equipped with two large-screen, high-definition TVs and 10 smaller TVs, Yedlin says.
"We'll put those on for big games, and when there's no sports … we use those TVs for music and videos."
Then, as day turns into evening and then into nighttime, the energy level at Eyecandy amps up, creating the feel of a sort-of nightclub that's a bit more intimate than the usual Las Vegas venue.
DJs play each evening — video jockeys join in on weekends — with a musical menu agile enough, Yedlin says, to encompass classic rock and whatever else crowds might wish to hear.
But that's just the start of Eyecandy's techno-cool. The club also features a variety of visual touches, including large video screens on which images and designs are projected and a dance floor that features changing color patterns.
Interactive touch tables offer guests the ability to create and project visual designs of their own, communicate with other tables and even view camera feeds from throughout the room.
And, Yedlin says, "If a guest has an iPod, they can hook it up and send songs to the DJ."
Bottle service begins at $200, Yedlin says, and Eyecandy offers "a very contemporary menu" that includes infusion drinks and an assortment of premium vodkas and tequilas.
Doors open at 11 a.m. daily, but Yedlin says Eyecandy "gets lively after 9 p.m., particularly on Friday and Saturday nights."
There's no cover or admission.
Eyecandy is located at Mandalay Bay, 3950 Las Vegas Blvd. South. For more information, call 632-7985.
Contact reporter John Przybys at jprzybys@ reviewjournal.com or 702-383-0280.
Slide show