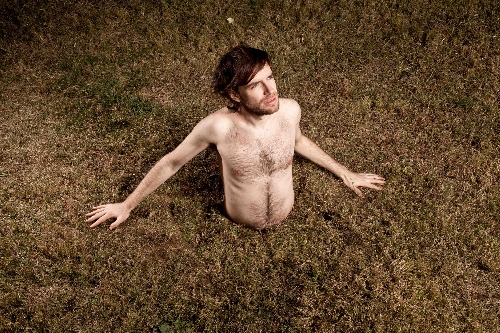 As you know, DJs remix new songs out of existing hits. But they also remix other artists' remixes. Sometimes, they remix the remix of the remix. Being a DJ is very meta.
A great example is Gregg Gillis, who performs under the name Girl Talk.
"I have sampled Kraftwerk – but simulating Afrika Bambaataa sampling Kraftwerk," Gillis, 30, says.
"That particular Kraftwerk sample – and that Afrika Bambaataa sample – have been used hundreds or thousands of times in the course of electronic music history.
"So me going back and re-creating things like that – I felt like that was pretty meta."
On Sunday, he performs at downtown's AfterGlow block party following the 6 p.m. GlowRun 7k race. If you go, don't expect to hear him just spin David Guetta and Deadmau5 hits.
Instead, Gillis, from Pittsburgh, blends pop, hip-hop and other familiar pop culture touchstones. His music works as pure entertainment, but it's also a form of accessible avant-garde performance art.
His first big splash came in 2006 when he remixed a Girl Talk song out of: A) the a cappella from Notorious B.I.G.'s "Juicy"; B) the instrumental from Elton John's "Tiny Dancer"; and C) the drums from Nirvana's "Scentless Apprentice."
Then in 2008, he cut together a new song by sampling the drums from Roy Orbison's "Pretty Woman" – partly as an ode to 2 Live Crew, because Orbison's publisher sued 2 Live Crew for sampling bass lines from "Pretty Woman."
"I wanted to use the drums, because I like the drums. But I was also well aware of the legal history of it. So it was a wink-wink, nod-nod to the history of that song," Gillis says.
Orbison's publisher lost that lawsuit against 2 Live Crew when the U.S. Supreme Court ruled it was a "fair use" parody of "Pretty Woman."
"Fair use" is how Gillis legally records new remixes out of other people's original songs.
For years, various journalists expressed surprise that no one ever sued Gillis.
But Gillis tells me he's never received a cease-and-desist letter. In fact, some musicians request that he remix their songs.
"You don't know whether it qualifies under 'fair use' or not until you're taken to court," he says.
But Gillis feels as if he is on solid legal ground.
"Doing an unsolicited remix used to be radical, or crazy," he says. "Now it's pretty common. And I think a lot of these labels see it as a potential tool to get their music out to a bigger demographic."
Here's one other thing you should know if you go see him on Sunday. He's known to take off his clothes. But not all the way.
"I have been wearing a sweat outfit every show for at least the past five years. The shows get really physical. I need something I can either throw away or ball up and put in a trash bag in my luggage," he says.
He hasn't stripped down to a G-string in years.
"I've only done the G-string once, and it was 2004, and I think there were only 30 Japanese people in a karaoke studio that saw it."
Doug Elfman's column appears Tuesdays, Thursdays and Fridays. Email him at delfman@reviewjournal.com. He blogs at reviewjournal.com/elfman.