Home a series of stopping points for Kaskade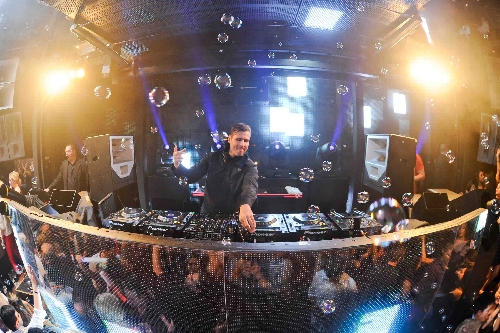 Kaskade originally was a Chicago kid so he still has the accent, even though he has lived out West for so many years, he's associated with Vegas, San Francisco, Utah and Los Angeles.
"I grew up in Chicago, so I'm still freaked out when there's five days of sun in a row," he told me one day from his backyard in L.A. "I'm like, 'Oh my gosh, it's still sunny.' "
I once lived in Chicago, so I told him I couldn't handle all the beer, bratwurst and brrrr.
"It's cold," said Kaskade (Ryan Raddon). "The weather is miserable. But I love it, and I miss it dearly.
"The thing is, I left 20-plus years ago, after high school, so I've romanticized it in my head. But I go back all the time."
I agreed with him that it's easy to make friends there. Everyone's friendly, to strangers especially.
Anyway, Kaskade, 41, moved to Utah, then San Francisco for 10 years, only to eventually relocate closer to the music industry in L.A.
"I really miss San Francisco too. San Francisco is like a sister city to Chicago – another place where people are nice and there's great food."
He's been living in Los Angeles for three years. But he's in Vegas and other locations so often, L.A. barely feels like home. He performs Saturday at Marquee and headlines at the Electric Daisy Carnival this weekend.
"I tour so consistently and nonstop that the idea that I live anywhere is fleeting – a couple of days here, a couple of days there," Kaskade said.
So at this point, he's happy that in L.A., "I don't get lost on my way to my house."
"The weather is amazing. The studio is here, so it's easy to get work done."
And so, after being on the road constantly (as are all famous DJ-producers), he sees home as a series of stopping points:
"I still really love coming home (to) San Francisco, L.A. and Vegas."
Doug Elfman's column appears Tuesdays, Thursdays and Fridays. Email him at delfman@reviewjournal. com. He blogs at reviewjournal.com/elfman.
Go ahead, DJs, make my sleigh
The field of electronic dance music has finally boomed commercially, but it still hasn't yielded holiday music, as every other music genre has.
A decade ago, Kaskade helped put together "hOMe for the Holidays" for OM Records.
Kaskade produced versions of "Peace on Earth" and "Still, Still, Still," but other musicians (Sutro Heights?) did not go onto contemporary superstardom as he did.
Anyway, I told Kaskade I want him to make a new Christmas/holiday album. "I need to. … I would love to do one," he said. "I kind of curated that (OM album). That was my idea.
"It's all a matter of finding the time. Because you need to write the Christmas album in the middle of summer, and that's when I'm touring the most."
OK, DJ-producers: There's my challenge to you all. We need some high-rpm (plus ambient) holiday tunes. Go.
— Doug Elfman