How dayclubs became integral part of Las Vegas party scene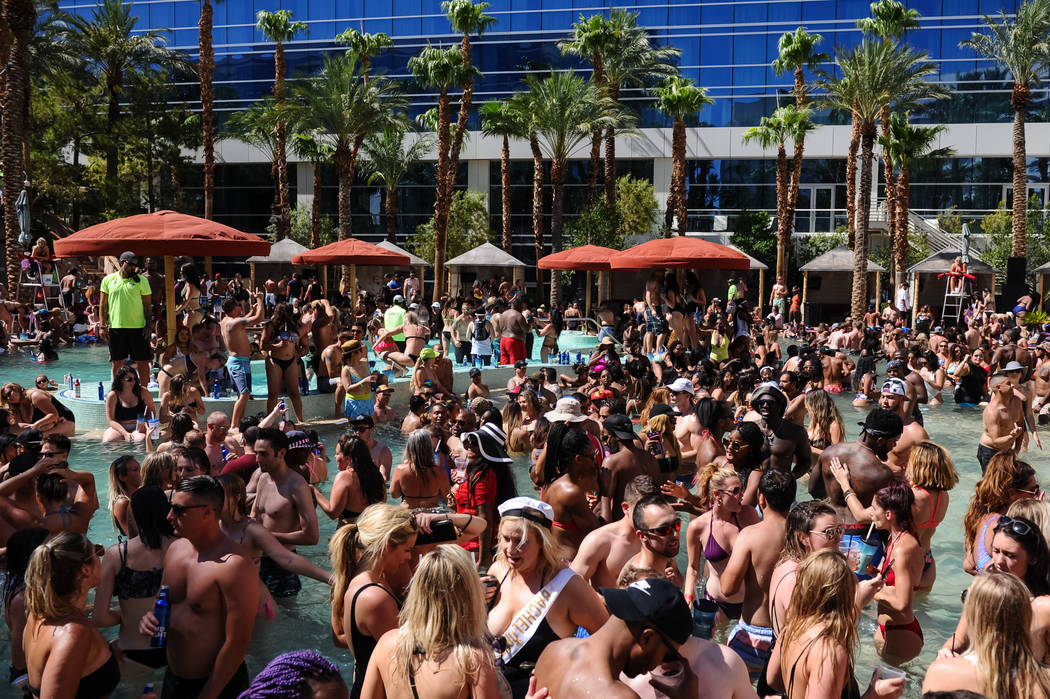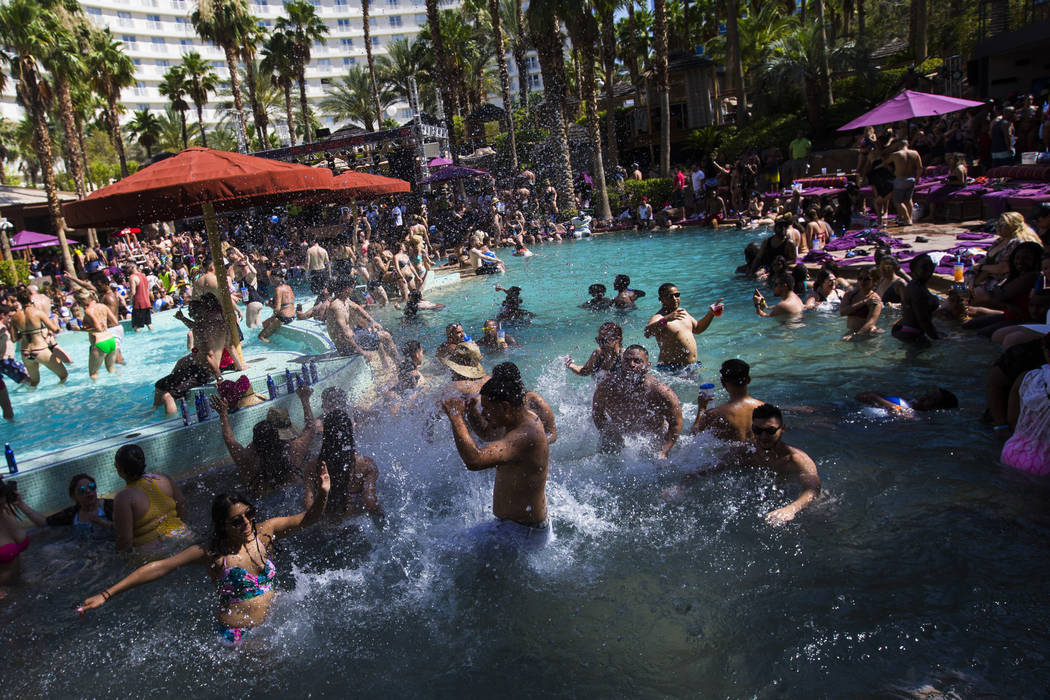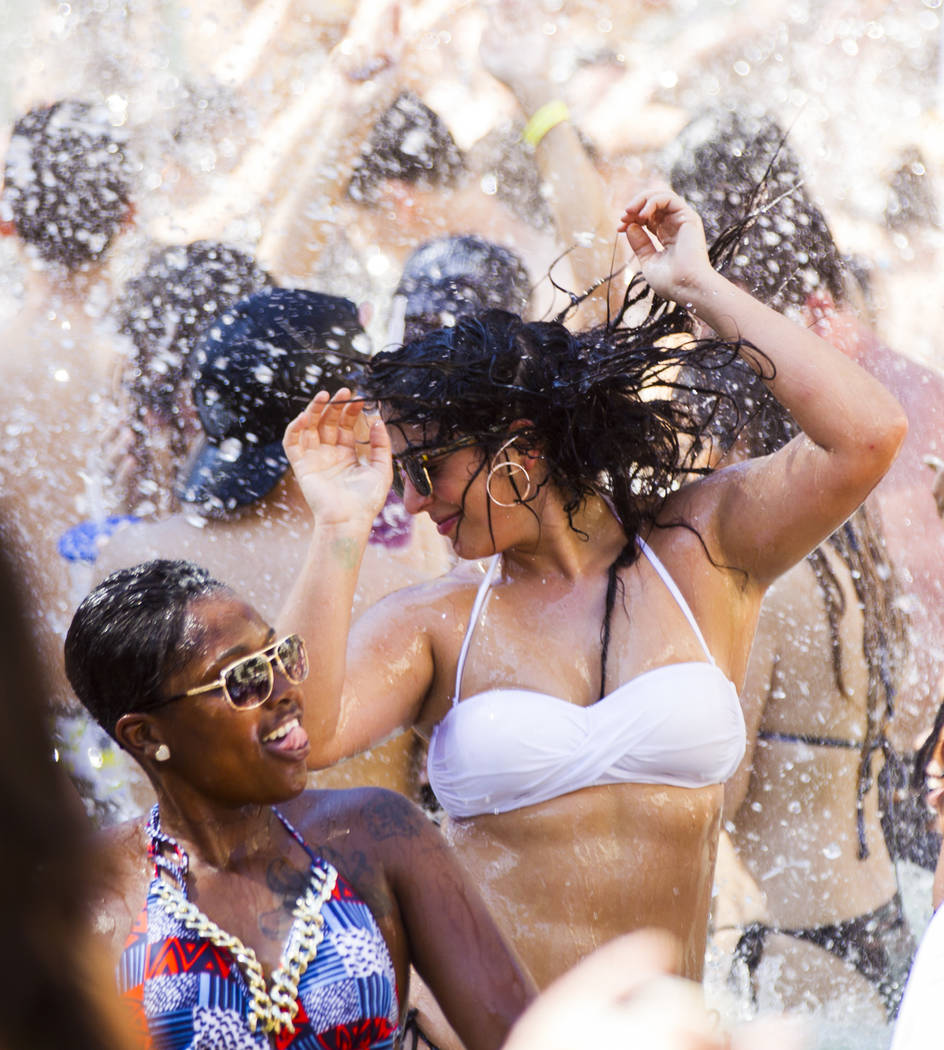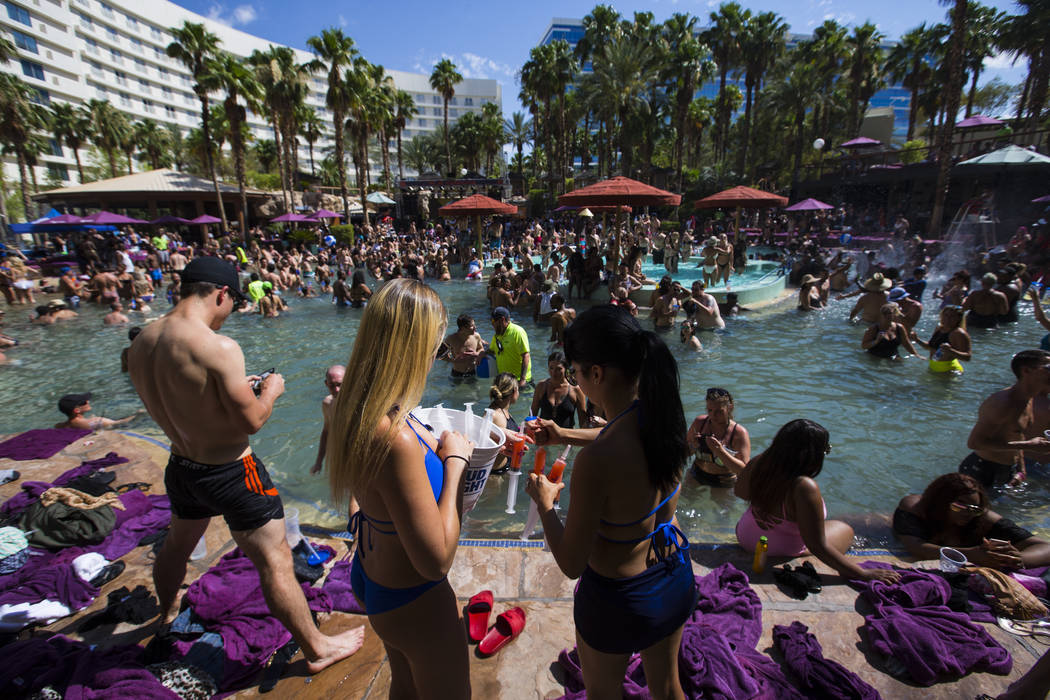 Ten thousand dollars means different things to different people, especially in Las Vegas.
For some, it's a car to take them to work. For others, it's a shiny piece of jewelry. In some casinos, it's a pair of chocolate brown $5,000 chips. And in 2003 at the Hard Rock Hotel, it was the total amount of liquor sales at the resort's sprawling pool complex on an average summer Sunday. Today, at several pools in Las Vegas, $10,000 dollars is the bare minimum a patron should be prepared to spend if he or she wants to be considered a "baller," the highest level of partyer in the big-money world of Las Vegas dayclubs.
"When you call (a dayclub), it might be listed as $7,000 to get that celebrity cabana," Nightclub & Bar magazine editor David Klemt explains. "But we all know it's going to cost you $10,000 or $13,000."
What you get for that money, of course, is more than the basic tentlike lean-tos that once passed for luxury digs at Las Vegas pools. Today's most coveted cabanas are more reminiscent of small luxury apartments, complete with refrigerators, flat-screen TVs and video games. Some have their own hot tubs or private pools. And someone is always nearby to mix drinks from pricey bottles of liquor or uncork even pricier bottles of Champagne.
To be sure, one doesn't need to spend that kind of cash to have an amazing time at a dayclub.
"That's a really big misconception," Tao Group's Jason Strauss insists. "There's different tiers of availability. Anybody can come into these venues and pay a standard cover charge, which is usually in the range of $40 to $60."
Truth be told, on a slow day without a well-known DJ on the bill, if you buy your ticket in advance, you can get into some clubs for even less. But the big spenders are becoming more commonplace.
"If you get a $20,000 tab, no one is surprised anymore," says Joe Bravo, the Hard Rock's director of nightlife and daylife.
'It'll never work'
How did we get from those $10,000 Sundays to an industry that generates hundreds of millions of dollars over a 20-week season? It all started in 2004 with Chad Pallas, then the Hard Rock's executive director of nightlife.
"I was going to Lake Mead every weekend because I had bought a pontoon boat," Pallas recalls. "And I was driving back one weekend thinking I can't keep doing this."
That same day, Pallas got a call from a group of exotic dancers who wanted to get into the Hard Rock Pool but weren't allowed in without a room key.
"Why don't we not only let girls like them in," he remembers thinking, "but also get outsiders to pay to get in?"
The answer was a Sunday pool party called Rehab, aimed primarily at nightlife industry workers starting their weekend.
"I remember getting invited to the first Rehab, and it may have been Chad Pallas who called me," Bravo says. He had just finished a Saturday night shift as a doorman at Studio 54. "And I said 'Dude, it's 114; the last thing anybody wants to do is drink booze in 114 degrees. This is crazy. It'll never work."
'Something kind of naughty'
But Rehab did more than just work. In its first summer it grossed $1.5 million, nearly four times Pallas' goal. By 2008, that figure was $9 million.
Imitators quickly followed. The Palms launched Ditch Fridays, which targeted out-of-towners to fill an otherwise slow pool day.
"It became a cool marketing ploy," Klemt says. "On Thursday in L.A. at work, you should plan to be calling out on Friday because you're on the road coming to the Palms."
In 2007, The Venetian saw the potential in turning over a portion of its pool complex to an independent club promoter.
"Tao Beach was the first dayclub experience that was fully, seven days a week, dedicated to that sophisticated high-energy experience," Strauss says. "We were really the first to make an actual venue out of it."
From there, the investments got bigger and bigger. MGM Grand and Wynn-Encore built Wet Republic and the Encore Beach Club from the ground up to serve exclusively as dayclubs. In 2014, Marquee took the dayclub year-round by erecting a dome over its pool. And one of the most anticipated aspects of Station Casinos' renovations of the Palms is its top-secret dayclub, which is under construction and not expected to open until the 2019 season.
"There's something kind of naughty about partying during the day," Klemt says, when asked to explain the phenomenon. "This is what rich people back in the day used to do, have lives of leisure and drink during the day. And now we can do it."
The next wave
What does the future of dayclubs hold? Here are a few predictions.
Communal cabanas: What if VIP treatment was inclusive rather than exclusive? That's the idea behind Tao nightclub's recent introduction of a communal VIP area with shared bottle service.
"Tao has a section that's roped off," Nightclub & Bar magazine editor David Klemt explains. "It is a VIP section, but it's not your VIP section. It has a (certain) capacity, and you can buy into it. It's good for single tourists who want to see what a Vegas nightclub is but don't want to be general admission."
He believes the idea could easily spread to pools, "because a communal cabana setup isn't a terrible idea."
Live music: DJs have always ruled the dayclub scene, growing more and more prominent as EDM has exploded in Las Vegas. But Strauss thinks they may soon cede a bit of their stranglehold over pool entertainment to live performers from other genres.
"I think live performances from real notable and relevant performers will start coming more and more during the day. Because much like nightlife, the genres of music are becoming much more diverse, in the form of pop and hip-hop and Latin, and not only electronic music."
Double-decker cabanas: Klemt reports that Omnia's sister property in Los Cabos, Mexico, recently debuted two-story cabanas. Is that a preview of what the Hakkasan Group property has planned for its Las Vegas dayclubs?
"I expect that to come here eventually," he says. "Wet Republic will have to have a multilevel, almost condo for you to party in at the pool. And then the rest of them will have to have it too."
Year-round parties: While Marquee Dayclub wasn't open during the most recent offseason, its previous year-round parties under a tent were seen as successful by the Tao Group. As a result, a lot of people expect other pool parties to begin operating during the cold weather as well.
"I will guarantee you that the upcoming new dayclubs in this market are all going to try to grab that piece of the business," Tao Group's Jason Strauss predicts, "because it was so successful at the Cosmo."
Contact Al Mancini at 702-387-5250 or amancini @reviewjournal.com. Follow @AlManciniVegas on Twitter.