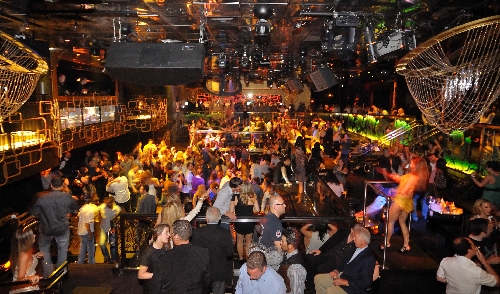 Fridays are the big events, when high profile celebrities with mass appeal draw the crowds to the Bank nightclub in Bellagio.
But the club's industry night on Sundays turns locals into the celebrities. Free admission, contests, unique activities and even fundraisers are among the weekly lineup that management uses to reward locals.
"If people don't know about (industry night), they should," says Jake Saady, vice president of marketing for the Light Group, which manages the Bank.
They like to do fun things that show their appreciation to locals, especially those who work in the club industry, Saady says.
During a recent industry night, management honored the top 30 Las Vegans under age 30. On Nov. 6, they plan to hold the Vegas Election, when the top influential people in the industry will be picked. The "candidates" can then rally the crowd to "vote" for them.
Later in November, management plans to hold a paparazzi party where they will honor the photographers who come out to the clubs each week and take photos. Before Thanksgiving, the Bank will host Cocktails for a Cause. A portion of the night's revenue and bottle sales will be donated to the Shade Tree Shelter for Women and Children.
"The industry night is something we've worked hard to put together," Saady says. "We're keeping people excited and … involved."
The 6,600-square-foot club opened in 2008. It's laid out in three tiers, with the bottom floor serving as the dance floor and the focal point of the club. Two bars are located on the third floor.
The Bank is open Thursdays through Sundays. DJ Ikon spins music on Thursdays. Fridays feature high-profile celebrities while Saturdays feature DJ Karma. His style is an open format, and guests will hear everything from Top 40 to rock 'n' roll.
Cover charge is $30 per person with locals getting in free on Sundays. Bottle service starts at $475.
For reservations, call VIP services at 588-5656 or visit lightgroup.com. For last-minute specials or offers, follow the club on Twitter @thebanklv.
Contact reporter Sonya Padgett at spadgett@ reviewjournal.com or 702-380-4564. Follow @StripSonya on Twitter.