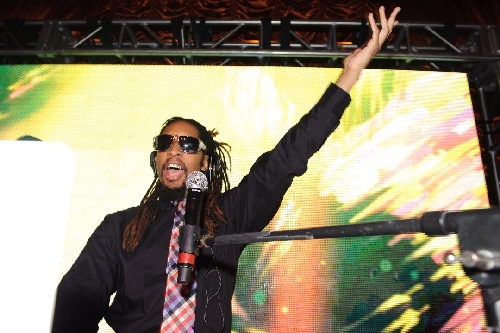 One of the most fascinating, nicest guys in the club scene is rapper Lil Jon, who DJs tonight at Encore's Surrender nightclub.
One minute, you'll be talking to him and he sounds like an uber-professional businessman. The next minute, he's screaming "Yeah!" and "Shots, shots, shots, shots, shots, shots!"
If you ever saw Dave Chappelle's old sketch parodying Lil Jon as a half-calm/half-crazy CEO party animal, then you know the Lil Jon stereotype — and that stereotype is correct.
In fact, Lil Jon once told me he loved that Chappelle sketch.
Anyway, if you ever doubted whether he really does party hard, listen to what DJ Steve Aoki tells me about the rapper/DJ at Surrender:
"Lil Jon — he can drink! He's partying all the time," Aoki says.
"But if you're gonna do it, you have to be a Jon — where you have your head on straight, your business straight, your diet and your health straight.
"He's a very healthy guy. He's always drinking his green tea. … He's constantly healthy.
"If there's anyone who can keep a crazy lifestyle — but maintain the most level-headed, entrepreneurial head on his shoulders — it's Lil Jon. It's amazing."
CLUB FORECAST
TODAY: Sander van Doorn at Marquee. Lil Jon at Surrender. Dimitri Vegas and Like Mike at Haze. Bow Wow at Rain. Ross One at Tao. Skeet Skeet at Vanity. Spider at Tryst.
SATURDAY: Kid Rock at Tao. Dada Life at Surrender. Sunnery James & Ryan Marciano at Marquee. Robbie Rivera at XS. J. Cole at Lavo. Jermaine Dupri at Tryst. Savoy at Rain. Peter Facinelli at Chateau. Nick Carter at Vanity. Evan Peters at RPM. "Fantasy" cast at Lax.
SUNDAY: Manufactured Superstars at XS. Nick G at ghostbar.
MONDAY: Lema at Marquee.
TUESDAY: Green Velvet at Moon.
WEDNESDAY: Calvin Harris at Surrender. Jason Smith at ghostbar.
Doug Elfman's column appears Tuesdays, Thursdays and Fridays. E-mail him at delfman@reviewjournal.com. He blogs at reviewjournal.com/elfman.