Mirage's 1 Oak featuring Major Lazer
February 1, 2013 - 2:08 am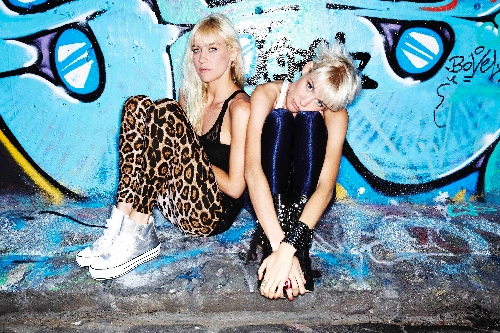 There are a few big DJ-producers who perform at clubs that aren't located in The Cosmopolitan, Wynn or Encore.
Over at The Mirage, 1 Oak nightclub on Tuesday hosts the return of Major Lazer, a collaborative project put together by DJ Diplo, to play dance hall-reggae electro house. The last time the trio gigged 1 Oak, they were made up of Diplo, Jillionaire and MC Walshy Fire.
Or, if you're looking for an old-school DJ who has been around forever, Skribble spins Saturday at Chateau.
What we mean by old-school: Skribble goes way back to his days with MTV's "The Grind," "Total Request Live" and spring break gigs.
Your weekend lineup:
TODAY: Benny Benassi at Marquee. Afrojack at Surrender. Mark Stylz at Moon. Ryne Green at ghostbar. SkyBlu at Pure.
SATURDAY: Calvin Harris at Surrender. Avicci at XS. Jermaine Dupri at Tryst. J. Cole performs at Haze. Bambi at Marquee. Skribble at Chateau. Stefano at Body English. Benny Black at ghostbar. (Nick Diaz at Gallery. "Maxim Girls" at Moon.)
SUNDAY: Redfoo at XS. A$AP Rocky performs at 1 Oak. Mardona & Drazpa at ghostbar. Peanut Butter Wolf at Body English. (Aimee Teegarden at Gallery.)
MONDAY: Cedric Gervais at XS. Eric D-Lux at Marquee. Love Rance performs at Gallery. Seany Mac at ghostbar.
TUESDAY: Major Lazer at 1 Oak. Direct at ghostbar. Benny Black at Moon.
WEDNESDAY: Nervo at Surrender. Gusto at LAX. Alie Layus at ghostbar.
THURSDAY: Kid Conrad at ghostbar. Mark Stylz at Moon.
Doug Elfman's column appears Tuesdays, Thursdays and Fridays. Email him at delfman@reviewjournal.com. He blogs at reviewjournal.com/elfman.