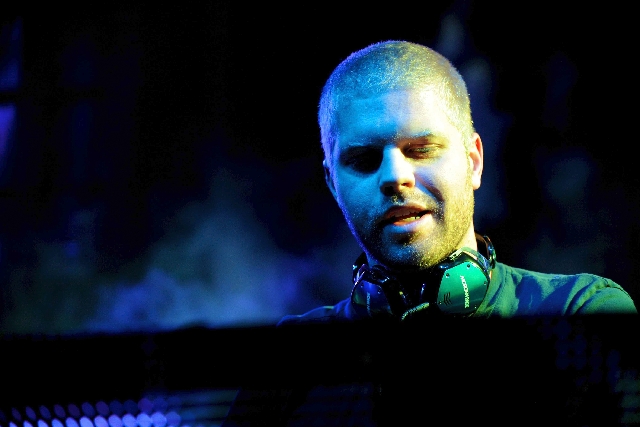 Morgan Page used to work all the time in his California recording studio, writing and remixing hits. But something happened to complicate his work life: His personal life improved when he got a girlfriend.
"This new domestic life I have gets in the way" of working all the time, says Page, who performs Saturday at club Surrender.
"I hang out with my girlfriend and give her attention."
He's not complaining, just as DJ Deadmau5 is not complaining about his engagement to tattoo artist Kat Von D.
"It's funny watching guys like Deadmau5," Page says. "He's getting married. He's going through the whole process of getting sidetracked by life for a little while.
"And then he'll be back doing more music soon, I'm sure. But the things that occupy your time are crazy."
So on one hand, Page's time is occupied by being the Grammy-nominated DJ-producer who wrote and remixed the hits "Body Work," "Fantasy," "Fight For You," "The Longest Road" and "In the Air."
But on the other hand, he's still a human being, doing human-being stuff.
"We just finished putting solar panels on the roof — solar panels that are powering the studio, and the Tesla, and the house," he says.
And he and his girlfriend just wrapped up a "Homeland"-viewing marathon (the Showtime series).
Page packs his time so he can tour, record new music, and mix sets for his weekly Sirius radio show (which you can also hear as a podcast on Soundcloud.com).
"So I try to stretch the day as much as I can," Page says. "I wake up at 6:30 (a.m.), or 7:30, and try to stay awake as long as possible."
Page will also spend more time in Vegas this year. He has a new residency at the Wynn-Encore clubs, which is good, because he's excellent.
He will bring with him a new single (and remixes of) "Carry Me," which got its real debut last summer at Vegas' Electric Daisy Carnival.
"That actually premiered at EDC Las Vegas. I think Nicky Romero played it (during Romero's set at EDC) before I got a chance to play it."
And next up for Page: a completely unexpected surprise collaboration with the band The Outfield. Page is cutting a modern club version of the Outfield's 1986 pop hit "Your Love."
Oh, you know this song. It's the one that starts, "Josie's on a vacation far away … "
What in the world possessed Page to remix "Your Love" out of all the old hit songs in the history of the world?
"I don't know. I just heard it in my head and felt like trying it out," Page says nonchalantly. "I tend to pick offbeat tracks to cover.
"I'm always shocked whenever I run into people who don't know the song," he says. "It's a classic."
OK, I believe you, Morgan Page, bring the Outfield back.
Doug Elfman's column appears on Page 3A in the main section on Mondays, Tuesdays, Thursdays and Saturdays. He also writes for Neon on Fridays. Email him at delfman@reviewjournal.com. He blogs at reviewjournal.com/elfman.