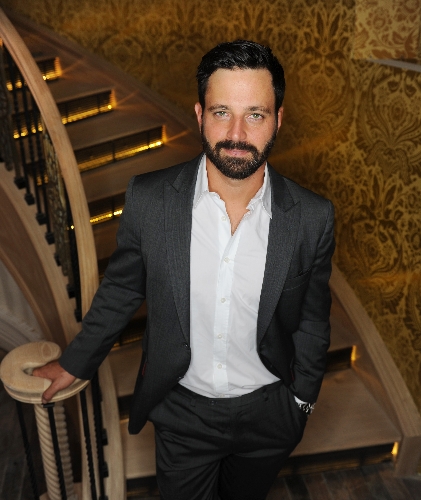 A few weeks ago, Tom Cruise and Matt Damon went to a London variety club called The Box, where a cross-dressing emcee spanked Damon with a paddle, since it was Damon's birthday.
You can now look forward to similar naughtiness in Vegas, where a version of The Box opens today under a different name: The Act.
The Act is the brainchild of Simon Hammerstein, grandson of Oscar Hammerstein and creator of The Box in New York and London.
Simply put, this is Vegas' newest avant-garde space, and it exists in, of all places, Sheldon Adelson's stately pleasure dome, the Palazzo.
It's an interactive theater where performances never pause on a turntable main stage rising up and down and spinning.
The action is audience-performance driven: You never know which people in the crowd are performance plants who will suddenly start interacting with guests.
"It's a full-on theater – 40 performers a night. It's quite a big undertaking," Hammerstein says.
Hammerstein is hesitant to describe performers in detail, because a few key words could be misconstrued into misleading stereotypes.
"Everyone says it wrong. No matter what I say, they're gonna say, 'Oh, cross-gender, polygender, burlesque drag queens.' That's not what we do," he says.
"It's like: How do I describe my dreams and my nightmares? I can't really. They're obtuse. So the show is a combination of some of my dreams and some of my nightmares."
The Act incorporates variety acts, circus skills, dance and musical theater.
"The whole point of a variety show or vaudeville is that you don't know what's happening next," Hammerstein says.
"I can tell you what they're not. They're not Cirque du Soleil. They're not clowns. They are funny. They will shock you. It's not burlesque. It is kind of edgy, late-night theater.
"If you're easily embarrassed, you shouldn't come."
Some New York tabloid writers have both celebrated and gnashed their teeth over The Box. It's not associated with a casino, so regulations are more lax. Performances have featured such sexually provocative elements as a transsexual, his rectum and a bottle.
Hammerstein knows such moments won't fly in a Vegas casino. But he's not interested in reproductions from his permanent shows in New York and London, or in his traveling shows in Russia, Shanghai, Monaco, Ibiza and elsewhere.
"I want to take all the lessons I've learned from these different kinds of market places and use them in this new venture," he says.
Venetian executives clearly embraced Hammerstein.
"They've all seen the show (at The Box), and they all knew what I was about, and here we are," he says.
The theater itself begins with bending entryways inspired by female curves.
In the main theater, the rectangular stage is surrounded by showgoers. Above them are balcony railings, so people can gaze down onto the action below.
Decor is Hammerstein sensibility – ornately carved wood; wood from a medieval German church; wooden dressers; a statue of a transsexual; an old-fashioned New York bar.
"Unlike my other venues, I've added a backstage party area with a bar and tables so you can party with the performers," he says. "Everyone's trying to get backstage. We call them Stage Door Johnnys."
Over the years, the New York tabloids have painted Hammerstein as a backstage partyer, hooking up with performers. You get a feel for Hammerstein when he talks about The Act and himself in this intertwined way:
"I want something that's gonna outlive me, which probably won't be too hard with the way I live."
He loves Vegas.
"I came here for the first time on my 21st birthday. I lost a fortune. I lost the entire 21st birthday present that everyone gave me in about an hour because I listened to bad advice about how to play blackjack."
He's been addicted to blackjack and craps ever since.
"It's very painful having to walk by tables in between every meeting. I'm still a sucker for all the 'cling cling cling' going on everywhere."
He spends quiet time in a furnished rental in Summerlin.
"I love the on-Strip, off-Strip dichotomy of having the most healthy existence off the Strip where I live," he says.
"And the Strip is just pure escapism, and everyone feels liberated, and people dress on the Strip unlike how they probably dress at home, and they're here to have fun, and that's really lovely to me.
"Our kind of show – this world of nonjudgment, of exposing people to walks of life they might not have ever seen before, and ideas and concepts that are gonna be pushing their boundaries – I think it is going to be a great fit for people who want to live a fantasy life.
"We're looking forward to taking that fantasy a few steps forward."
Doug Elfman's column appears Tuesdays, Thursdays and Fridays. Email him at delfman@reviewjournal.com. He blogs at reviewjournal.com/elfman.