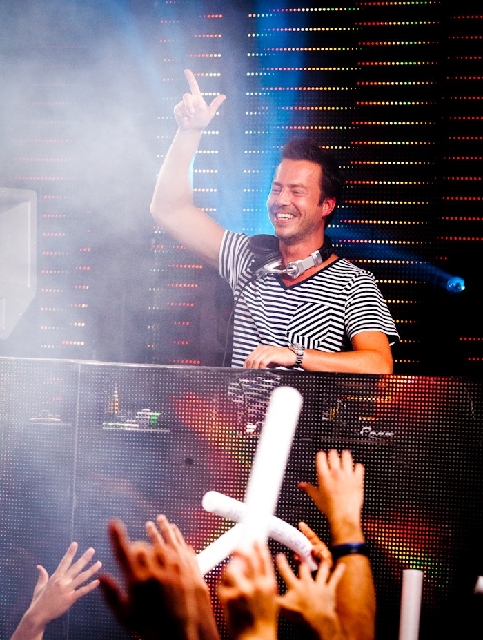 Sander van Doorn can be a beast of a songwriter. He combines clean bass beats with sexy notes that slide together, in hits such as "Joyenergizer."
If you are new to electronic music, think of notes that slide together on the synthesizer as nephews of the slide guitar. It's really that simple.
It has been a long time since I played keyboards, so I asked van Doorn — who DJs Saturday at Marquee — if that slide technique is still called "portamento."
"Yeah, that's right," he says. "Portamento is attaching notes to each other. It kind of glides to it.
"Another cool feature on a keyboard is a low frequency oscillator, LFO (a rhythmic pulse), and you can do freaky stuff with that as well with the pitch."
The great thing about portamento and LFO (when it's done well) is it conveys dirty sexiness, because it is deviant — literally, it deviantly destroys traditional music structure's demand to play each note separately.
"Exactly," van Doorn says, agreeing with me. "And it makes it sound more organic."
Electronic musicians have been playing with pitch changes for years. You can even hear portamento/pitch-slide notes in the keyboard ending of "Fly Like an Eagle," the classic 1976 rock song by Steve Miller.
Van Doorn, from Holland, says this "freaky sound" is one of the distinguishing characteristics of the "Dirty Dutch" style of electronic dance music that has consumed the genre for a few years.
"Working the pitch makes the track a lot more interesting," he says.
So there is your music lesson for today.
On a completely unrelated note, van Doorn is the first DJ I have talked to who says electronic dance music in the United States is now greatly influencing the European music scene.
"It (EDM) started out in Europe and blew up in the U.S.," he says.
"All of a sudden, you have all these big organizations (such as nightclubs in Vegas), and you have American DJs who became amazing producers."
And their new American sounds are becoming popular in Europe, he says. A good example is American dubstep pop, which is more mainstream than Europe's purist form of dubstep.
"It's a really nice development, because it keeps the whole thing in Europe really fresh. It blows my mind how big it's becoming in the U.S.," he says.
Van Doorn is thinking of moving to the United States.
"I fell in love with the country," and San Diego in particular, he says.
"It's beautiful, and people are so relaxed over there. We're thinking of this year or next year, moving to that area."
Moving to America would save him time from flying here so frequently, too.
"I have to fly between Europe and the U.S., and it's always about nine or 10 hours on the plane, and that kind of sucks, to be honest."
Everything always comes back to airplanes with these DJs. Seriously.
Doug Elfman's column appears on Page 3A in the main section on Mondays, Tuesdays, Thursdays and Saturdays. He also writes for Neon on Fridays. Email him at delfman@reviewjournal.com. He blogs at reviewjournal.com/elfman.