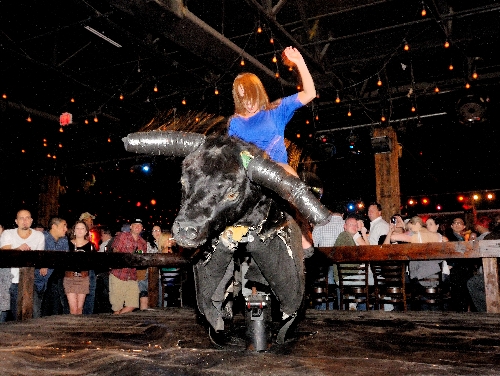 Don't worry if the closest you've ever come to country-western culture is that unfortunate flirtation with shiny shirts you had right after "Urban Cowboy" came out.
You'll still fit in just fine at Stoney's Rockin' Country, 9151 Las Vegas Blvd. South, about three miles south of Mandalay Bay.
That's because Stoney's specializes in providing a welcoming atmosphere for both dyed-in-the-wool, boot-wearin', hat-tippin' cowboys and cowgirls and people in business suits seeking a respite from the stuffier nightclubs found around town.
Stoney's celebrated its fifth anniversary in August, says owner Stoney Gray, and while its size and amenities — a killer sound system, a concert stage for visiting acts, a spacious dance floor — certainly qualify Stoney's as a nightclub, Gray would prefer that you think of it as, maybe, "a working man's bar."
"Basically, all genres (of people) walk through our doors. I've said this for five years: The guy beside you could be a construction worker, and the guy on the other side of you could be a CFO or CEO of a major corporation."
Gray estimates that 90 percent of the club's clientele is made up of locals, "so we do an awful lot of bachelor parties and bachelorette parties and birthdays and anniversaries."
And while country music makes up the bulk of the club's aural menu, "we play rock and dance and pop a little later in the evening," Gray says. (In fact, he adds, Kid Rock is the club's most-requested artist.)
Stoney's has a 2,500-square-foot dance floor, but don't worry if you're new to country choreography. Free dance lessons are offered at 7:30 p.m. Thursdays, Fridays and Saturdays.
Between dances, guests can ride a mechanical bull or enjoy a menu of amusements including beer pong and pool tables, a four-lane bowling alley and a slew of arcade machines.
There is a VIP area where tables can be reserved and bottle service had, or, Gray says, "If someone just wants to belly up to the bar and get themselves a beer, they can do that, also."
The club's schedule of promotions includes Ladies Night on Thursdays (women get in for $1 and drink for $1), all-you-can-drink drafts for $5 on Fridays, and premier DJs and live entertainment on Saturdays. Also, bikini bull-riding contests are held on Thursdays (the winner gets $500 in cash, and the first 10 ladies who sign up get a free bikini).
On Sundays, the club opens at 10 p.m. for Country Underground, which, Gray says, "is the best of country, dance, pop and rock."
Hours are 7 p.m. until close — "Or, as we put it, when the cows come home," Gray says — on Thursday, Friday and Saturday, and 10 p.m. until 5 a.m. Sundays.
Cover is $5 nightly (except for $1 for ladies on Thursdays).
For more information, visit the club's website (www.StoneysRockinCountry. com) or call 435-2855.
Contact reporter John Przybys at jprzybys@ reviewjournal.com or 702-383-0280.