Stoney's welcomes cowboys, city slickers by mixing roadhouse, nightclub vibes
November 19, 2010 - 12:00 am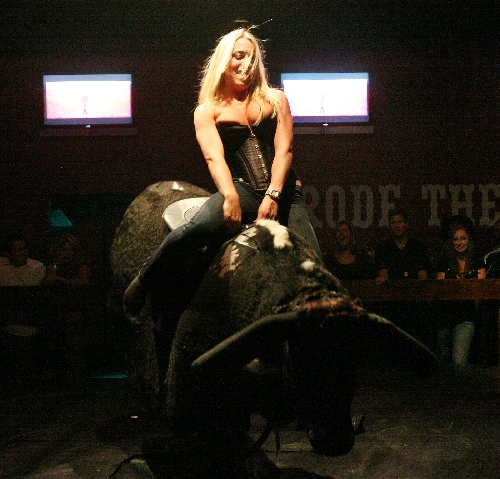 Even in a city filled with an abundance of upscale nightclubs, it's nice once in a while to pull on a pair of comfortable jeans and just kick back.
And when a hankerin' for down-home country-flavored fun does hit, the casual but high-energy vibe of Stoney's Rockin' Country, 9151 Las Vegas Blvd. South, about three miles south of Mandalay Bay, may be just the thing.
Stoney's offers an effective melding of Texas roadhouse and Las Vegas nightclub. Above all, according to owner Stoney Gray, it's a "big party bar" where country die-hards and citified revelers both can feel at home.
In fact, Gray notes that about half of the club's clientele on any given night is noncountry types and that guests show up wearing everything from cowboy hats, jeans and boots to evening gowns.
The 21,000-square-foot club's amenities include a concert-size stage — roughly once a month, that stage is used for shows by top-tier national acts — a VIP area and, it goes without saying, a 2,500-square-foot dance floor on which guests may dance to a surprisingly eclectic mix of music.
Country, of course, is Stoney's staple genre, although city slickers needn't worry: Stoney's offers free dance lessons from 7:30 to 8:30 p.m. Thursdays, Fridays and Saturdays.
And, when dancers decide to take a breather, they can enjoy a roster of amusements that includes a four-lane bowling alley, pool tables, beer pong tables, a mechanical bull and a selection of arcade games.
The club's regular promotions include Thursday Ladies Nights (women drink for $1), Free Beer Fridays (free drafts with paid cover) and $1 drinks for ladies on Sunday nights.
Stoney's Rockin' Country is open Thursdays through Sundays. Doors open at 7 p.m. and cover is never more than $5 for locals. For more information, call 435-2855 or visit www. stoneysrockincountry.com.
Contact reporter John Przybys at jprzybys@ reviewjournal.com or 702-383-0280.
Las Vegas Club Scene