T-Pain, Major Lazer coming out to play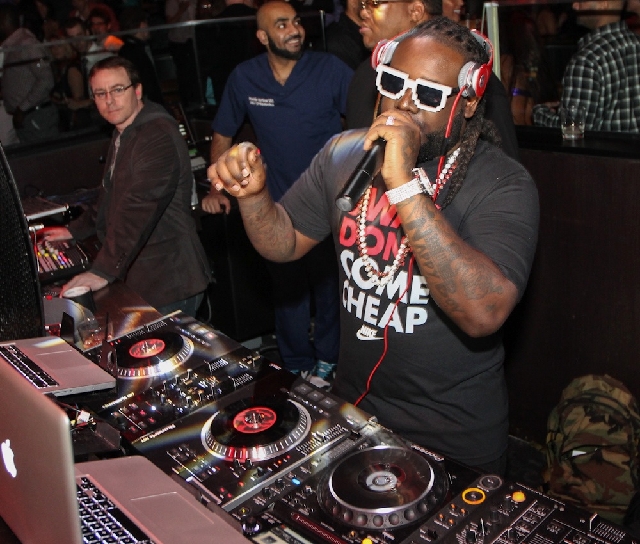 Here's your full-on schedule of club craziness.
TONIGHT: David Guetta at XS. Gareth Emery at Marquee. Keidy at Marquee Dayclub. Omarion at Chateau. Adrian Lux at Surrender. AC Slater at Body English. Swizz Beatz at 1 Oak. Alie Layus at Palms pool. Spider at Tryst. Presto One at ghostbar. Mark Stylz at Moon. Mr. Mauricio DJs at Haze. Ricky Rocks drum performance at Gallery. Jessica Who at Tao.
SATURDAY: Martin Solveig at XS. Snoop Dogg at Tao. T-Pain at Haze. David Guetta at Encore Beach Club. Cedric Gervais at Surrender. Erick Morillo at Marquee. EC Twins at Marquee Dayclub. Green Velvet at Body English. Five at Tryst. Presto One at Palms pool. Alie Layus at ghostbar dayclub. Exodus at Moon.
SUNDAY: Calvin Harris at Wet Republic. Miguel Ortiz at ghostbar. Redfoo at XS. Keidy at Marquee Dayclub. Richard Beynon & Shift at Body English.
MONDAY: Morgan Page at XS. Vice at Marquee. Seany Mac at ghostbar. OB-One at Gallery.
TUESDAY: Paul Oakenfold at Lavo. Major Lazer at 1 Oak. Direct at ghostbar. Alie Layus at Moon.
WEDNESDAY: Knife Party at Surrender. Presto One at ghostbar.
THURSDAY: Fedde Le Grand at XS. Chuckie at Tao. Spider at Tryst. Benny Black at ghostbar. Exodus at Moon. Mark Stylz at Palms pool.
Doug Elfman's column appears on Page 3A in the main section on Mondays, Tuesdays, Thursdays and Saturdays. He also writes for Neon on Fridays. Email him at delfman@reviewjournal.com. He blogs at reviewjournal.com/elfman.