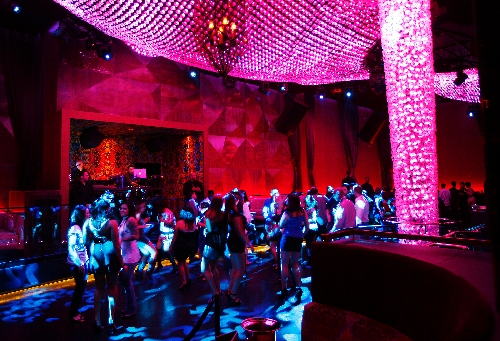 The nightclub scene is all about appearance: Wear the right clothes, be seen with the right people and you're assured a pass through the velvet ropes.
So why not skip the esoteric names and call a nightclub what it is? That was the thinking behind the name Vanity at the Hard Rock Hotel.
The 14,000-square-foot club opened New Year's Eve 2009 featuring a spacious dance floor, two seating areas for the general admission crowd, a terrace overlooking the swimming pools and a women's restroom that invites patrons to hang out.
A few narcissistic indulgences that encourage guests to look at and think about themselves help flesh out the name. Floor-to-ceiling mirrors are incorporated into the club decor while drink menus are presented on hand-held mirrors.
The highlight of the club is the chandelier, featuring more than 20,000 lit crystals.
"We were always talking about doing a nightclub, and we're a pretty vain group ourselves," co-owner Cory McCormack said of his business partner, Jason Giambi. "We wanted to have a club that was bright, well-lit. We wanted to get away from the dark club where you couldn't see 6 inches in your face. The reflective surfaces/mirrored concept, that all fit with the name."
Vanity is open from 10 p.m. to 4 a.m. Fridays through Sundays. DJs Eric D-Lux and Hollywood trade off spinning duties. Sunday is industry night and locals get in free. Cover charges are $40 for men, $20 women. Local ladies always get in free.
For reservations, visit the website vanitylv.com or call 693-5555.
Contact reporter Sonya Padgett at spadgett@reviewjournal. com or 702-380-4564.
Las Vegas Club Scene