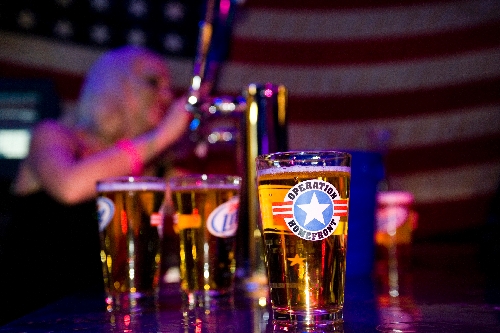 Ever see the movie "Coyote Ugly"? Well, except for the absence of Piper Perabo, yeah, Coyote Ugly Las Vegas is pretty much just like that.
Coyote Ugly Las Vegas celebrated its 10th anniversary a week ago. And, thanks to the 2000 movie which, Stacie Morn offers, is the best B movie ever, Coyote Ugly is "the world's most-known bar."
Patrons name-check the movie all the time, says Morn, the club's general manager. However, she notes, patrons won't see bartenders dancing on the bar as much as they do in the movie because the place is so busy.
But don't worry: Bar dancing does take place, because it wouldn't be Coyote Ugly if it didn't. Nor would it be Coyote Ugly without the club's signature "in-your-face, girls-call-the-shots" vibe, Morn says. "They boss people around, play silly games and do boot shots."
Boot shots? "You take shots out of boots," Morn explains. "It's pretty gross but fun.
"We also invite patrons on the bar," Morn continues. "Only women. We don't do dudes on the bar. We ask women to come up on the bar and dance with us, and it's kind of a liberating thing."
Women celebrating birthdays or impending marriages also will be invited up to do shots with Coyote Ugly ladies, and may even be encouraged to toss their bras skyward to join other bras that have been deposited on the ceiling by other patrons.
So Coyote Ugly is a freewheeling sort of place?
"Yeah," Morn says. "I would say that, basically, women call the shots and we run the bar. So we get up there and dance, and guys just kind of drool.
"It's a crowd-participation bar. People come in, and we want them to participate We want them to know it's all in good fun."
Even if, as often happens, cups of water happen to be thrown throughout the course of an evening. Most patrons react well, Morn notes, "but every once in a while we'll get a woman who wears Prada shoes and she's upset.
"Coyote Ugly," Morn adds, "is not for babies."
Coyote Ugly Las Vegas at New York-New York, 3790 Las Vegas Blvd. South, opens at 6 p.m. daily and stays open until at least 2 a.m. Happy hour is from 6 to 9 p.m. Admission is $10 after 9 p.m., and locals are free.
For more information, call 740-6330 or visit Coyote Ugly's website at www.coyoteuglysaloon.com/vegas.
Contact reporter John Przybys at jprzybys@ reviewjournal.com or 702-383-0280.