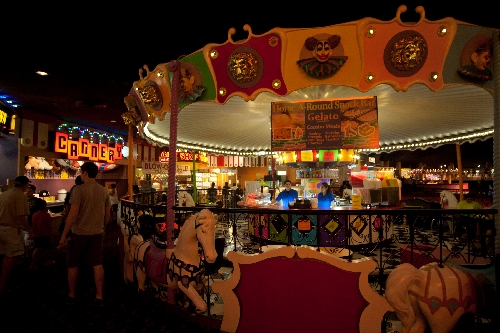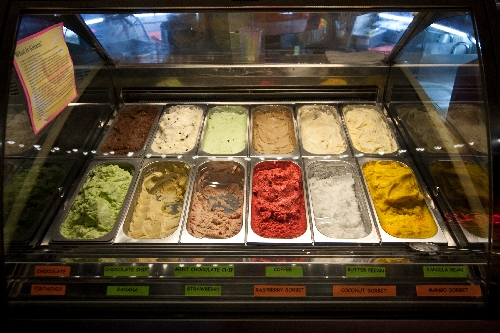 "If I had a Fuzzy Navel right now, this would be perfect."
My friend says this after we've been rotating – literally – for about 15 minutes, eating our kids'-size scoops of pistachio gelato and taking in the atmosphere of the Horse-A-Round Snack Bar on the Carnival Midway at Circus Circus.
In 2010, when this bar still served every manner of alcoholic beverage, she could have had that Fuzzy Navel. Now, she will have to make do with the churros, corn dogs and other carnival fare on the menu. We may be in a casino but there's no liquor for sale at this counter.
We have come to this particular snack bar on a recent Wednesday because of its place in pop culture. It was made famous, or infamous, by Hunter S. Thompson in his 1972 book "Fear and Loathing in Las Vegas: A Savage Journey to the Heart of the American Dream." Thompson died in 2005; Wednesday would have been his 75th birthday.
We figured that was a good reason to visit the bar, although neither of us are fans of the man's work. But there was gelato and that in itself is a good motivator.
In the '70s, the bar was called the Merry-Go-Round Bar because it looked and rotated like a merry-go-round, complete with colored lights and carousel horses. On the second floor in the heart of the carnival games, the bar served as some sort of haven for parents who let their children loose on the midway. While the kids threw baseballs at milk cans or tossed rings at soda bottles, parents escaped to the adult ride, a rotating bar where they could sip cocktails and feel like they were a small part of the circus action.
After the 1998 movie "Fear and Loathing in Las Vegas," starring Johnny Depp and a circus-themed casino, the bar garnered a cult following. A scene in the movie took place in a carousel bar, inspired by the real one in Circus Circus.
In April 2010, the Horse-A-Round was converted to a gelato bar. There are other bars in the casino, so it made sense to take out the booze and tie into the family-friendly atmosphere, says Jackie Zlatanovski, a Circus Circus spokeswoman. With the exception of the gelato case, slushy machines and checkered black-and-white floor, the bar kept the overall look of old.
Guests still come in, asking about the bar from the movie, Zlatanovski says, but not as frequently as they did right after the conversion. The public, she explains, has accepted that it's now a gelato bar.
The conversion seems wrong to some Thompson fans, like a desecration.
Riffing on a famous line from the book, William McKeen, professor and chairman of the journalism department at Boston University and a Thompson expert, says it's hard to imagine Dr. Gonzo sitting at the bar and saying, "As your attorney, I advise you to eat gelato." 
But Thompson, who could be unpredictable, McKeen says, might have liked the idea of the Merry-Go-Round Bar, where he wrote about tripping on acid and every other kind of hallucinogenic drug imaginable, becoming a hangout for kids.
Of course, that's what Circus Circus was all about when it opened in 1968, says Guy Rocha, Nevada's retired state archivist. The midway provided a place for kids to hang out, somewhere they could go without fear of getting kicked out.
Rocha recalls the property being a spot to cruise for girls when he was 17. And, as was typical of the times, he and his friends were often in an altered state when they were there. That was the best way to enjoy Circus Circus, he says.
Even if you're an adult who pines for the Hunter S. Thompson experience, you don't need liquor to enjoy the Horse-A-Round Bar. Sit in there and stare at the floor for a few minutes and see if you don't start feeling drunk.
Balloons popping at the nearby water balloon races sound as if someone is taking intermittent gunshots at us as we slowly spin. The checkered floor looks as though it's moving, too, in a roller-coaster fashion. Clearly, it is an optical illusion but I'm starting to feel nauseated.
My friend, who loved the gelato bar in the beginning, is getting antsy. She has to get home to make dinner. Apparently, there is only so much kitsch one can take.
I'm not supposed to be on carnival rides, anyway, I tell her. I have an inner-ear disorder. We get up to leave and notice that, as slow as the floor is revolving, you have to time your step out of the bar and onto stationary ground.
"There must be liability issues with this thing," my friend says.
It seems precarious, that small leap. But we make it.
Contact reporter Sonya Padgett at
spadgett@reviewjournal.com or 702-380-4564.
Follow @StripSonya on Twitter.