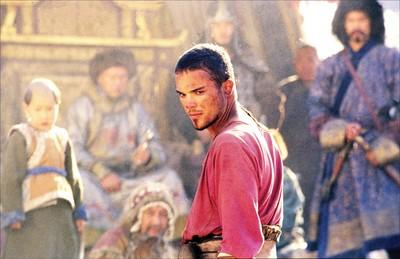 Thundering hoofbeats. Snow-capped mountains towering over lone prairies. Even the cavalry riding to the rescue in the nick of time.
If only the bad guys wore black hats.
That might make "Nomad: The Warrior" a bit easier to follow. But nothing would make this handsome twaddle any easier to swallow.
A sort of Eastern Western — with plenty of pageantry reminiscent of the Western's knights-in-armor predecessors — "Nomad" serves up an anthropologically fascinating but cinematically scrambled epic of 18th-century Kazakhstan.
I know what you're thinking. But this is far from "Borat" territory.
Filmed in Kazakhstan (with backing from, among others, the Republic of Kazakhstan itself), "Nomad" had the potential to be an enlightening, even inspiring, passport to a land, and a history, relatively unknown to Western audiences.
Instead, it resembles one of those casino buffets that features so many international cooking stations they prompt patrons (or, more precisely, filmmakers) to pile the plate high with plot elements and performers that don't really go together. (It doesn't help that production on "Nomad" shut down halfway through filming due to weather problems, only to resume later with a different director and cinematographer, as Sergei Bodrov and Dan Laustsen replaced Ivan Passer and Ueli Steiger.)
The "Nomad" origin tour stretches from the epic past (think "Gladiator" or "Braveheart") all the way to "Star Wars' " desert planet, Tatooine, as it recounts the saga of nomadic Kazakh tribes doomed to discord — until a boy grows up to fulfill his fate by uniting the feuding factions.
Our guide on this journey: the sagacious Oraz (Jason Scott Lee, an oasis of quiet charisma amid the bombast), the 18th-century Kazakh equivalent of Obi-Wan Kenobi, who runs a training school for young Jedi (oops, make that Kazakh) on the stark steppes of Central Asia.
Among the lads: Mansur (buff but blank Kuno Becker of "Goal! The Dream Begins"), who has no idea he's really a sultan's son — and a descendant of the legendary Genghis Khan who's destined to reunite his people.
An impending invasion by a mighty enemy army isn't his only problem, however. There's also the matter of his feelings for the feisty but fetching Gaukhar (Ayana Yesmagambetova, dubbed by Bai Ling), who's also the beloved of Mansur's best friend since childhood, the gallant Erali (a stalwart Jay Hernandez).
Precisely what two handsome Latino guys are doing playing Central Asian warriors is anybody's guess. As is much of the rest of "Nomad," which juggles characters, themes and story lines with all the finesse of a hopeless klutz who just can't help dropping the ball — or the club, or the sword.
Speaking of swords, however, there's one aspect of "Nomad" that needs no translation: the dynamic action sequences, filled with glorious charges on horseback, rousing jousts and fierce hand-to-hand combat.
They'd be better without Carlo Siliotto's obnoxious musical score. But in a movie as cloudy as "Nomad," you're grateful for whatever speck of silver lining you can find.
CAROL CLINGMORE COLUMNS
REVIEW
movie: "Nomad: The Warrior"
running time: 112 minutes
rating: R; violence
verdict: C-
now playing: Colonnade, Sam's Town, Village Square