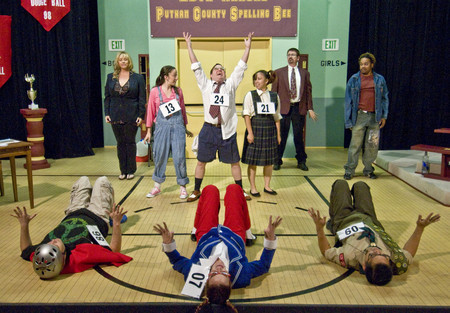 Want to catch the hit Broadway musical "The 25th Annual Putnam County Spelling Bee" but can't make it to New York?
If you live in Wichita, Kan., you could have caught a national touring company perform the Tony Award-winning musical. Same thing if you lived in Oskaloosa, Iowa; Toledo, Ohio; Saginaw, Mich.; or Erie, Pa.
But not in Las Vegas. However, while a touring company of the musical so far has bypassed Las Vegas, you can catch the Las Vegas Little Theatre's production of the show through July 26 at Las Vegas Little Theatre, 3920 Schiff Drive.
And that illustrates a strange reality for Las Vegas theatergoers: We'll probably see a local theater group's production of a touring Broadway musical long before the actual national touring company ever makes it here.
"Until a year ago or two years ago, we used to get the occasional tour," notes Walter Niejadlik, Las Vegas Little Theatre board president.
"It was certainly not first-class tours, the ones that really mimic the Broadway productions on the road," he adds. "I just don't think we're (a) big enough market to get those tours, the tours that go to San Francisco, Los Angeles, Boston, D.C., Baltimore, all the major cities across the country."
It's particularly ironic for a city that, not that long ago and thanks to the importation to the Strip of such hits as "Hairspray," "Spamalot" and "The Producers," was considered a prime market for Broadway-level theater.
Count Myron Martin among those who thought that Las Vegas "had the potential to become Broadway West. In fact, I was quoted in The New York Times as saying it would be, and I guess I was wrong."
"The notion that a successful Broadway show would kind of immediately be successful in Las Vegas proved to be not true for a whole bunch of reasons," adds Martin, president of the Smith Center for the Performing Arts, which is scheduled to open in 2012.
Phil Shelburne, producing director of P.S. Productions, which recently presented "Buddy — The Buddy Holly Story" at Spring Mountain Ranch State Park, says he has talked to "quite a few producers" over the years who "don't get that Las Vegas is a very different market" from New York.
"A lot of it has to do with what people come to Las Vegas for," Shelburne says. "I think we expect a certain type of product when we go to Broadway, and a certain type of atmosphere, and it's just a different one than coming here."
For one thing, Las Vegans can avail themselves of a never-ending stream of entertainment options. When a Wichita or an Erie lands a touring company of a Broadway show, it probably will be a big event. Fans will buy tickets far in advance, mark the dates on their calendars and build an evening out around the performance.
Contrast that with Las Vegas, where if you miss one show there's always another to see.
When touring companies played Cashman Field Center and the former Aladdin Theater for the Performing Arts — both of which have hosted Broadway touring companies in the past — "those were attended almost exclusively by locals," Martin says. "It was short run; it was only going to be here a week or maybe two weeks. They promoted it in advance, and locals knew if they were going to see 'Miss Saigon,' they had to see it during this week or they wouldn't see it."
Martin's credits include producing "Hairspray" at Luxor. That show closed three years ago, Martin says, "and to this day I still have people — locals — who come up and say, 'I heard such great things about that show, and we had all intentions of coming to see it, but we just didn't get there before it closed.'
"So there is kind of a dynamic that says, 'We know 'The Lion King' is great and we know this particular production is great and we know the great history Disney has with this show, but, you know, it's going to be there forever, so we could go see it this weekend or could wait until next month or the month after that. There's no rush.' "
It's that sort of urgency-bereft, lackadaisical attitude a producer can't afford — literally — to hear. "I think that's part of what makes the Broadway model difficult for producers when they talk about our market," Martin says.
He notes, too, that, in New York, "there's this whole kind of cultural tourism." Visitors plan their entire trips around shows, concerts, museum visits and other cultural events. In contrast, Martin says, Las Vegas showgoers tend to make entertainment decisions at the last minute, which, again, can dissuade producers who are eager to fill seats.
Here, Martin says, people "don't buy tickets far in advance for hardly anything. So that kind of model — wearing my producer's hat — makes it tough for a producer."
Las Vegas audiences also may have become accustomed to seeing a different sort of staged entertainment than New York's theatercentric audiences are.
"My personal feeling is people go to Broadway to see Broadway shows," Niejadlik says. "They don't come to Vegas to see a Broadway show. They come to Vegas to see Cirque or a headliner."
The experience of such altered-for-Vegas shows as the late "Spamalot" seems to lend credence to that theory. The Monty Python-inspired comedy was "cut to shreds" for its run here, Niejadlik says. "I saw it in New York when it first opened, and, wow."
The competition a Broadway show would face from the glut of other productions here also may dissuade producers from scheduling Las Vegas for a touring company engagement.
"You have to remember, this town is so overblown with talent and with shows that a Broadway show really is kind of passe," says Karl Larsen, president of Signature Productions, which has staged such shows as "Thoroughly Modern Millie" and the upcoming "Once on This Island" and "The King & I."
It's nothing new, adds Larsen, who recalls seeing "Hair" at the old International Hotel in the '60s. That show, he notes, "didn't last more than a year."
Martin calls it the "noise factor," and says he once counted "something like 168 shows all going on at the same time on any given night." That doesn't even include the broadening of "Las Vegas entertainment" beyond the theater and showroom to include "nightclubs and ultralounges and those kind of things," he adds.
But, even if such perceptual issues are ignored, there's this nuts-and-bolts practicality: Las Vegas doesn't currently have a readily available, structurally suitable venue to host a first-class Broadway production.
"We don't really have a legitimate Broadway theater in town — we're talking about a 2,000- to 3,000-seat theater like you'll find in New York and most major cities, with a proscenium-style (stage)," Niejadlik says. "Some of the casinos have them, but they're either way too big or way too small for a Broadway show, in my opinion."
Martin notes that there are theaters at Strip properties that are capable of meeting a Broadway-caliber show's technical requirements. But, he adds, casinos probably would balk at the notion of changing out a touring production every seven or 13 days, so "it's not a model that works for a hotel or a casino."
"The first and primary reason we have not seen the first-run tours like 'Wicked" … (is) we don't have a venue appropriate for it," Martin says.
But he's convinced that, given the proper venue and opportunity, Las Vegans would embrace Broadway-caliber theater.
A few weeks into "Hairspray" "we did a kind of pre-opening night, a soft opening, and what we called previews, and those were marketed primarily to locals," Martin says. "And every single night I saw tons of friends at the Luxor hotel going to see that show because they knew this was just for them.
"What that proved to me is, if you produce a really good show for a limited time in a world-class center, that Las Vegas certainly has the population with which to support those shows."
The Smith Center is, Martin says, specifically designed to meet the needs of touring productions. And if it's able to attract Broadway-caliber shows to Las Vegas, local theater companies hope that the rising tide it creates will lift all theatrical boats.
"We'd love to see bigger shows come to town," Larsen says. "I think it would pique (Las Vegans') interest in going to the theater."
"I think theater begets theater," agrees Douglas Baker, a theater professor at the College of Southern Nevada. "I think that the arts really help the other arts to grow."
Having touring companies play at Smith Center "might change the titles of your offerings," Shelburne says, but "then again, a lot of those are titles (community theaters) don't have access to anyway."
Contact reporter John Przybys at jprzybys@reviewjournal.com or 702-383-0280.