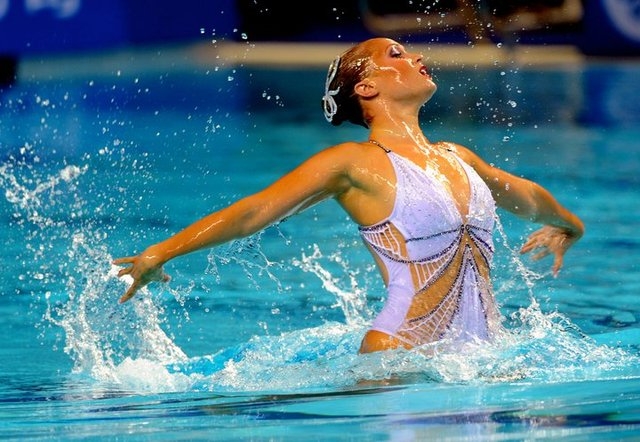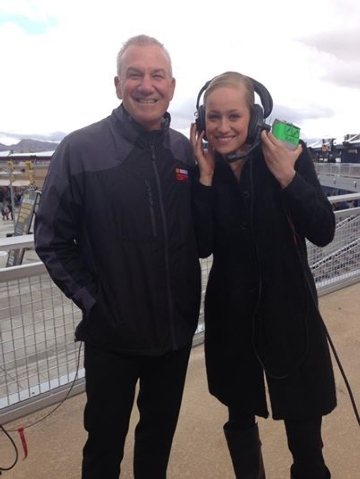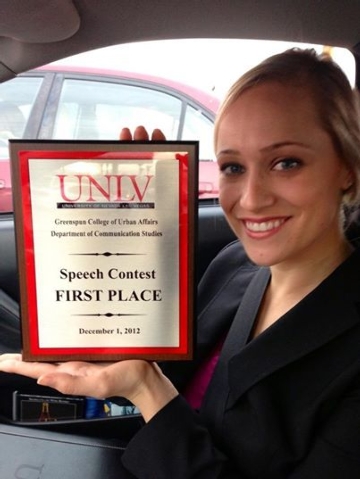 They say that "if you love what you do, you never have to work a day in your life."
Such is the life of Henderson resident Christina Jones.
Through her love for swimming, her career in broadcast journalism blossomed.
"I competed in the 2008 Olympics in Beijing for synchronized swimming, and I just remember being fascinated with watching the reporters interview competitors," Jones said. "I was interested in the process and how the cameras worked. I always knew I wanted to go to (college), so I decided to go for broadcast journalism."
The 26-year-old was recently named one of 14 recipients of the Tony and Linda Bonnici Broadcast/Communications Scholarship administered by the Nevada Broadcast Association.
This is her second year receiving the scholarship, according to scholarship founder Linda Bonnici.
"Here she is, an older student with a full-time job, and she's still pursuing her passion and going to school," Bonnici said. "She doesn't let anything stop her. She's adamant about getting her education."
Born near San Francisco, Jones said she she can't remember what it was like not to swim.
"I remember when my mom took me to Disneyland when I was young, and she couldn't keep me out of the hotel pool," she said. "I didn't want to go to Disneyland. I wanted to stay in the pool."
At 6, Jones combined her love for the water with performing and joined a synchronized swimming team.
"I used to choreograph dances with my friends and perform them for our parents, so it was a no-brainer to join synchronized swimming," Jones said. "I mean, I've always felt more comfortable in the water than I do on land."
After joining a national team in 2005, Jones qualified to compete in synchronized swimming in the 2008 Olympics. She placed fifth in the duet and team meets.
"We trained six days a week for 10 to 12 hours a day, with at least eight hours in the water and land drilling," Jones said. "It was intense. You have no time or energy for anything else. It's a complete sacrifice."
After the Olympics, Jones moved to Las Vegas in 2009 to perform as a synchronized swimmer in Cirque du Soleil's "O." She currently performs in the show's Nage act.
She also recently accepted a publicist position with Water Beauties, a synchronized swimming production company.
"I've been balancing the sport with school my whole life, so it comes naturally to me," Jones said. "Water Beauties is the perfect opportunity. The ability to apply my new skills with something I'm already comfortable with is God-sent for sure."
In four years, Bonnici and her husband, Tony, have offered full-ride scholarships and advice to 33 recipients. Bonnici serves as the vice president of sales at KLAS-TV, and Tony is the vice president and general manager of Lotus Broadcasting.
"We didn't want to be just a financial resource. We want to be their mentors and make it personal," Bonnici said. "We look at these students as our own kids. Whenever they're struggling, we want them to feel free to call on us for guidance."
With the help of the association and Bonnici family, Jones plans to hone her broadcast skills before graduating in December.
"I didn't have any idea what I was applying for at first, but it is so much more than a scholarship," Jones said. "The Bonnici family really cares about the recipients. They support us and give us advice, and it's the biggest blessing I've had here in Las Vegas."
For more information, visit nevadabroadcasters.org.
Contact Henderson View reporter Caitlyn Belcher at cbelcher@viewnews.com or 702-383-0403.