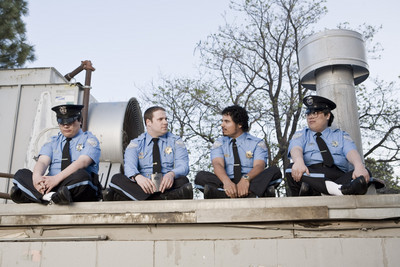 It's tempting to describe "Observe and Report" as the feel-bad comedy of the year.
There's one problem: It's not funny.
Truth be told, however, there's more than one problem with "Observe and Report," which turns out to be a lot less observant than it pretends.
Thus it's my solemn duty to report that a supposedly bold experiment in dark humor emerges as a virtually empty exercise in wretched excess. And I do mean wretched.
More's the pity, because "Observe and Report" had definite potential as a sharp satirical portrait of a desperate (and possibly dangerous) nobody who's a legend in his own mind.
Casting the affable, teddy-bearish Seth Rogen in the role gives the actor the chance to move beyond the stoner schlubs he's played (to a fare-thee-well) in such hit comedies as "Knocked Up" and "Pineapple Express."
That's because the guy he plays in "Observe and Report" — rent-a-cop Ronnie Barnhardt — would just as soon knock those losers upside the head as look at them.
Truth be told, Ronnie would rather blow them away with some real live firepower, but as a mall security chief — don't ever call him a mall cop — he's not allowed to carry a gun.
Still, Ronnie reasons, "We got Tasers. We got Mace. It's not bad."
That is, until a raincoated flasher strikes, accosting mall customers and employees alike — including Ronnie's object of lust, bimbo-fied Brandi (Anna Faris), a cosmetics clerk who's a walking advertisement for her wares. (And not a good one, either.)
Much to Ronnie's dismay, somebody calls the cops — embodied by cocky Detective Harrison (Ray Liotta), whom Ronnie considers a threat to his hard-won authority.
And Ronnie doesn't deal with threats very well. Not because he's bipolar (but of course), but because he's … Ronnie.
Writer-director Jody Hill (HBO's "Eastbound & Down") sketched a similarly obsessive character in "The Foot Fist Way," which featured Danny McBride ("Pineapple Express," "Tropic Thunder") as a jaw-droppingly obnoxious martial arts instructor.
Ronnie's just as jaw-droppingly obnoxious, and equally absurd, yet he didn't strike me as the slightest bit funny. (Funny strange, to be sure, but hardly funny ha-ha.)
Maybe it's because Ronnie revels in his role of self-appointed vigilante — more angry, alienated Travis Bickle (of "Taxi Driver" fame) than the lovable lug of "Paul Blart: Mall Cop."
Or maybe it's because Hill can't transform his outrageous characters — and their over-the-top antics — into remotely credible beings.
Time and again, "Observe and Report" cranks up the outrageousness, but Hill never displays the slightest interest in directorial control, opting instead for scattershot, over-the-top anarchy.
Yes, Hill's got the gung-ho thing down cold. And no one's expecting mind-your-manners restraint in a movie that's all about Ronnie giving vent to his rage-a-holic impulses.
Yet there's a difference between fearlessness and obliviousness. "Observe and Report" all too often falls victim to the latter, relentlessly bashing you over the head with a sledgehammer until the inevitable headache sets in — at which time it starts bashing you over the head all over again.
It's downright painful to watch such talented types as Michael Peña (as Ronnie's out-there assistant) and Celia Weston (Ronnie's boozehound mother) grovel for strained laughs. Liotta and Faris fare slightly better; typecast as they are, their established personas do much of their work for them.
Rogen, meanwhile, burrows into his psychologically twisted role with dogged, almost desperate determination.
He succeeds in burying that sweet, goofy guy we've come to love in previous movies — but I missed him.
After all, that sweet, goofy guy was always funny. And his replacement in "Observe and Report" is anything but.
Contact movie critic Carol Cling at ccling@reviewjournal.com or 702-383-0272.
Carol Cling's Movie Minute
Review
"Observe and Report"
86 minutes
R; pervasive profanity, graphic nudity, drug use, sexual content, violence
Grade: D+
at multiple locations
Deja View
From his small-screen start on "Freaks and Geeks" and "Undeclared," Seth Rogen's moved from supporting geek to comedy star. His biggest big-screen hits:
"The 40 Year Old Virgin" (2005) — Rogen reunites with "Freaks and Geeks" creator Judd Apatow for a role as a hapless, hilarious co-worker of the desperate title character (Steve Carell).
"Knocked Up" (2007) — Rogen reunites with writer-director Apatow for this hit about a woman (Katherine Heigl) who discovers she's pregnant after a one-night stand with a stoner schlub.
"Superbad" (2007) — Rogen co-wrote and co-stars in this raunchy romp about three high school losers (Jonah Hill, Michael Cera, Christopher Mintz-Plasse) trying desperately to score booze for a big bash.
"Pineapple Express" (2008) — Rogen returns as co-writer and star of this comedy thriller about a pothead (Rogen) and his blissfully out-of-it dealer (James Franco) running for their lives.
"Zack and Miri Make a Porno" (2008) — "Clerks" writer-director Kevin Smith helms this tale of impoverished roommates (Rogen, Elizabeth Banks) who solve their problems by becoming do-it-yourself porn auteurs.
— By CAROL CLING