September 29, 2014 - 10:19 am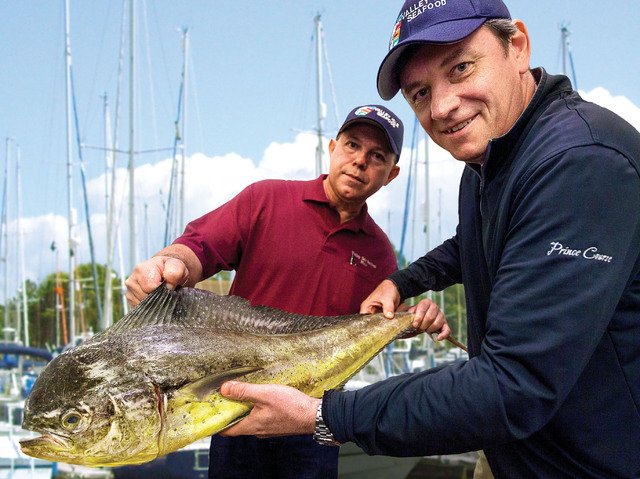 Paul Bartolotta was calling from Florence, Italy, in response to an interview request. And although he was far from his restaurant at Wynn Las Vegas, the executive chef of Bartolotta Ristorante di Mare was working.
"I am here because I am in search of some fish," he said. "Whenever I get to Italy, I look around to find stuff to add."
Bartolotta said he travels to Italy four or five times a year, and when he does, he spends most of his time meeting with fishermen and going out on their boats.
"I want to get to know as many of my fishermen as possible, spend time with them," he said. "What I've found out is if I'm out with the fishermen, they can tell you stories and they can introduce you to their wives and their families and you learn to taste things that truly somebody who lives on the ocean would have as part of their family culture. It's culinary inspiration, but also a connection with the people and the product, and I learn about the product.
"I love being around my fishermen because they teach me. I need to be taught. I need to be learning all the time."
Call it ocean-to-table, an offshoot of the farm-to-table movement that's been gaining ground across the country. And at Wynn Las Vegas, Bartolotta isn't the only one who practices it. David Walzog, executive chef at the resort's Lakeside, also travels in the spirit of ocean-to-table, but in his case it's to Hawaii.
Bartolotta said such focus — which also includes the resort's lobster tanks, which were set up by a marine scientist before opening day — are reflective of owner Steve Wynn's commitment to quality. He said while in Italy, he'll sometimes come in contact with chefs who are mystified that he's able to obtain some native-caught seafood that they can't get.
"It's because I don't ask how much they cost," he said. "I just want them, and I want the best ones you have, and I'll figure it out."
When he encounters Wynn, he said, the boss asks, "How are things going? Do you need anything? Are you getting all the support you need from the hotel?"
"He never starts with, 'How much money are you making?' Bartolotta said. "He is literally obsessive about making sure we get it right."
And so, it seems, are they.
"I'm passionate about doing something authentically Italian," Bartolotta said. "I'm less interested, at this point in my life, and my career, in fireworks. I'm more interested in doing a good job at bringing authentic Italian food, the way Italians eat it, to the United States. And being somewhat of an ambassador of the tradition.
"We're in an environment where everything is moving so fast. The truth is, there's nothing new, there's nothing original. I have access and have gone through the labor to find these amazing products and the best way I can think of to use them is the way people have been using them for hundreds, if not thousands of years. When you eat in my restaurant, I will take you to Italy. In order to do the things that I do, and to do it with such clarity and simplicity, you need incredible ingredients."
A certain proportion of his clientele, who have been to Italy and/or otherwise traveled widely, would certainly recognize that. But what about the others? Does he believe they recognize the passion behind the product?
"I absolutely do," Bartolotta said. "I would say that I live in a very rarefied environment. Even Steve (Wynn), in the very beginning, wasn't quite sure how this would be received, and I kept pushing it: 'Steve, we know people love everything Italian. We know that people are eating healthier, and what's better than seafood? And we can do something that's never really been done before on this scale.'
"The net result is, he allowed me to bring in this product."
Bartolotta said the venture has been a success, with double-digit growth year over year.
"What I've found out over time is people who come to this restaurant who may not get what we do will have a very good meal," he said. On the other hand, "The consumers who come to my restaurant now, it's become almost a club. 'Where are the spaghetti and meatballs?' We're past that."
In the early days, Bartolotta said, he would generally have 12 to 15 fish to offer.
"Today, I have upwards of 40 to 50, and more arriving tomorrow morning," he said.
Because so much of his supply comes in from the Mediterranean, Bartolotta and his suppliers have an innovative quality-control system. Early on, he said, a shipment came in that wasn't in good condition. The fisherman and shipper both denied responsibility, so they ended up splitting the loss three ways, and Bartolotta said he wanted a system so that it wouldn't happen again. The fisherman suggested putting a thermal microchip in each of the foam boxes in which the fish were shipped. He would insert it in the mouth or belly of the fish, and tie a red ribbon around the tail for easy identification.
"We take a reading every 30 minutes," Bartolotta said. "In doing so, it allows me to track if the fish went to Manchester, if it went to Egypt because of the volcano in Iceland — wherever it's going, we know exactly from the moment it left."
Walzog, whose product doesn't travel as far, has not yet resorted to microchipping his fish, but he's no less passionate about it and about building relationships with those who produce it; to that end, he traveled to Hawaii in March.
I thought it was really important to keep delving into this process and to get a more intimate relationship with the actual fishing," he said.
And Walzog said while the goal is to ensure quality, it's also to obtain information for an increasingly inquisitive clientele.
"We're always looking to add elements of lineage and provenance to what we serve, and have this really great story," he said.
Walzog said his ocean-to-table program at Lakeside, which started this year, stemmed from a friend who's a chef in Hawaii recommending a vendor.
"They have a mosquito fleet of dayboats and charters that go out and that are continually bringing back fish and offering them for sale," he said. "They're little boats — 25-foot boats — guys who are launching them from off their trailers. They're out there and they have fish to sell when they come back. It's all dayboat stuff. They're out in the morning, or overnight and they're back in the afternoon. We're bringing all that stuff, which is really pristine, super-quick to the mainland."
He said he recently got to know a fisherman in Hana, on the island of Maui, who will soon be fishing exclusively for Lakeside, "which is really cool."
"The wife, on Sunday at 7 o'clock our time, texted me what he came back with that day," Walzog said. "He goes out at about 5 or 5:30 in the morning. About 3 o'clock his time he's pulling back in. He took the glory shot of all the fish coming out — 120 pounds of opakapaka, the pink snapper. That stuff gets in a cooler on his side and gets driven to Kahului, the airport on Maui. And it's here at 6 o'clock Tuesday morning. It gets caught Sunday afternoon and is on plates Tuesday evening at Lakeside. And our guests love it. If you've been to Hawaii, you know the fish is really second to none. It's so pristine and so clean and so flavorful.
"To get that same experience in Las Vegas — guys fishing on our behalf — it's really fantastic."