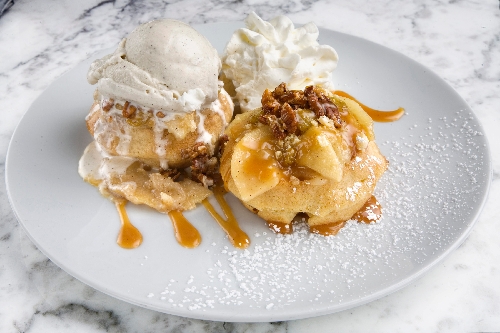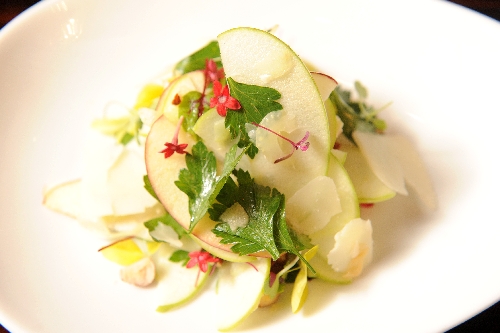 Apple Pie Waffle
Sugar Factory American Brasserie, Paris Las Vegas
A vanilla-bean waffle is topped with roasted apples, caramel sauce, whipped cream, toasted pecan crumbles, a scoop of vanilla ice cream and maple syrup, $12.
Torta di Mele
Bratalian Neapolitan Cantina
Classic fresh apple pie, served with caramel gelato, $8.50.
Apple Strudel
Postrio
This traditional Austrian pastry is made from scratch by stretching hand-kneaded dough across a 6-foot table and filling it with thinly sliced Pink Lady apples, raisins, cinnamon and panko, then rolling it to make five or six layers. It's served warm with vanilla bean ice cream and caramel sauce, $11.
Caramel Apple Cobbler
Ranch House Kitchen
Made with Granny Smith apples sauteed in butter, with cinnamon, caramel, a warm crumble topping and vanilla ice cream, $7.95.
Shaved Heirloom Apple Salad
Hank's Fine Steaks and Martinis, Green Valley Ranch
In addition to the apples, the salad is made with celery hearts and Manchego cheese and dressed in a Riesling vinaigrette, $12.
If you have suggestions for On the Menu, please contact Heidi Knapp Rinella at Hrinella@reviewjournal.com or call 383-0474.