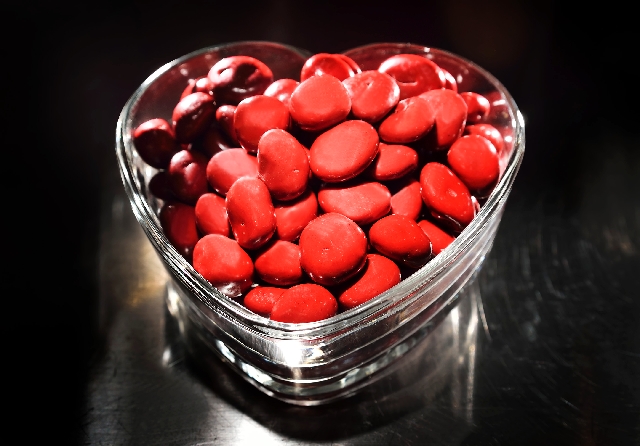 Valentine candies
Sweet Spot Candy Shop
Somewhat off the beaten path are these dried cherries coated in cherry chocolate, plus valentine jellies (cherry juju hearts, cinnamon bears and sour pearls), $20 a pound for the cherries, $10 a pound for the jellies.
Heart-shaped
sushi roll
Koi Las Vegas,
Planet Hollywood Resort
Pink sushi? Why not? This roll of ahi tuna, avocado and tempura shiso leaf is wrapped in soy paper, $16 (available on Valentine's Day).
Candy bouquet
Sweet Ruby Jane Confections
Bouquets in a reusable porcelain vase combine cake pops, chocolate-covered strawberries and chocolate and sugar lollipops and start at $60 (delivery available).
Chocolate Coeur
a la Creme
Phil's Steakhouse,
Treasure Island
Sweetened cream cheese and dark chocolate is blended and lightened with whipped cream, molded in a heart shape and served with fresh raspberry compote, $8 on Valentine's Day (also at the Seafood Shack).
Red Velvet Heart
Rao's, Caesars Palace
Ruby-red velvet cake is layered with cream cheese buttercream and covered in a white-chocolate glaze, $12 (available on Valentine's Day).
If you have suggestions for On the Menu, please contact Heidi Knapp Rinella at Hrinella@reviewjournal.com or call 383-0474.