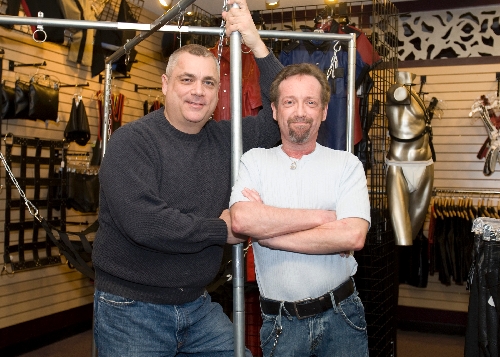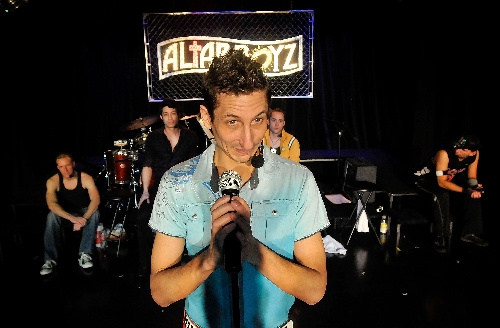 Tricia Edwards-Schade's recent outing to see the musical "Naked Boys Singing!" left her feeling a bit disturbed.
The plot of the off-Broadway show — which has been running for nearly a year at the Onyx Theatre, 953 E. Sahara Ave. — revolves around seven men stripping naked and singing. The nudity wasn't the problem, Edwards-Schade says, because at 67, "it's always nice to see a naked boy." She was joking, of course.
It was the theater's location that made her uneasy. But because the show was entertaining and fun, Edwards-Schade pushed aside any misgivings about her surroundings, as they ultimately had no effect on what she saw onstage.
Since opening in 2006, the Onyx Theatre has shared space with The Rack, a leather fetish shop in the Commercial Center. Its de facto lobby is part of the retail store that sells leather clothing, risque outfits, whips, chains and other items one might need to indulge a sexual fetish.
Fans say that's a major part of its appeal. Over the past four years, the 96-seat theater has built a niche following among local artists, performers and community theater lovers by concentrating on edgy, sometimes outrageous, material, not unlike a few items found in The Rack.
While shows such as "Naked Boys Singing!" "Hamlet" with a female lead and "Cannibal! The Musical" attract the Onyx core audience, co-owner Michael Morse has been unable to divert from that formula with any success. A recent three-week run of the more mainstream musical "Altar Boyz," a satire about a Christian pop boy band, failed to draw the audience Morse expected: the average Las Vegan.
It's frustrating, Morse says. Location shouldn't be a deal-breaker to those who want to see good community theater.
"It was an excellent production, but it was just like trying to pull teeth to get audiences," says Morse, who found himself asking: "Is it because we're in the back of the leather fetish store? That hasn't hurt us before."
While adventurous older women such as Edwards-Schade and Linda Parmentier, 65, aren't turned off by the Onyx Theatre's location, others might be, they say.
Parmentier, a member of the Red Hat Society, goes to a play maybe once a year. She saw "Naked Boys Singing!" with a fellow Red Hatter, both of them making a day of it with lunch.
"It was a pleasant afternoon," Parmentier says. "But when two of my friends went, they saw the outside and left."
That may have had something to do with the Commercial Center, where the Onyx is located, and its surrounding businesses such as the Green Door, a swingers club. But the rent is affordable, Morse says.
"Being here in the Commercial Center has helped and hurt us. There are very few places you can go and afford to open up a theater. The one place we can be happens to be where the sex clubs are," Morse says. "This area doesn't have a shining reputation and it never has. No matter what I produce or the quality of the product, it's difficult to get audiences."
Building a solid following for a local theater is hard work, says Walter Niejadlik, president of the board of directors for Las Vegas Little Theater. The company has been around for 32 years, but it has been a struggle at times, he adds.
While the Onyx shows high quality work, Niejadlik says, the theater's location and its niche automatically eliminate a certain audience member, the more conservative, casual theater attendee. And the fetish shop almost precludes families from attending. During the "Altar Boyz" run, Morse took a few phone calls from parents asking if the Onyx was in an appropriate area to bring their children.
"Certainly there's always going to be a contingent that is offended (by the fetish shop)," Niejadlik says. "You're not going to bring the kids down to walk through a shop with whips and leather thongs unless you want to answer a lot of questions or give them a quick education."
Still, there is a place for the Onyx in Las Vegas, he says. Las Vegas Little Theater's black box features material that's edgy, almost along the same lines of what the Onyx does. But Niejadlik doesn't think of the theater as competition; instead, he believes they can co-exist successfully.
"If you're getting through a year and still have the money and the gumption to keep going, you're doing good," Niejadlik says. "If you can survive the nights when there are more people on the stage than audience, then you just might make it."
When Morse opened The Rack, he never planned to build a theater. But the success of the store and his other business, Hawk's Gym, also in the Commercial Center, enabled him to indulge his love of community theater. Groups pay to use the space, usually making a split ticket arrangement with the house, Morse says, because local acting troupes often don't have the money upfront to pay rent.
They stage or host a variety of programming, from movies and documentaries to musicals and plays. Ticket prices range from $10 for movies up to $20 or $30 for live theater.
He has never made money from it. In better days, the theater was a good tax write-off, Morse says.
"Now, not so much. The economy is bad and money is tight with everyone so we've had to really fluctuate our ticket prices," Morse says. "We're still here and we're still producing quality shows because it benefits the community. That's why we've kept the Onyx going. Has it been cost effective? Hell, no."
Sometimes, Morse thinks about folding the theater.
"When I start thinking I want to tear it down and move on, someone comes along and thanks me for what I do," Morse says. "That in itself is tremendous reward. I think we have great potential for sticking with it and making it work."
There have been signs that things may be getting better. Ticket sales have recently improved and several promising shows are in the pipeline, Morse says.
"If I have enough paying customers to meet the basic expense of the production it's on my stage," he says.
Contact reporter Sonya Padgett at spadgett@review journal.com or 702-380-4564.