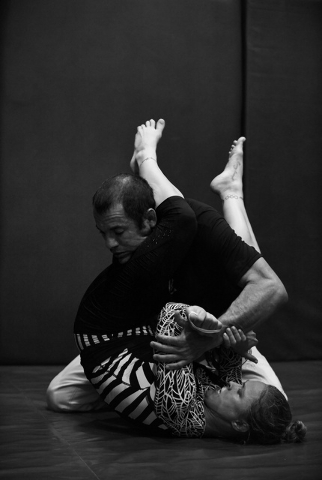 Ronda Rousey is a revolutionary UFC star who trash-talks and demolishes rivals — but she's also a fun interview, so I asked about her favorite sports movie "Slap Shot," dating, and if the UFC should have "ring boys."
Rousey will autograph copies of "My Fight/Your Fight" at Barnes & Noble, 2191 N. Rainbow Blvd., at noon Saturday. The wristband line starts at 9 a.m., favoring people who buy her memoir there.
The inspirational autobiography is getting huge press for Rousey's stories of relationships, a childhood speech impediment, an eating disorder, her father's death, and much more. Rousey, 28, also appears in the June 3 comedy, "Entourage."
ELFMAN: Your book could not be getting a better reception.
ROUSEY: It's just the truth. … I was nervous to see how well-received certain things would be.
ELFMAN: The more you spill the beans about yourself as a celebrity, the more people like you, whereas a lot of celebrities want to hide that, and it hurts them eventually.
ROUSEY: Yeah, that was one of my motivators behind the book. The truth is the best armor. I'd rather tell people things than live in fear that certain things would be found out.
ELFMAN: I was very offended Walmart, which sells guns and I believe bullets, wouldn't sell your book (because of the violence in the book, reportedly).
ROUSEY: That shows you how dangerous words can be.
ELFMAN: What's the (crappiest) thing you ever bought in a Walmart?
ROUSEY: Actually, in Montreal, Walmart saved my ass (during poorer days). I got a bunch of towels there. … I'm not mad. I feel like if the book is successful enough, they'll pick it up.
ELFMAN: Do you think the UFC should have ring boys to complement the ring girls?
ROUSEY: As a woman, I'm not as visual as a guy. If I see a guy walking around in a Speedo, I don't get anything from it. I don't think women would enjoy ring boys as much as men enjoy ring girls. But that's just me. I'm not the let's-go-to-"Chippendales" type. Some chicks would be into it. They should poll the fans, not me. … I don't know. That's somebody else's job to think about (stuff) like that.
ELFMAN: At some point, someone is going to have to play you in the movies. Is that going to be you, or do you have an idea who might be able to play you?
ROUSEY: If Eminem can be himself, why can't I do it? Whitney Houston can be herself, why can't I do it?
ELFMAN: Are you going to have any conversations with Hollywood about the book?
ROUSEY: It hasn't even been out a week, so I'm just thinking about winning this fight. (She battles Brazilian Bethe Correia Aug. 1 in Rio de Janeiro). And I'm already filming a different movie in February.
ELFMAN: Why was the WWE so cool? (Rousey surprised a WWE crowd by tag-teaming with The Rock.)
ROUSEY: Why does water quench your thirst? The nature of the WWE is to be cool. To be in it is to be extra cool.
ELFMAN: Are you going to go back to WWE while you're doing UFC, or are you going to wait till UFC is over?
ROUSEY: Well, if you were a real WWE fan, I don't think you'd want to know. Isn't the best thing about the last appearance that it was a total surprise?
ELFMAN: I saw the Tinder thing. (Rousey recently said she can't date via the Tinder app, because people recognize her, even under a fake name.) What are your likes and dislikes in a romantic situation?
ROUSEY: I honestly don't know. I don't really have any time to figure it out. I mean, I don't have time right now. I feel like, I know it when I see it. I don't have a list of requirements I'm looking for somebody to fill. When I meet somebody, I either like them or I don't. I'm not into a particular type of guy.
ELFMAN: I can't find online what your favorite sports movies have been, or what you thought about "Girl Fight," or "Million Dollar Baby," or "Rocky," or any movies.
ROUSEY: My two favorite sports movies are "Rocky" and "Slap Shot." "Slap Shot" never gets enough credit.
ELFMAN: "Slap Shot" is my number one. Do you have a favorite inspirational character?
ROUSEY: The most inspirational character is Rocky. The most entertaining is Paul Newman (in "Slap Shot").
ELFMAN: Give me your favorite line from "Slapshot."
ROUSEY: "She's a lesbian, a lesbian!" That was my favorite part of the movie, is when he's teasing the goalie.
ELFMAN: I recently saw "Rocky" again for the first time in many years, and it was superb.
ROUSEY: Yeah the original "Rocky" is still my favorite, but "Rocky IV" is pretty awesome, too. We're about to "Rocky IV" this chick in August.
Contact Doug Elfman at delfman@reviewjournal.com. He blogs at reviewjournal.com/elfman. Find him on Twitter: @VegasAnonymous