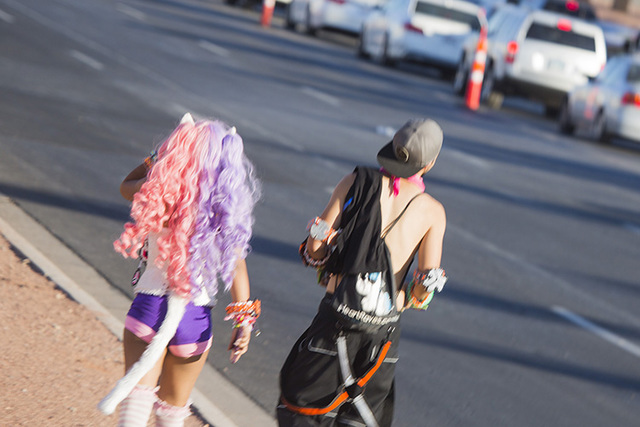 Electric Daisy Carnival organizers are asking the free-spirited attendees of this weekend's dance music festival to show more awareness and vigilance in the aftermath of the worst mass shooting in U.S. history.
Insomniac, the promoter of the three-day event, and the Metropolitan Police Department will have a heavy security presence when hundreds of thousands of attendees start arriving at the Las Vegas Motor Speedway tonight. But the Sunday shooting at an Orlando nightclub that left 50 people dead has heightened public safety concerns, and at an event as large as the Electric Daisy Carnival, police and security will need help.
"If at any point, something doesn't feel right or doesn't look right or doesn't seem right, be that person who speaks up and says something," said Maren Steiner, Insomniac's director of health and safety. "That can really save lives in so many different areas. So if everybody's looking around for each other, we'll all be safe this weekend."
Las Vegas police spokesman Jesse Roybal declined to state the number of officers working at the speedway over the weekend but said the police presence will be "very visible" throughout the venue.
"Metro will be all over the place, entrances and exits, directing traffic with Nevada Highway Patrol, inside and out of the venue and in parking areas," he said.
Addressing dance music industry representatives Wednesday at the EDMBiz conference at Caesars Palace, a two-day industry event that precedes EDC, Steiner emphasized Insomniac's commitment to keeping the Las Vegas Motor Speedway secure before, during and after the event.
"We always think about the 'what ifs'" said Steiner. "I spend my entire life thinking about the 'what ifs,' so that our fans and our staff don't have to. The amount of preparation that goes into the Electric Daisy Carnival is enormous."
"We monitor the perimeter for a mile around the venue," Steiner said Wednesday. "We have an intense camera system and a lot of different security features that I don't necessarily want to discuss.
"We've always had a huge law enforcement presence at the show, simply because of the mass amount of people that are there," she said. "And some of those law enforcement (representatives) you can see, and some of them you can't."
She said her goal is to ensure EDC retains its ambiance of acceptance, even as the nation continues to grieve the tragic events in Florida. Because of the shooting, Insomniac delayed plans to announce the dates for this year's edition of EDC Orlando, originally scheduled to be released earlier this week.
"But I want everybody to know that EDC is place of love," she said. "It's a place of harmony. It's a sanctuary for our fans. We are so excited to welcome everybody. And we don't want people to think about the negative. This is a time to come to escape, to relax, to enjoy, to be there for the music, to be there for each other, and, most importantly, to love. Because, that's how you defeat terrorism is just by loving everybody and by accepting each other, and that's really what EDC is about."