Panic! At the Disco, Psycho fest top Las Vegas' weekend best
Updated August 17, 2018 - 1:56 pm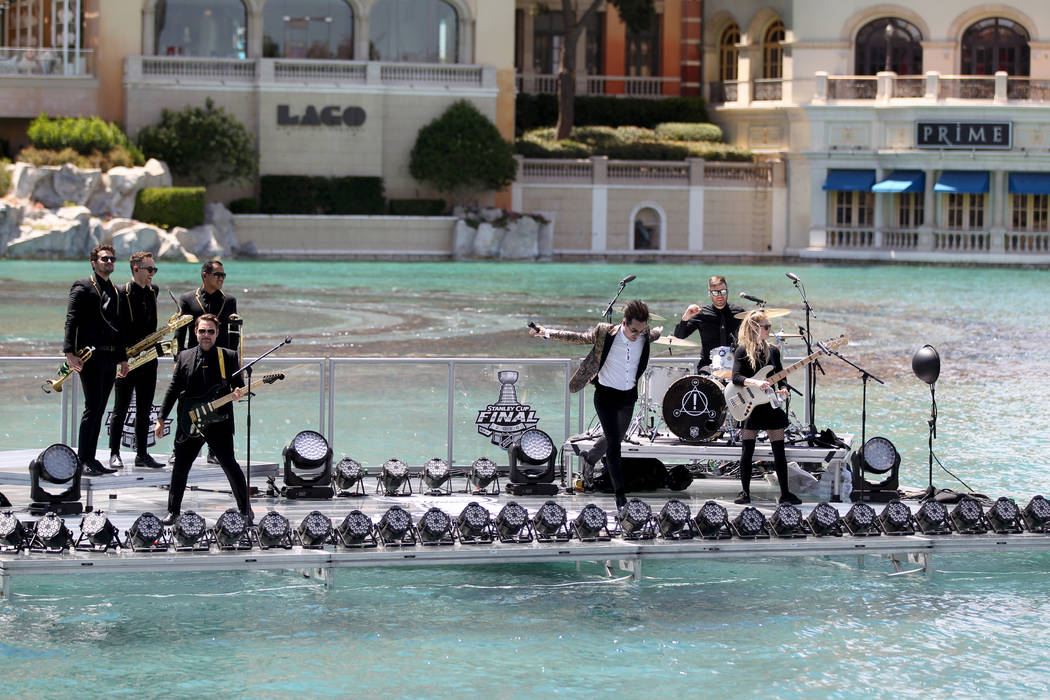 Panic! At the Disco
Though it no longer calls Southern Nevada home, Panic! At the Disco will always be a Vegas-born band. You can catch Panic! at 7 p.m. on Saturday at T-Mobile Arena. Read more about the band's Vegas roots.
Cheech and Chong
It's "Anniversary Season" for Cheech & Chong.
The duo are celebrating 40 years since the release of their stoner-comedy movie, "Up in Smoke," and 10 years since their onstage reunion at The Comedy Festival at Caesars Palace. You can see them light up the Showroom at The Orleans on Saturday. Showtime is 8 p.m. Find out more about Cheech and Chong.
Beat the heat at the movies
Catch "Baby Driver" (Monday), "Pulp Fiction" (Aug. 27) and "Transformers" (Sept. 3) while swimming or lying by the Boulevard Pool at The Cosmopolitan of Las Vegas.
The Rio is hosting poolside screenings of "Cars 3" (Aug. 24), "Pirates of the Caribbean: Dead Men Tell No Tales" (Sept. 14), "Black Panther" (Sept. 28) and "Thor: Ragnarok" (Sept. 29).
And you can take a dip while watching "The Lost World: Jurassic Park" (Aug. 18) and "Cast Away" (Aug. 25) at The Porch at Hooters Hotel.
See more ways to beat the heat in Las Vegas this summer.
Bill Burr
Bill Burr always wanted to be a comedian — at least once he figured out that a comedian was something that he could be.
Widely known for his bold, unapologetic humor on and off stage, Burr considers himself a simple man: in his words, "a bald, red-headed male who at all costs avoids the sun." Catch his comedy stand-up at 9 p.m. on Saturday at Park Theater. Read more about Bill Burr's comedy.
Psycho Las Vegas
High on Fire will return this weekend to Psycho Las Vegas, the three-day heavy music fest that's quickly become one of the best events of its kind. The festivities begin Thursday with a preparty at the Hard Rock Hotel pool, one of three Psycho stages at the property. Other acts include Swedish hard rockers Hellacopters, industrial metal duo Godflesh and dark, bluesy Danzig. Catch Psycho Las Vegas at the Hard Rock August 16-19. Find out more about the fest.
Hit the 'beach'
Downtown Container Park, 707 Fremont St., continues its Kids Camp series Saturday. Beach-themed activities, snacks and entertainment await kids 12 and younger from 11 a.m. to 1 p.m. Beach attire and swimwear are encouraged for water activities, including an inflatable water obstacle course and dunk tank. Tickets are $10 per child at downtowncontainerpark.com.
UFC Night at the Lights game
Soccer meets MMA this Saturday at Cashman Field. In addition to the 8 p.m. matchup between the Las Vegas Lights and Phoenix Rising, UFC Hall of Famer Forrest Griffin, UFC flyweight Joseph Benavidez and UFC women's strawweight Claudia Gadelha will be on hand to meet and greet fans during halftime. lasvegaslightsfc.com/august
'Crazy Rich Asians'
"Crazy Rich Asians" doesn't just embrace romantic-comedy cliches. It grabs those tropes by the waist and lifts them into the air, "Dirty Dancing"-style, before giving them a big, sloppy kiss on a crowded train platform in the rain.
While not nearly as scarce as an Asian-led Hollywood movie, a well-made romantic comedy is becoming very rare indeed. "Crazy Rich Asians" just may lead to a surge in both. Read the full review of "Crazy Rich Asians."
Hit the ice
How did we ever get through summers without hockey? Try spending some of the hours until the Golden Knights' Sept. 16 preseason opener inside City National Arena.
The real attraction, though: the two ice rinks, where the air temperature is 60 degrees. Watch youth practices or league games or, heck, read a book if you want. It's 60 degrees! Find out more about visiting the City National Arena.
Wiz Khalifa
On tour promoting his new album,"Rolling Papers 2," Wiz Khalifa takes a break to perform Saturday at Drai's Nightclub. Doors open at 10:30 p.m. at The Cromwell. Tickets start at $40 for women and $60 for men (draisgroup.com).