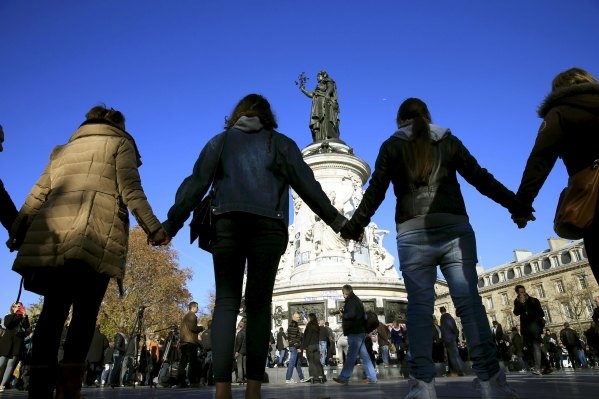 Former Las Vegas publicist Traci Coulter was dining with friends at a Paris restaurant on Friday when an ominous text arrived.
"How quickly and easily can you get back to the hotel?"
As Coulter was texting back to her friend at the hotel, another text popped up.
It was her best friend in Los Angeles, asking, "shootings and bombings in Paris, are you OK?"
Coulter and her party hastily left the Brasserie le Stella and returned to the Peninsula hotel, where she watched CNN's coverage of the attacks until 5 a.m.
"We hunkered down. The whole city was shut down. Even as of last night (Saturday)," said Coulter, who was on vacation. A "superfan" of U2, she was in Paris to see the Irish band's four "Innocence and Experience" tour performances in the French capital.
Coulter has a number of friends who works for U2.
The Irish superstars canceled the Saturday and Sunday concerts after the terrorist attacks that killed at least 129 dead and left 352 wounded.
Among the victims was a crew member of the Eagles of Death Metal band from Palm Springs, Calif. Nick Alexander, 36, sold merchandise for the band, which has performed in Las Vegas.
Several members of the Deftones were briefly at the Bataclan concert venue Friday night but departed before the attack that left about 100 dead there. The Deftones performed at the Rock in Rio festival here in May.
Coulter and her friends took a train to London on Sunday. "It was still tense," she said.
It was a "heartbreaking experience," she said, and "confusing because I had no idea what I would do if we had to flee Paris or our hotel."
Coulter, who grew up in Pennsylvania, worked for Preferred PR during her 15 years here before moving to New York City in 2004. She worked for Playboy Enterprises before moving to Los Angeles to start her own company.
"Beacher's Madhouse" producer Jeff Beacher flew from Paris to London on Sunday with the help of the U.S. Embassy, he said via email.
The scene and heard
Madonna might be heading for a mixed reaction when she performs in Paris Dec. 9. During her Saturday concert in Stockholm, she paused and addressed the "tragic killings" and "assassinations" in Paris. She talked at length about "these senseless acts of violence" and was in tears while mentioning she was "torn" about going ahead with her concert. Then she gave her "love" speech. "Only love will change the world," she said, adding "but it's very hard to love that which we do not understand or that which is different than we are, but we have to or this will go on and on forever."…
Former ESPN and Fox Sports sports columnist Jason Whitlock, on the stunning knockout of Ronda Rousey in Australia on Saturday: "I'm glad Holly Holm ended the Rousey hype hysteria Saturday night. The fawning coverage of Rousey's undefeated career was one of the most dishonest things in sports media." …
The Entertainment Hall of Fame and Museum will induct Rich Little, Buddy Greco, Bob Anderson, musician Joe Darro and singer Jonas Vece on Wednesday at the Italian American Club. Vece was the lead singer of the 1970s group, The McCoys. The event begins at 3 p.m. Ticket information: www.iacvegas.com.
On this day
Nov. 16, 1999: Bahraini princess Meriam al-Khalifa elopes to Las Vegas to marry U.S. Marine Jason Johnson against her family's wishes. Fearing retribution in Bahrain, she is granted asylum and they settle in Las Vegas. The forbidden romance becomes a TV movie, but ends in divorce in 2004.
Nov. 17, 1963: Seven days before he murders President John F. Kennedy's assassin, Lee Harvey Oswald, Jack Ruby visits Las Vegas. Reports say he cashes a check at the mob-run Stardust and uses the money to pay back taxes.
Sightings
Twist icon Chubby Checker, being presented with a plaque during his show at the South Point commemorating his selection to the Entertainment Hall of Fame and Museum in Las Vegas. … Whoopi Goldberg, celebrating her 60th birthday at Carlos Santana's concert at the House of Blues (Mandalay Bay) on Saturday night. … At Drai's rooftop nightclub (Cromwell) on Saturday: rapper Bow Wow, music mogul and boxing manager Jas Prince, actor Adrian Paul of "Highlander," singer Kelly Yu and actor Roger Cross of "X-Men 2." … Singer-songwriter Katrina Woolverton, dining at Andiamo Italian Steakhouse (the D) with her husband on Saturday.
The punch line
"Saturday will be a particularly special Democratic debate because CBS has partnered with Twitter to bring in live reactions and questions. This is supposed to be the biggest Twitter debate since Ben Affleck was cast as Batman." — Stephen Colbert
— Norm Clarke's column appears Sunday, Monday, Wednesday and Friday. He can be reached at 702-383-0244 or norm@reviewjournal.com. Find more online at www.normclarke.com. On Twitter: @Norm_Clarke.