Patriots' Gronkowski diving into Rehab's pool party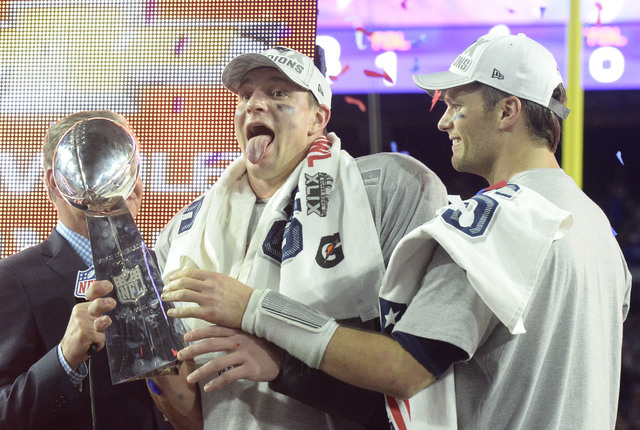 In a marketing department's dream, party animal Rob Gronkowski is heading for Rehab.
The Hard Rock Hotel has booked the New England Patriots' star tight end to host their massive pool party May 9-10.
Gronkowski, who asks for $20,000 to $30,000 for appearance fees on his website, is reportedly coming to Las Vegas for a bachelor party weekend for one of his brothers.
Rehab helped fuel the pool party rage in Las Vegas when it began pulling in large crowds after the launch 12 years ago.
Gronk hosts with Joe Hahn of Linkin Park on May 9 and joins Pete Wentz of Fallout Boy on the 10th.
Gronkowski took his partying to another level early this year when he bought a bus from a church. He turned it into a party bus and nicknamed it the Sinners Bus. He was in Los Angeles on Friday filming his second film, "You Can't Have It." He plays a cop.
DUKE'S REVENGE
Ask Danny Tarkanian what he remembers most about UNLV's Final Four championship celebration in Denver in 1990, and he had a quick answer.
"The bus ride after the game," he said. "They were chanting, 'puke on Duke.'
"But they got the last laugh," he said, referring to the rematch a year later. Duke got sweet revenge, ending the Rebels' 34-0 season run with a 79-77 win in the Final Four semifinals in Indianapolis.
UNLV had won 45 in a row dating back to the previous season.
It was one of the greatest two-year runs in college basketball history, with the Rebels going 35-5 and 34-1.
Duke on Saturday advanced to the NCAA championship game for the 11th time with an 81-61win over Michigan State. The Blue Devils will play Wisconsin on Monday night.
THE SCENE AND HEARD
The sixth edition of former Mayor Oscar Goodman's dinner series is set for Thursday and is titled "Tough Tony Spilotro." Goodman, in his defense attorney days, represented the reputed mob hitman. The $150-dollar-a-plate event is held at Oscar's Beef, Booze &Broads at the Plaza. The steaks start rolling out at 6:30 p.m. …
When Diana Ross performed nine songs at the opening of The Palazzo in 2009, there were doubts about whether we were hearing her live. I heard no such grumbling after her powerful performance on opening night at The Venetian on Wednesday. She earned one standing ovation after another during the glitzy night of "The Essential Diana: Some Memories Never Fade."
SIGHTINGS
Las Vegas-based rock group Imagine Dragons, in the audience at Elton John's show Saturday at The Colosseum (Caesars Palace) and meeting with John following the show. … Seattle Seahawks stars Richard Sherman and Kam Chancellor, at Tao nightclub (Venetian) after dinner at Lavo (Palazzo) on Friday. Also at Tao: actor Anthony Mackie, with his girlfriend. … Scott Eastwood, celebrating his birthday and his latest movie, "The Longest Ride" on Friday at Omnia (Caesars Palace) on Friday. Eastwood, the 29-year-old son of Clint Eastwood, turned 29 on March 21. … Model, film and fashion star Tyson Beckford, dining with members of the Chippendales at Giada (Cromwell) on Thursday. Giada Di Laurentiis stopped by their table. Beckford will be handling the guest hosting duties with the Chippendales from April 30 through May 24. … Magic legends Siegfried and Roy, having lunch at Morels (Palazzo) on Friday. … Australian pro wrestler Emma, who is under contract with the WWE, taking in the Blue Man Group at the Monte Carlo on Thursday.
THE PUNCH LINE
"We actually had to tape earlier than usual today. Not because of the first lady's schedule, but so the Secret Service could make it to happy hour." — Jimmy Fallon
Norm Clarke's column appears Sunday, Monday, Wednesday and Friday. Reach him at 702-383-0244 or norm@reviewjournal.com. Find more at normclarke.com. Follow @Norm_Clarke on Twitter.