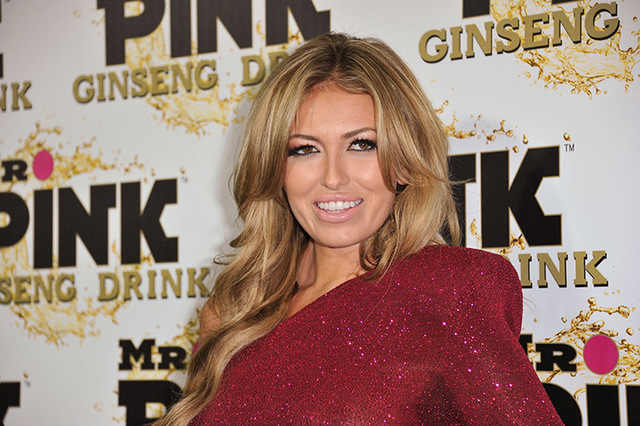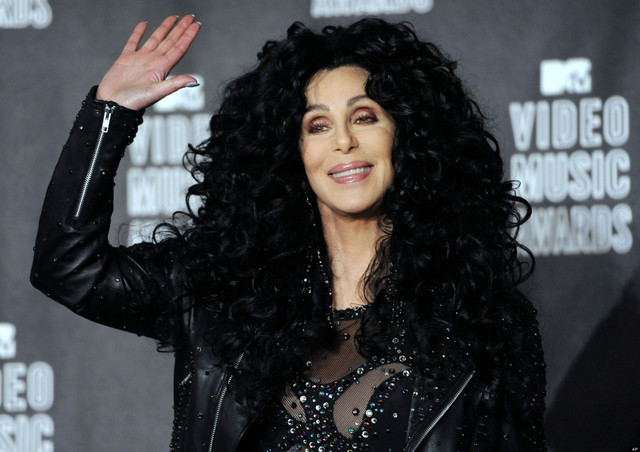 Paulina Gretzky — daughter of hockey hero Wayne Gretzky, and fiancee of golf champ Dustin Johnson — has been partying in Las Vegas.
She Snapchatted video of herself dancing on a pole in a Vegas nightclub, with her brother in tow.
Johnson wasn't partying in the club with her, which would be notable because he has spoken publicly about quitting alcohol and vowing he never had an issue with another substance.
"U.S. Open champ Dustin Johnson wins PGA Tour player of the year," ESPN reported two weeks ago, and it seems Johnson (who has a 21-month-old son with Gretzky) wants to keep those winning headlines coming by avoiding obstacles that could derail life and career.
So where was Johnson?
Hitting balls at Topgolf with friends and eating tuna tartare, crispy rock shrimp and steak pitas.
CHER: 'I'M NOT A CHER FAN'
Cher promoted her Vegas comeback residency in an interview by expressing surprise at being 70 and living in a country with so many Donald Trump fans.
"If I put 70 candles on my cake, I would blow my brains out," she told Maria Shriver on the "Today" show, adding, "I've never really been in love with Cher," but she didn't elaborate so we don't even know what that means.
She's also no fan of Trump, not surprising if you know her politics, but she said so in a somewhat dignified manner.
"I care about the country, and I know that the people that are following Trump, they care about the country, too. But I don't think it's the same country I care about."
Cher is slated to perform in February, May and other 2017 dates at the Monte Carlo's new Park Theater.
'THE DONALD' VS. 'THE HILLARY'
Fox News people Greg Gutfeld (dining with family) and Ainsley Earhardt (at a table with friends) ate separately Tuesday at MGM's Crush, drinking election drinks called "The Donald" and "The Hillary."
What's in a name?
"The Donald": vodka, aperitif, cranberry syrup, orange juice, club soda, shaken, garnished with cranberries and (to play off his skin tone jokes) an orange wheel.
"The Hillary": Either vodka or gin, St-Germain liqueur, Blue Curacao liqueur, lemon-lime soda, club soda, stirred and a lime wheel garnish.
It's unclear if the Fox News people favored either The Hillary or The Donald over the other.
HAPPY BIRTHDAY NE-YO
Pop/hip-hop singer Ne-Yo turned 37 Tuesday and celebrated that night at Hyde Bellagio, where the crowd sang the birthday song to him.
He drank Dom Perignon with wife Crystal Renay Williams (they just had a son in March) and friends, dancing late into the night.
Ne-Yo was partly raised in Las Vegas, having goneto Las Vegas Academy, and he spends quite a bit of time here.
PROGRAMMING NOTE
Retired columnist Norm Clarke will be tapping the keg at Hofbrauhaus, across from the Hard Rock Hotel, about 7:30 p.m. Friday. I'll be there, as will John Katsilometes. See you there.
See you Friday at the Hofbrauhaus! I've invited longtime colleagues Johnny Kats & Doug Elfman to join me. #vegas pic.twitter.com/EmUhNQDU2v

— Norm Clarke (@Norm_Clarke) October 17, 2016
SIGHTINGS
Rolling Stones guitarist Ron Wood took friends and family to see Cirque du Soleil's "One" Tuesday.
UFC icon Nick Diaz and a big group of friends dined Tuesday night at Le Pho Vietnamese Kitchen in downtown Las Vegas.
Libertarian presidential candidate Gary Johnson and CNN host Dana Bash conducted an interview Tuesday at Beer Park in the Paris hotel, where Johnson put up an argument for legal marijuana, among other issues, while a new national poll shows 60 percent of Americans want marijuana legalized for recreational use.
Actor-director Peter Berg ("Friday Night Lights") dined Wednesday at Lavo in the Palazzo with U.S. Navy Seal/TV host Marcus Luttrell.
Snapchat star YesJulz ate with friends Wednesday in Beauty & Essex before hanging backstage to promote her client, rapper 070 Shake, in concert at The Cosmopolitan.
And one of the famous naked Trump statues, created by Vegas artist Joshua "Ginger" Monroe, was driven around in traffic before the debate. This was obviously a different version of the internationally famous statue, which was destroyed by presumed Trump haters in downtown Las Vegas in September.
Doug Elfman can be reached at delfman@reviewjournal.com. He blogs at reviewjournal.com/elfman. On Twitter: @VegasAnonymous