'Pawn Stars' on Strip … now onto Broadway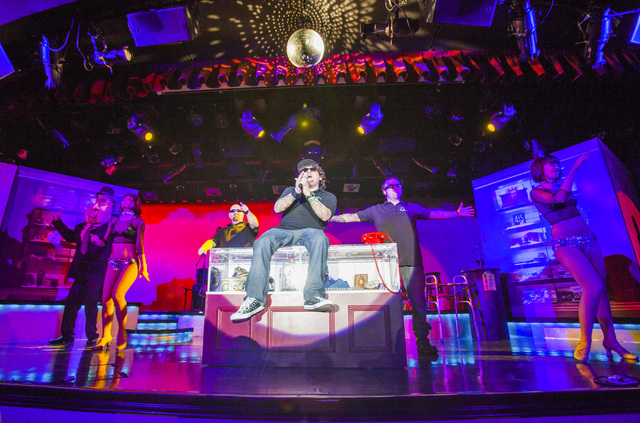 The "Pawn Stars" are moving their Broadway-style comedy from Fremont Street to the Strip. "Pawn Shop Live!" will open in the Riviera's Starlite Theatre April 21.
Financially backed by the "Pawn Stars" cast, the spoof is making the jump to the Strip three months after opening at the Golden Nugget.
The show will run seven days a week and start at 4:30 p.m.
Created by producer Derek Stonebarger, and originally set to debut in the arts district, the show got a boost when the "Pawn Stars" came on board.
Rick Harrison of the History channel reality show has made it clear he hopes to take the show to Broadway, Stonebarger has said. Reached Tuesday, Stonebarger said "the goal has always been to get to the Strip."
The Riviera "makes so much sense," he said, "because it is so close to the pawn shop (Gold & Silver Pawn), less than a mile I think, and it's easier to get the cast to the show" for occasional appearances.
He added the Riviera has new ownership and "some restoration coming." Going to seven shows a week will require more cast members. Auditions are underway, Stonebarger said.
POT SHOTS
Food critic John Curtas is aiming his ire at colleagues instead of restaurants.
In a Facebook rant on Sunday, Curtas slammed fellow food critic and co-author Al Mancini, chef Rick Moonen and others for "rank opportunism and ego gratification."
Curtas began, "Tragically ill chefs! Critically injured critics! Aging, irrelevant rockers! Who among us can't get enough of all of these celebrity-studded benefits these days? I, for one, who smells a fair amount of rank opportunism and ego gratification behind the (suddenly fashionable) 'outpourings of sympathy' he's seeing in our food world these days.
"Memo to Mancini, Moonen et al: Make sure you get lots and LOTS of RED CARPET PHOTOS taken, so the world can see how much you REALLY, REALLY care."
Mancini, who co-authored the restaurant guide "Eating Las Vegas: The 50 Essential Restaurants" with Curtas and Max Jacobson, said, "I'm not going to get dragged into what he's trying to provoke."
Mancini continued, "I'm very proud of the work everybody did on the various charitable fundraisers. I have no comment on what anybody says to disparage that work."
Moonen and Curtas did not respond by deadline to an email seeking comment.
Moonen and Mancini were instrumental in putting together a $1,000-a-plate fundraiser in January for Jacobson, who was severely injured when struck by a vehicle before Christmas. That event, featuring many top chefs, raised $275,000.
Curtas' "tragically ill chefs" comment might have referred to Kerry Simon, who is fighting multiple systems atrophy, an incurable condition similar to Parkinson's disease. Chefs and other celebrities took part in the event that raised more than $500,000 Thursday at the Lou Ruvo Cleveland Clinic for Brain Health.
Moonen, who operates rm Seafood and RX Boiler Room at Mandalay Bay, and Mancini, a longtime news reporter for ABC Radio, raised more than $6,000 by offering to have their heads shaved last Saturday for the St. Baldrick's childhood cancer fund drive.
A year ago, Curtas and Mancini shot several episodes of a food critic show titled "All Forked Up" before the Travel Channel pulled the plugs on the project. The Travel Channel said the decision to drop the six-episode show was made before Curtas was involved in a Twitter controversy with Japanese-Americans over his use of the word "Jap."
MEDIA UPDATE
Mitch Fox, longtime host of Vegas PBS' "Nevada Week in Review," is leaving the station after more than 35 years on the news and production team.
Fox, host and producer of the show since 1987, said March 7 would be his last program.
"I want to look for new career opportunities, and that would not be possible if I continued my NWR hosting duties," he said.
Vegas PBS general manager Tom Axtell called Fox "a consummate professional and talented journalist."
SIGHTINGS
Kevin Harvick, winner of NASCAR Sprint Cup race in Phoenix on Sunday, enjoying a cold brew at Gilley's Saloon, Dance Hall & Bar-B-Que at TI on Monday. … Rickey Medlocke, lead guitarist for Lynyrd Skynyrd, at Rocktellz & Cocktails, featuring Michael Jackson's brothers, on Friday at Planet Hollywood Resort. … Las Vegas Mayor Carolyn Goodman and Henderson Mayor Andy Hafen, having lunch at Sammy's in Henderson on Monday. Tuesday night Pro Football Hall of Famer Jonathan Ogden was in for dinner.
THE PUNCH LINE
"Welcome to the 'Tonight Show'! I'm your host, Jimmy Fallon. Or as John Travolta would call me, 'Jelan Fejalla.' " — Fallon
Norm Clarke's column appears Sunday, Monday, Wednesday and Friday. He can be reached at 702-383-0244 or email him at norm@reviewjournal.com. Find more online at www.normclarke.com. Follow Norm on Twitter @Norm_Clarke. "Norm Clarke's Vegas," airs Thursdays on the "Morning Blend" on KTNV-TV, Channel 13.