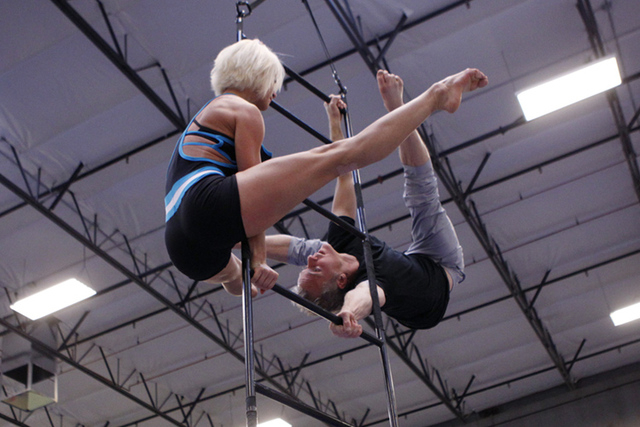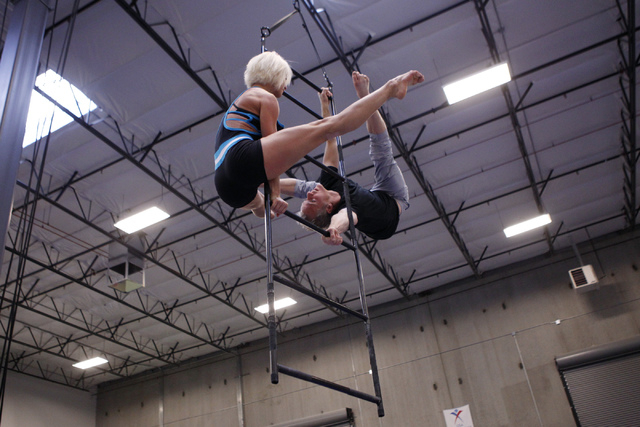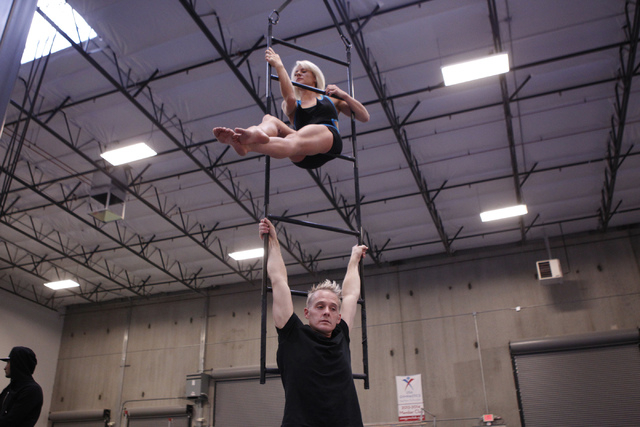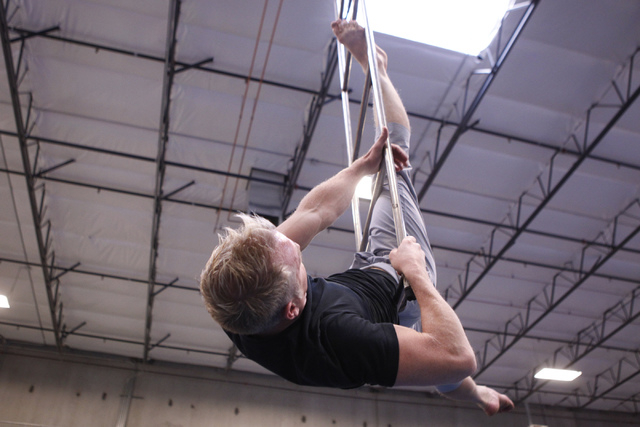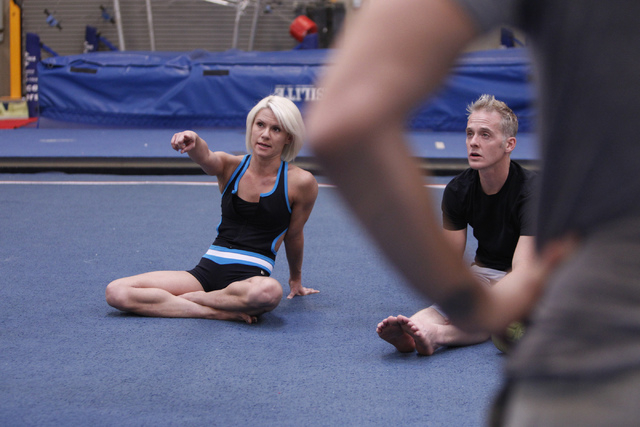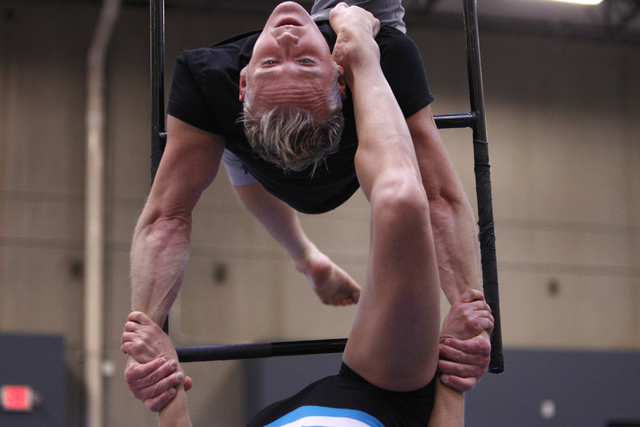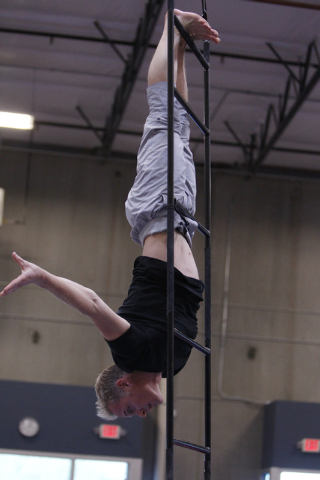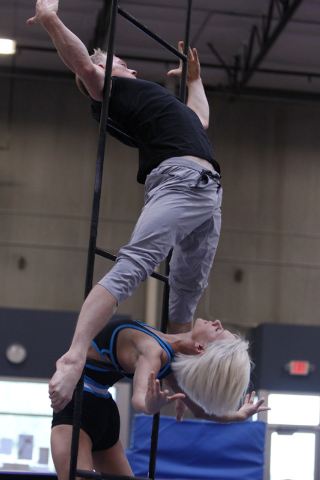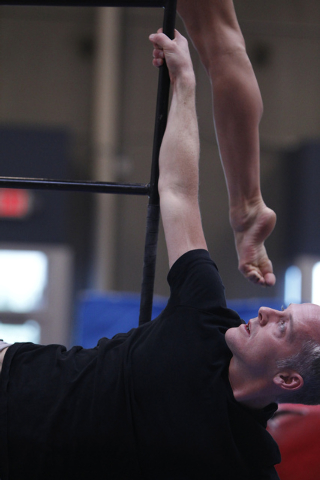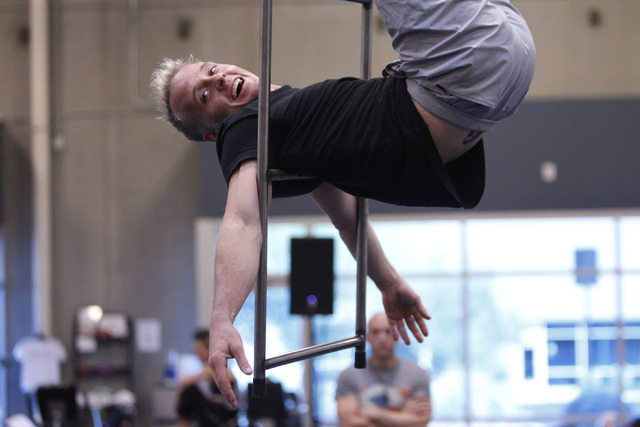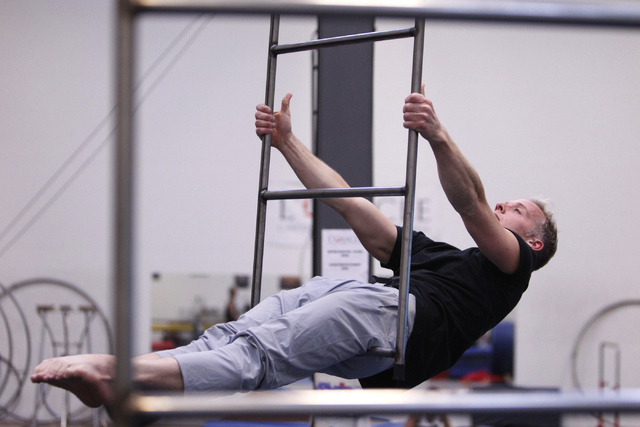 Jonathan Cole spins on a ladder that twirls from the ceiling. Cole appears to our eyes as a visual poem — an aerial performer, raised on gymnastics, seasoned by Cirque du Soleil.
"I exist on the ground, but I live in the air," Cole says.
It was always so.
Growing up in Akron, Ohio, and later in California, his mother shuttled him from home to gym and back, 90 minutes round-trip.
"My entire grade school experience was literally living in the car with my mom," Cole tells me on the ground at L'Oracle gym, his rehearsal space on this day.
It was in the car where Cole and his mother, Judy Cole, sang and laughed and bonded.
"I had dinner in the car.
"I had lunch in the car.
"If I learned a new trick, we got to go to Dairy Queen," he says. "Peanut butter parfait."
At 21, he came to Vegas and sat in front of the stage of "Mystere," witnessing something he'd never seen.
"I saw the bungee number and I was like, 'This is what I want to do,'  " he says.
"Fifteen years later, here I am, still swinging from the rafters."
But of course, life intervened. In 2001, he was training for Cirque in Montreal. The phone rang. His mother was ill. What was thought to be a bruise turned out to be a cancerous tumor. For starters, she had to lose an arm.
Cole rushed to her side.
"You live a movie once that happens. It's a very surreal situation," he says.
"I just watched it unfold. The helplessness you have," he says and trails off.
"I watched her go from standing here to completely bedridden to going to chemo and then coming back."
Judy Cole lives. She lives because of doctors and nurses and medical techs — but also because of years of cancer research and development crafted by people in governments, businesses and charities before cancer found Judy Cole.
So now, here is her son Jonathan, choreographing a three-ladder routine for six aerialists. It will be one of many acts to debut this Sunday at "Circus Couture" at Hard Rock Hotel.
"Circus Couture" (Circus-Couture.com) is an annual event that raises many thousands of dollars to cover hands-on care, clinical trials and research for kids battling cancer.
"The money from 'Circus Couture' goes to the Children's Specialty Center of Nevada, which is the only clinic in the state that treats kids with cancer, whether or not they have insurance," says Erica Linz, co-founder of "Circus Couture."
"The goal of Children's Specialty Center is to help put themselves out of business by contributing to the research that ends cancer," Linz says.
This is why Cole is on board, along with his incredibly talented team of charitable aerialists exhibiting "no ego," he says.
"My mom would have never lived," he says, without "organizations like this."
Cole's parents and siblings come to Vegas to see him perform in "O." When people, like me, tell him he's extraordinary, he tells them it's just what he does and that they're the ones who are extraordinary. That's the man who Judy Cole raised.
Cole has the show-off gene, a useful Vegas DNA.
"I love the audience," he says. "When you hear the roar, you get more energy, and you get more pumped, and then you want to show off even more. It's like, 'OK, these people want to see something, I want to give it to them.'
"I've pulled a couple of muscles going above and beyond what was expected, because I was trying to sell it a little bit more, for sure."
His mother declined to be interviewed.
"She's a very quiet woman. She's very reserved. She doesn't like to be in the limelight," her son in the limelight says.
"It's wild," Cole says. "When I ask her, she doesn't even remember functioning with two arms.
"Knock on wood, we're still blessed to have it in remission, so I still have my mom," he says, smiling broadly.
"She's a fighter. She wasn't giving up. I always knew that about her."
Doug Elfman's column appears on Tuesdays, Thursdays and Saturdays. Email him at delfman@reviewjournal.com. He blogs at reviewjournal.com/entertainment/reel.