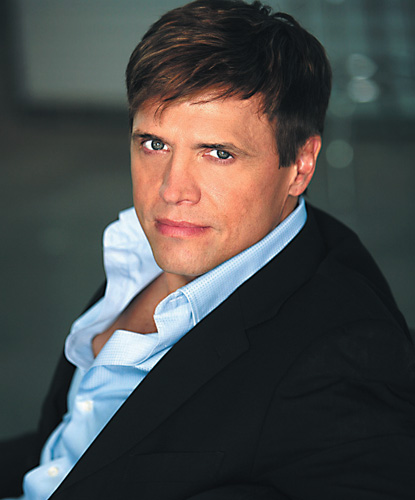 House lights down, stage lights up, spotlight on.
Highlights here.
As fall arrives, our performing/visual arts scene springs into a new season:
Hosting its own productions as well as the Las Vegas Philharmonic and Nevada Ballet Theatre — until those organizations relocate to the Smith Center for the Performing Arts in 2012 — the University of Nevada, Las Vegas remains the city's performance hub, with activity based at Artemus Ham Hall.
Opening the season, Grammy-winning violinist Hilary Hahn drops in to make chin music with the UNLV Symphony Orchestra (Sept. 30). Then the Russians are coming as the Moscow State Symphony Orchestra arrives (Oct. 30), followed by Great White Way warblers Brent Barrett, Brian Lane Green and Norm Lewis doing a little Broadway belting (Nov. 5) and some classical ivory-tickling by pianist Andre Watts (Dec. 3). Jazzwise, the university's jazz ensemble salutes bandleader Rob McConnell (Sept. 22) and Jim Brickman brings his solo pianist-vocalist act to town (Dec. 18).
Having debuted its new Masterworks season last weekend, the Philharmonic explores "The Passion of Tchaikovsky" (Nov. 20), and goes casual in its Pops series with a tribute to one of the architects of Vegas cool, Frank Sinatra, featuring Clint Holmes' crooning and the late ring-a-ding-dinger's conductor, Vincent Falcone (Oct. 2). Holiday cheer is served up in "A Christmas Celebration" with guest artists including Bruce Ewing and Kristen Hertzenberg, plus the University Children's Chorale (Dec. 11).
So you think they can dance? You're right. They can at Nevada Ballet Theatre, as the fall marquee event is, well, "An Unprecedented Event" — so titled because company artistic director James Canfield invited three ex-Joffrey Ballet colleagues and dancers from each of their own companies to share the stage here (Oct. 15-17). Two months hence, like holiday clockwork, "The Nutcracker" returns to Paris Las Vegas (Dec. 17-19, 22-24 and 26).
Squeezing onto the Ham Hall stage also, the Nevada Pops offers "Coast to Coast," described as an "all-American musical road trip" (Sept. 25) and the Halloween-themed "Tricks and Treats," including music from "Twilight" (Oct. 29).
Switching campuses, the College of Southern Nevada's North Las Vegas location will host a full slate of vocal, dance, chamber music and orchestra performances at its Nicholas J. Horn Theatre. Among the highlights: the annual fundraising concert for the Joe Williams Scholarship fund (Oct. 14); an afternoon of Lerner and Loewe music delivered by Strip performers (Oct. 23-24); and a night of dual big bands led by Walter Blanton and Matt Taylor (Dec. 8).
"Mozart Madness" infects fans of the Henderson Symphony Orchestra at the Henderson Pavilion (Friday) and Lake Las Vegas (Saturday). Younger talent takes over the Pavilion with the Las Vegas Youth Orchestra (Oct. 23) before the symphonic folks return (Oct. 29).
Artistic nourishment also is available in the visual arts around town. Guatemala's colorful culture is celebrated at the West Las Vegas Library (Sept. 23-Jan. 25), while landscapes of our own Southwest are depicted in Mark Andrew's photography at Sahara West Library (Nov. 4-Jan. 22), and the art of Nevada's Native American artists is exhibited at City Hall's Bridge Gallery (Sept. 24-Dec. 3).
Uniquely Vegas, "Concrete & Sparkle" explores the signs and architecture of our city in paintings and photos at the Historic Fifth Street School (through Oct. 24, by appointment). Also coming to the school is an exhibit sure to give gallery-goers a rush: "Sugar Confection Recollection," focusing on cookbooks and memories of favorite desserts by artists including Montana Black, Ed Davis and Deidre Pope (Nov. 3-Jan. 2).
Intriguingly titled "You Want Light to Pass Through Furniture and Objects" spotlights the art of Marc Dombrosky at the Clark County Government Center (Oct. 25-Nov. 19), while Noelle Garcia's "What You Left Me: Creating Dad Through Artifact," reflects what the artist calls her American Indian father's "tragic life," at the Winchester Cultural Center Gallery (Nov. 12-Jan. 7).
Shifting to a military mindset, the Clark County Museum offers "a picture of Clark County's contributions on the battlefront and the home front in defense of the United States" (through Oct. 29). Complementing its dedication to nature, Springs Preserve presents "Periphery," as Emily Silver's mixed-media works explore the geography and topography of Las Vegas (Saturday-Jan. 16).
Leading up to our paean to literature, UNLV's Black Mountain Institute hosts "The Death of Old News," a panel discussion of how the Internet impacts reporting, with PBS anchor/editor Jim Lehrer and Pulitzer Prize-winning journalist Alex Jones (Sept. 22), then "Uncensored Voices: Celebrating Literary Freedom," offers an evening of short readings from banned and controversial works at the Clark Country Library (Sept. 30).
Those literary appetizers precede the main course, the Vegas Valley Book Festival, a city-sponsored, five-day potpourri of events including more than 100 authors in panel discussions, readings, book signings, workshops, poetry readings, spoken-word performances and exhibitions, most at the Historic Fifth Street School (Nov. 3-7).
Bookending the book fest: Star-power keynote addresses from T.C. Boyle ("World's End," "The Road to Wellville") at UNLV (Nov. 3) and Dennis Lehane ("Mystic River," "Shutter Island") at the Clark County Library (Nov. 7).
Autumnal artistry begins … now.
Contact reporter Steve Bornfeld at sbornfeld@review journal.com or 702-383-0256.