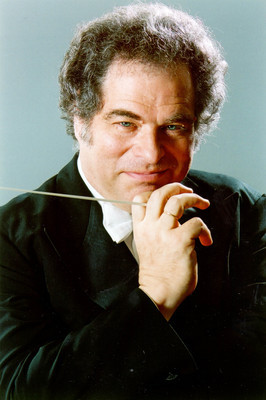 Greatness demands the pithy celebrity shorthand so prevalent these pop culture-crazed days.
Surely, if you can be nicknamed for possessing athletic talent (A-Rod), multiple talents (J.Lo) and no talent (K-Fed), you can earn one for owning the nimblest fiddling fingers on the planet … I-Perl, perhaps?
Or the rap lexicon can lend a cool cachet, mining inspiration from Jay-Z and Heavy D to create … Itzy P?
Or, we can simply embrace the cuddly bundle of brilliance we'll always call Itzhak Perlman.
"Guest conducting is like grandparenting," says the impishly charming 62-year-old with the uncanny knack to transmit a twinkle of an eye through a telephone line, a twinkle he'll share with the UNLV Symphony Orchestra when he assumes the conductor's podium Saturday for the University of Nevada, Las Vegas 50th anniversary concert.
"When you're a guest conductor, everybody likes you, you get the best of the orchestra, you don't have to deal with the everyday problems," he says. "The grandparent gets to play with the grandkids, but if they get too noisy, you can just say, 'Go to your mother.' "
Grandpa's come to classically rock the house, closing out a twin gig that opened earlier this week when Perlman performed at Artemus Ham Hall. That chore now falls to 19-year-old Perlman protege Rachel Lee as the merry maestro — who long ago deflated the stuffy formality in the public's perception of violin virtuosity — shifts his magic to the baton. It's a role he's relished for 14 years, having fronted, among others, the New York, Los Angeles, Berlin, London and Israel philharmonics, and the Chicago, Boston and Philadelphia symphony orchestras.
"When I started doing it, I was prepared for the response of, 'Stick to your day job,' " says the Israeli-born Perlman, "but I didn't get that. I've been lucky to conduct some really fantastic orchestras. I'm having a ball."
And so, apparently, do students such as Lee, who can laugh and learn when lucky enough to wind up under his tutelage.
"I love how he uses food metaphors," says Lee, an ex-Juilliard phenom and Harvard sophomore whose journey to the School of Perlman's Pearls of Wisdom began at age 3 when she threw a tantrum to persuade her mom to buy her a violin. "He'll say things to me like, 'That needs to be slower, like molasses,' or he'll compare a passage to a recipe and say it needs more salt. I think it's because he loves food so much."
Guarding the secrets of his genius like some precious cultural talisman is anathema to Perlman — his magic is meant to be shared. Captured in documentary footage as he conducts a class — a single student treated to his one-on-one guidance onstage, awed spectators looking on in the audience — a Perlman session is as much a lesson in charisma as vibrato.
Mock-scolding a young woman on the perils of positioning her instrument improperly, the hint of a winsome grin disarming what's coming, he thrusts the violin upward, says, "Last time I told you to hold the fiddle up, you said, 'Thank you very much!' " — then shoots it downward and clutches it to his chest with playful exaggeration as the crowd roars and his pupil erupts in giggles.
"But I don't want it to be like this either," he says, aiming his violin skyward like a Saturn rocket about to launch, sheepishly ducking his head under his arm for comic effect. Laughter sweeps the room again as the amused student adjusts to the stance he suggests. There's no stern, humorless teacher in the room, merely a funny uncle who happens to be a musical master of the universe.
"Now start again at the same spot, but take your time this time," he prods as she resumes playing, obviously pleasing him. "Yes! Yes! Exactly! Exactly!" The joy is genuine.
"I try to be as nurturing as possible. They know I'm not going to bite," he says. "If you're going to be critical, for every negative thing you can say, there's always a positive thing you can say to equalize it. Everyone gets so much more satisfaction knowing they're being taught, rather than criticized."
Though one of the classiest of classical musicians, Perlman also rolls with the rockers, especially since his singer/guitarist son is among them. "Oh yes, my son Rami, his band is called Something for Rockets! I contributed to one of their records — I was a backup guy," he says, his tone shifting from affable sophistication to childlike excitement, eager to know if you've visited the band's Web site. "Have you heard any of their stuff? I'm speaking as a father, but they're wonderful. Maybe they'll come to Vegas and do a gig."
For now, though, Rami's dad scored the Vegas gig at Artemus Ham Hall, playing musical granddad to a gaggle of grateful grandkids.
They couldn't hope for a hipper mentor. Just bill them as Itzy P and the Notorious U.N.L.V.
Contact reporter Steve Bornfeld at sbornfeld@reviewjournal.com or (702) 383-0256.
what: UNLV 50th Anniversary Concert featuring Itzhak Perlman and Rachel Lee when: 8 p.m. Saturday where: Artemus Ham Hall, University of Nevada, Las Vegas, 4505 S. Maryland Parkway tickets: $30-$75 (895-2787)