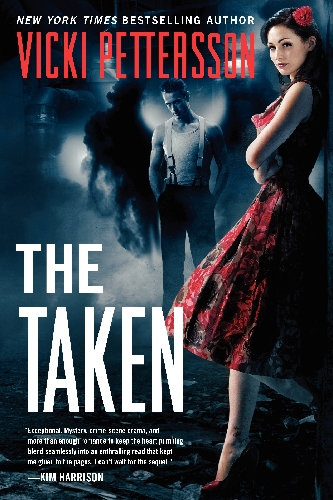 Vicki Pettersson is having a great time exploring her new literary neighborhood.
Call it Paranormal Noir, just down the street from, but not quite as dark as, Pettersson's former Urban Fantasy digs, where the scent of the supernatural still hangs in the air but a wisecrack or a bit of playful banter between unearthly hero and spunky mortal heroine isn't out of place, either.
Pettersson, the Las Vegas-based – and now-part-time Texas-based — we'll explain later — author who last year concluded her best-selling "Signs of the Zodiac" series, last week unveiled her latest, a paranormal noir mystery series, with the release of "The Taken" (HarperVoyager, $13.99).
Readers seem to approve: "The Taken," the first entry in Pettersson's "Celestial Blues" trilogy, went into a second printing on the day of its release.
At 7 p.m. today, Southern Nevadans can explore Pettersson's new neighborhood during "An Evening with Vicki Pettersson: Angels, Rockabilly and the Celestial Blues," a presentation and book signing at the Clark County Library.
The event, co-sponsored by the Las Vegas-Clark County Library District, is free. And, in honor of the new book's female protagonist, guests are encouraged to dress in their rockabilly best to compete for prizes.
"The Taken" revolves around Griffin Shaw, a murdered '50s private eye whose current job is escorting the recently violently deceased into the afterlife, and Katherine "Kit" Craig, a Las Vegas newspaper reporter and rockabilly enthusiast who, thanks to a slip-up by Shaw, becomes, herself, slated for a premature soul pickup.
Together, Kit and a newly earthbound Grif search for a killer – as with the "Zodiac" series, Pettersson sets her "Celestial Blues" trilogy in Las Vegas and incorporates such real-life locations as Frankie's Tiki Room – and, along the way, might figure out who murdered Grif a few decades back.
Pettersson, speaking by phone from Dallas on both release day and Day One of her book tour, says she created the broad outline of "The Taken" in 2005, right before selling the first "Zodiac" novel, when she entered a short story contest in hopes of winning an advance review copy of a book by one of her favorite authors, Kelley Armstrong.
While Pettersson didn't win – although coming in 13th seems, in retrospect, a portent of her impending success – the angel character she created "wouldn't let me go."
Even as Pettersson continued to write her best-selling, six-book "Zodiac" series, "every once in a while, this story idea would pop up and I'd throw a few what-ifs at it."
Why a '50s PI? Largely because of Pettersson's own love of noir and hard-boiled crime fiction.
"I read a lot of thrillers and mysteries," she says. "I love that lone wolf PI."
But Pettersson also has read enough noirish stories to know that even a lone wolf PI needs "a female counterpart who can challenge him, and how are you going to do that if this guy really was from back in the '50s and '60s?"
The answer came when Pettersson was out running errands one day.
"Next to the grocery store was one of those cut-your-hair-for-five-dollars places, and I had five dollars and about as many minutes," Pettersson recalls. "So I went in and got my hair cut by this guy who had a full-on pompadour and was dressed like a greaser."
The stylist and his wife – "she only wears Bakelite jewelry and dresses from that era" – were Pettersson's introduction to the rockabilly lifestyle, which celebrates all things '50s-ish.
"I went home with this really lopsided haircut, but with this great idea," she says with a laugh. "I went to research it some more and just fell in love with it."
In crafting the relationship between the dead-but-not-dead '50s PI and the rockabilly reporter, Pettersson aimed for a Spencer Tracy-Katharine Hepburn dynamic. "I wanted that banter, that male-female repartee," she says.
"Zodiac" fans probably have figured out by now that Kit Craig and Joanna Archer – protagonist of the darker, more intense, "Zodiac" urban fantasies – are, Pettersson says, "very different heroines."
"I wanted (Kit) to be totally different than Joanna Archer from the first series. When (Kit is) stressed-out, she doesn't go and throw knives, she goes to get her hair pinned."
And if Joanna and Kit were to meet for drinks? "I don't think they would get each other at all," Pettersson answers with a laugh. "I think Joanna would probably be kind of dismissive of Kit."
But just because Kit lacks Joanna's supernatural abilities and strength doesn't mean she's not tough, she continues. "It just means she knows her strengths and weaknesses and acts accordingly.
"I'm always interested in how my female protagonists move about in a man's world. There are so many different ways to do it, and it doesn't always include (using) physical strength."
Pettersson has noticed that "The Taken" seems to be finding new fans among readers who, perhaps, aren't urban fantasy fans but whose tastes lean more toward mysteries and detective thrillers. On the other side of the coin, Pettersson says she also has heard "a little bit" from urban fantasy fans who are "unsure" about "Celestial Blues."
But, Pettersson says, "as long as they approach it with an open mind and accept it for what it is, they seem to be OK."
Pettersson figures that, ultimately, whether longtime fans embrace Grif and Kit is out of her control.
"The only thing I can control, really," she says, "is am I excited about the idea and how well can I write it?"
Besides living in a new literary neighborhood, Pettersson has moved, at least part-time, into a new literal neighborhood: The longtime Las Vegan now splits her time between here and Dallas, where her husband of just more than six months lives.
"We have a blended family, so we have kids in two cities," she explains. "I'm fortunate in that I have a job where I can go back and forth, rather than uproot any little lives."
However, Pettersson says she has no plans to leave the town that has provided her with the setting for, at this point, seven best-sellers.
"I love Las Vegas, and actually, being away from it makes me appreciate it more," she says. "I love coming home."
Contact reporter John Przybys at jprzybys@reviewjournal.com or 702-383-0280.
PREVIEW
What: "An Evening with Vicki Pettersson: Angels, Rockabilly and the Celestial Blues"
When: 7 p.m. today
Where: Clark County Library's Jewel Box Theater, 1401 E. Flamingo Road
Tickets: Free