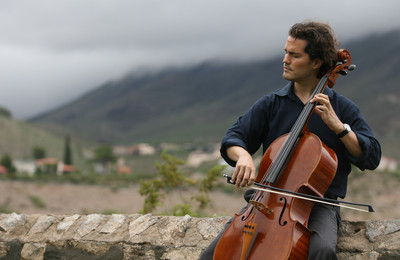 You're off to see the cellist, the wonderful Cellist of "Oz."
(Sorry … Couldn't resist.)
"They asked me to literally play myself — minus the murder — and allowed me to present the cello as the glorious instrument that it is," says Zuill Bailey. The musician-turned-thespian appeared during the final season of "Oz," HBO's intense prison drama, in an episode that fell short of the old axiom that music has charms to soothe the savage beast.
"I was totally into it, except for the murder," says Bailey, whose character got a tad ticked at a fellow string player. "But there's something about harpooning a violinist that really makes me smile," he says … jokingly.
No murders, though he's expected to provide one killer performance Saturday for a Valentine's Day hookup with the Las Vegas Philharmonic at the University of Nevada, Las Vegas.
"The sound he makes on the cello is enormous and gorgeous," says Philharmonic conductor David Itkin. "His technique is so easy that we are able to make spontaneous musical decisions during a performance together that we didn't rehearse."
He won't bow his cello with Cupid's arrow, but Bailey will pluck the heartstrings by joining the orchestra for an all-Tchaikovsky program, including the "Romeo and Juliet Overture-Fantasy," as well as "Rococo Variations," "Nocturne for Cello and Orchestra" and "Symphony #6 Pathetique."
"Most people think of Tchaikovsky as the ultimate romantic composer," Itkin says. "He's more popular now than when he was alive. It's the emotional colors that he gets out of the orchestra. And because we have these gorgeous pieces for cello and orchestra — and this matinee idol-looking soloist — it all seemed good for Valentine's Day."
Matinee idol? "He must've gotten the check," deadpans Bailey, who's particularly enchanted by "Rococo Variations," inspired by the music of Mozart, whom Tchaikovsky idolized, even though ol' Wolfie never featured the cello in any of his compositions.
"It's the best of all worlds for cellists, since we don't have any repertoire of Mozart," Bailey says. "We have Tchaikovsky's romanticism and virtuosity channeling an homage to Mozart. Audiences love it, and it's romantic, to say the least."
Platonic passion blossoms between Itkin's troops and their V-Day guest. "Orchestras love playing with him, because he comes onstage and is really one of us," Itkin says. "There's no diva stuff."
Given Bailey's "Oz," experience, though, Itkin might be advised to keep him away from his violin section.
And harpoons.
Contact reporter Steve Bornfeld at sbornfeld @reviewjournal.com or 702-383-0256.
Preview
Las Vegas Philharmonic's All-Tchaikovsky program with guest cellist Zuill Bailey
8 p.m. Saturday
Artemus Ham Hall,University of Nevada, Las Vegas, 4505 S. Maryland Parkway
$25-$75 (895-2787)