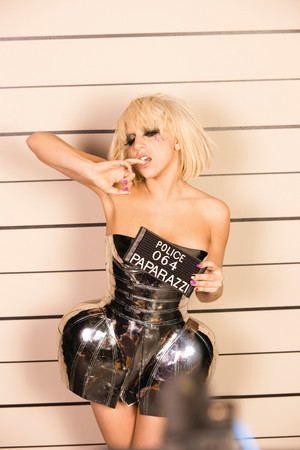 It could be seen as a very literal use of a song whose true meaning is anything but.
Recently, Palms officials announced that they have licensed the exclusive rights to Lady Gaga's "Poker Face" for use in commercials for the property.
It's a great tune, all jackhammer beats and breathy come-ons, though Gaga has said in interviews that it's really about fantasizing about being with another woman while in bed with her man.
Hey, who's up for some keno?
Still, the ad spot got us thinking — yeah, we do that from time to time, we just try not make a habit of it — about some other brilliant moneymaking opportunities for one of pop's biggest breakout stars of 2009.
And so in honor of Lady Gaga's show at the Palms tonight, here are some slam-dunk endorsement suggestions.
Read on, as we ponder how to spend our much deserved commission checks.
Abreva
Judging from her hot-and-bothered hits, which are about as subtle as a bull mastiff humping your leg, Gaga is pretty much the female Bret Michaels — only with slightly less obvious wigs.
Seriously, in her songs, she sees more action than a post-Taco Bell digestive tract.
We hear her bedsprings recently filed for protective custody.
With this in mind, we all know what you get when you box tonsils with too many strangers: cold sores, those fluid-filled blisters o' romance. Just think of them as little bull's eyes for Cupid's arrow.
And so, really, who better to pimp their remedy than Gaga?
For when you've sucked too much poker face …
Subway
"Take a bite of my bad girl meat," Gaga commands on the tawdry "Teeth," sinking her chompers into an obvious cash tie-in: the Subway "Lady Gaga Bad Girl Meat Sandwich."
Can't you just see it now?
Hey, why are you clawing at your eyes like a badger attempting to dig a fresh den in wet cement all of a sudden?
Pay attention, this is serious.
Anyways, the ingredients would be obvious: It would have to be way hammy and cheesy, and feature two all-beef patties, special sauce, lettuce, cheese, pickles, onions on a sesame seed bun.
Sound familiar?
Yeah, well, so do most of her songs.
Freecreditreport.com
If you want to get with Gaga, your pockets had better be as deep as Stephen Hawking in a submarine.
"I can't help myself, I'm addicted to a life of the material," she purrs on "The Fame." "We wanna live the life of the rich and the famous," she adds on the chorus.
Bet you're regretting your 3 a.m. purchase of that Mr. T Chia Pet that you really couldn't afford, aren't ya? And really, did you need the director's cut of all three seasons of "Herman's Head" on Blu-Ray?
Well, OK, we'll give you that last one.
Anyways, you'll need to clean up your dubious credit history right about now to keep Gaga flush with those fancy schmancy cocktails that she so digs — Jager Bomb, mon cheri? — and this site will help.
Plus, if Gaga signs on, as she most assuredly will upon reading this, it'll get rid of those three birth abnormalities who currently star in the company's commercials.
Man, those dudes are annoying — you know, kind of like weekdays, having to feed your children and, well, us.
Timex
A girl's gotta keep track of her 15 minutes of fame somehow doesn't she?
Tick, tick, tick, tick.
Now, we're not suggesting that Gaga's career isn't built to last, or that it will be about as enduring as a bulletproof vest fashioned from toothpicks.
Tick, tick, tick, tick.
Honestly, we love Gaga.
Tick, tick, tick, tick.
She's a lot more fun than we are.
Tick, tick, tick, tick.
Are you still here?
Tick, tick, tick, tick.
That wasn't a question for you, dear reader.
Contact reporter Jason Bracelin at jbracelin@ reviewjournal.com or 702-383-0476.
Preview
Lady Gaga
7:30 p.m. today
The Pearl at the Palms, 4321 W. Flamingo Road
$100-$125 (942-7777)