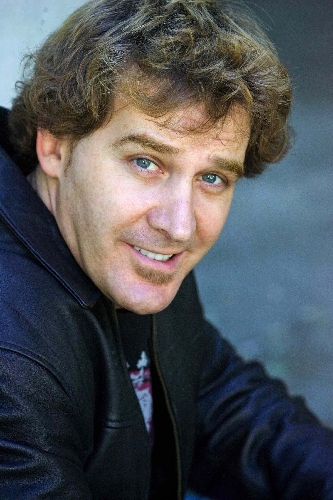 Comedian Jim Florentine changed the way I talk on the phone to strangers. Years back, he played Special Ed ("I got mail, yaaay") and other characters while making prank calls for Comedy Central's "Crank Yankers."
At the time, I knew "Crank Yankers" was operating from Las Vegas. The show was produced by Adam Carolla and former Las Vegan Jimmy Kimmel, who set up a lot of calls from here. Florentine would stay at Bellagio, then record his calls at a nearby studio.
As the rock critic back then, I sometimes fielded bizarro calls from weirdos. To protect myself from the potential ravages of "Crank Yankers," I started talking very cautiously and briefly to any odd squirrel who called.
Florentine now tells me that was a good plan because, normally, he and other comedians would be given a list of 30 phone numbers to call. But they would run out. And then:
"Eventually, if we got through that list, we'd just open the phone book and start making phone calls. So we probably did crank you."
His Special Ed still resonates with fans who go to Florentine's stand-up shows.
"It's insane," he says. "The show hasn't been on the air for three or four years, and if I do the voice, the place goes nuts."
He's still pulling practical jokes for VH1 Classic's "That Metal Show," a combination prank/metal music show. One day, he went on the street to interview Van Halen fans, pretending to be simultaneously talking to band members on the phone and relaying dumb messages back and forth.
PUNCHING PRANKSTERS
I asked Florentine: If people pulled the pranks on him that he pulls on them, wouldn't he want to punch them in the face?
"Absolutely. But that's the great risk of pulling pranks. You never know the reaction you're gonna get."
He tries to allay tensions with angry victims by acting dumb.
"I'm like, 'I'm not supposed to pull a chair up to the buffet and start eating from the buffet? I didn't know that. How am I supposed to know? I'm hungry. I didn't want to make too many trips back and forth.'
"They say, 'This guy is an idiot or an asshole, or both.' "
He believes if you prank someone, you deserve consequences, like when he was a kid, working construction for his older brother. One day, he was bored and hid an open can filled with poop in the back of his brother's junky van.
A week later, Florentine's brother went crazy, pulled the van over on the Garden State Parkway and started ripping apart the van until he found the can. Florentine started laughing.
"He fired me right on the spot, right on the highway," he says. "We didn't talk for like six months."
It was worth it, Florentine says.
"Now I've got something I can tell the grandkids. It's not like I've got a college diploma to show 'em."
Florentine already brings up this story with his brother's grown kids.
"I say, 'Listen to what a baby your dad was.' And they're like, 'Yeah what a baby, Dad. It's funny, so what?' "
WHY DOES HE DO THESE AWFUL THINGS?
In a real way, Florentine is a contemporary American Dream, because he's become richer and more famous following the passions he developed as a child — pulling pranks and listening to metal.
"I made prank phone calls on a show for five seasons. And now I'm on a heavy metal show for five seasons," he says. "Who would have thought heavy metal and prank calls would pay the mortgage?
"I tell kids, 'Stick to your dreams.' "
Why does he do these awful things?
"We're on the road (for comedy tours) constantly. I don't do drugs. I don't drink like a fish or anything like that. So we'll be (messing) around and say, 'What can we do to amuse ourselves?' "
He thanks Howard Stern for putting him on the radio a lot, boosting his stand-up career. And "That Metal Show" led to his earning a part in a comedy this summer, "A Little Help," with Jenna Fischer and Chris O'Donnell.
In the movie, his potential big break into films, he plays a womanizing jerk with romantic scenes with Fischer's character.
Writer/director Michael J. Weithorn hired him after seeing Florentine on "That Metal Show." Weithorn told Florentine that when he was crafting the script, he had only one crank yanker in mind for the role.
Florentine replied, "I don't know if that's a compliment or not."
But Florentine, who once dated Stern comrade Robin Quivers, did feel prepped to play a romantic jerk.
"You know, the way I did for 15 straight years. I did a lot of research for the role."
Contact Doug Elfman at delfman@reviewjournal.com. He blogs at reviewjournal.com/elfman.
Preview
Jim Florentine
8 and 10 p.m. today and Saturday
Bonkerz Comedy Club at Palace Station, 2411 W. Sahara Ave.
$35, locals receive a $10 discount with valid ID (547-5300)