October 24, 2008 - 9:00 pm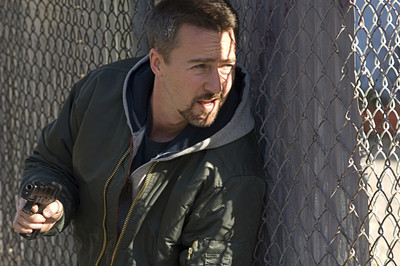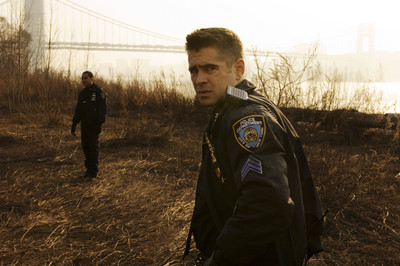 That noted cinematic critic Dirty Harry Callahan once decreed that "a man's gotta know his limitations."
Same goes for movies. Alas, "Pride and Glory" keeps forgetting that crucial rule.
An overheated, overstuffed Noo Yawk cop thriller that wallows in a swamp of mean-streets cliches, "Pride and Glory" manages to keep its head above water. Barely.
Most of the time, however, writer-director Gavin O'Connor is too busy getting down and dirty to realize that a bit more restraint would have given his well-worn tale some spare but undeniable urgency.
Instead, "Pride and Glory" dissipates much of its impact through overkill.
In that sense, the movie echoes the outrageous behavior of the bad-seed cop our conflicted hero must track down. His actions don't always make sense, but they sure are nasty — which is pretty much "Pride and Glory's" game plan.
Maybe director O'Connor figured his movie didn't need to make much sense, because everybody — everybody who's ever seen a cop movie, that is — already has visited this neighborhood plenty of times.
You know the drill: A good-guy cop, from a long line of cops, must root out corruption in the department, only to realize that the bad guys are not only brothers in blue, but actual family members, setting up an inevitable love-vs.-duty dilemma.
In "Pride and Glory," the cop in the middle is Ray Tierney (Edward Norton), who's been attached to the missing persons bureau in the wake of a murky trauma that has left permanent scars. (One of them is all too visible on Ray's cheek.)
Ray's father, Francis (Jon Voight), has worked his way up the ranks of New York's finest, while Ray's brother, Francis Jr. (Noah Emmerich), is a precinct commander. And brother-in-law Jimmy Egan (Colin Farrell), married to Ray's sister, is a two-fisted, no-bull street cop. Albeit one who's been patrolling some very shadowy territory lately, bringing him into contact with a known drug dealer — the same dealer who may be behind the shocking slaughter of four fellow officers.
Francis Sr. wants Ray on the task force investigating the multiple cop killings. Ray, naturally, doesn't want anything to do with it, knowing all too well that he might not like what he finds.
Still, a cop's gotta do what a cop's gotta do — and "Pride and Glory's" gotta overdo it.
The screenplay, by O'Connor and Joe Carnahan ("Narc," "Smokin' Aces"), rounds up the usual suspects, from broken vows and unexpected betrayal to divided loyalties and macho "we protect our own" posturing. Few of the plot twists seem the least bit twisty; most of the profanity-laden dialogue seems well past the sell-by date.
"Pride and Glory" also suffers from a serious case of subplot-itis, spinning its wheels while detouring into the troubled personal lives of Francis Jr., who's understandably distracted by the travails of his cancer-stricken wife (Jennifer Ehle), and Ray, who's still carrying a torch for his estranged wife (Carmen Ejogo).
O'Connor's labored direction, moreover, seems designed to state, restate and overstate the obvious.
Granted, "Pride and Glory's" gritty territory is relatively new to him; he seemed more at home with such heart-warmers as 2004's "Miracle" (about the 1980 U.S. Olympic hockey team's gold-medal victory) and 1999's "Tumbleweeds" (about a mother-daughter team's cross-country wanderings). So maybe he's trying to overcompensate, but too much of a good thing is sometimes just too much. "Pride and Glory" demonstrates that truth too often for its own good.
Yet it's up to the cast members to keep the movie honest. (Or at least as honest as it's going to get.)
Even in an extraneous subplot, the wonderful Ehle (almost unrecognizable from her days in the classic TV version of "Pride and Prejudice") delivers a few wrenching moments, while "American Gangster's" dependably slimy John Ortiz (Farrell's co-star in the misbegotten "Miami Vice") turns up as a crooked, yet guilt-wracked, cop.
It hardly seems coincidental, however, that the Tierney family enjoys a Christmas ham dinner while Voight, as patriarch Francis Sr., cheerfully chomps the scenery while waxing sentimental about family ties that bind.
Farrell also maintains a fever pitch throughout, shifting from vicious efficiency to after-the-fact anguish. It's hardly his most nuanced performance, but "Pride and Glory's" not exactly interested in nuance.
Fortunately, Norton is — and, as usual, shows it, expertly balancing Ray's relentless determination and edgy desperation. He knows all too well where his investigation may lead, but he's got only one choice: follow the clues.
There are plenty of times in "Pride and Glory" when we're way ahead of him, but at least Norton makes the chase as interesting as he can. Which is more than we can say for the rest of the movie.
Contact movie critic Carol Cling at ccling@reviewjournal.com or 702-383-0272.
REVIEW movie: "Pride and Glory" running time: 129 minutes rating: R; strong violence and profanity, brief nudity, drug content verdict: C+ now playing: multiple locations DEJA VIEW Dirty cops have inspired many a memorable movie. A few choice examples: "Touch of Evil" (1958) — In director Orson Welles' classic thriller, a murder investigation in a Mexican border town pits a narcotics officer (Charlton Heston) against a corrupt lawman (Welles himself). "Serpico" (1973) — Al Pacino, in one of his signature roles, plays a New York undercover cop who blows the whistle on corruption in director Sidney Lumet's fact-based drama. "L.A. Confidential" (1997) — A two-fisted cop (Russell Crowe) and a straight-arrow rival (Guy Pearce) ferret out crooked colleagues in '50s L.A. "Narc" (2002) — In this gritty thriller from "Pride and Glory" screenwriter Joe Carnahan, a disgraced Detroit narcotics detective (Jason Patric) gets a shot at redemption by teaming with a murdered cop's violent partner (Ray Liotta). "We Own the Night" (2007) — A nightclub owner in '70s Brooklyn (Joaquin Phoenix) is forced to take sides when his Russian boss threatens his father and brother (Robert Duvall, Mark Wahlberg), both dedicated cops. — By CAROL CLING