Producer eyes bringing Lamb's story to big screen
October 27, 2015 - 8:42 pm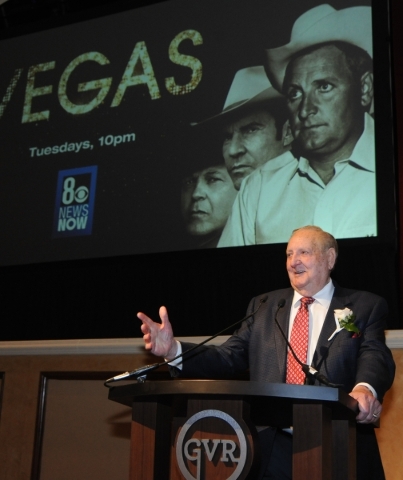 "Rush Hour" producer Arthur Sarkissian is hoping to finish what casino mogul Kirk Kerkorian started: the big-screen story of Las Vegas lawman Ralph Lamb.
"He's adamant about wanting to make the movie," said Alda Lanzone, Lamb's personal assistant and caretaker for the five years before his death July 3. He was 88.
Sarkissian, who met Lamb through Kerkorian about nine years ago, was the force behind getting Lamb's story on television. Sarkissian was the executive producer of "Vegas," starring Dennis Quaid as Lamb. The drama debuted in 2012 but was canceled after one season.
Kerkorian, one of Lamb's closest friends, started pushing the movie idea in the late 1990s, Lanzone said.
"He had an option on it. (Australian actor) Russell Crowe was to play Ralph. I think Ralph met with Crowe. Ralph was going to give him a horse," Lanzone said.
"We tried to get Crowe," said Sarkissian by telephone from Hollywood, where he is working on "Rush Hour 4."
Kerkorian died June 15 at age 98.
"To me Ralph was part John Wayne and part Clint Eastwood, and I don't mean that in a clichéd way," Sarkissian said. "He was a quiet tough guy … a straight-shooting cowboy. He had the same aura as John Wayne."
Sarkissian is committed to "telling the real story, not the candy-coated version," Lanzone said. She said Kevin Buckley, who worked for Lamb, "has been a catalyst in this, a driving force to maintain Ralph's legacy."
George Knapp, longtime investigative reporter at CBS affiliate KLAS-TV, Channel 8, said Tuesday he is close to completing a book about Lamb, who was sheriff from 1961 to 1978.
"I have not shopped it to a publisher yet, although Arthur Sarkissian said he might be of help with that," Knapp said.
"The book will tell the true story of Ralph Lamb, his various adventures, along with outrageous incidents and encounters that have not been made public," he added.
"From the very beginning of my conversation with Ralph about a book project, I advised him that it would be a mistake to sidestep or otherwise ignore some of the more sensitive points in his life. He agreed completely, and in the many hours we spent during the last three years of his life, he was always candid with me.
"Sheriff Lamb is a heroic figure, but he isn't a candidate for sainthood and never pretended to be otherwise," Knapp said.
A Lamb tribute featuring guest panelists is in the works for Jan. 26 in the main theater at the Clark County Library. Geoff Schumacher of the Mob Museum will moderate the event, which will run from 7 to 8:30 p.m.
The scene and heard
In Monday's column about the potential headliners for opening night of the new Las Vegas arena, I inadvertently omitted the word "tier" from a quote that referred to Adele. The sentence should have read: "But she would be in the second tier after McCartney."
And the sighting about the "Jersey Boys" cast members should have said they are headliners at Paris Las Vegas.
On this day
Oct. 28, 1968: Reviewers demand a relief pitcher after 31-game winner Denny McLain opens a 10-day headliner stint at the Riviera a few weeks after his Detroit Tigers win the World Series. Undaunted, the organ-playing McLain and his combo record an album, "Denny McLain in Las Vegas."
Oct. 29, 1987: The three main Rat Packers — Frank Sinatra, Dean Martin and Sammy Davis Jr. — appear together onstage for the last time when Dean and Sammy surprise Frank during his show at Bally's.
The punch line
"A comedian has been elected president of Guatemala. Apparently, I start next Monday." — Conan O'Brien
— Norm Clarke's column appears Sunday, Monday, Wednesday and Friday. He can be reached at 702-383-0244 or norm@reviewjournal.com. Find more online at www.normclarke.com. On Twitter: @Norm_Clarke.