Public Enemy still getting point across
October 26, 2007 - 9:00 pm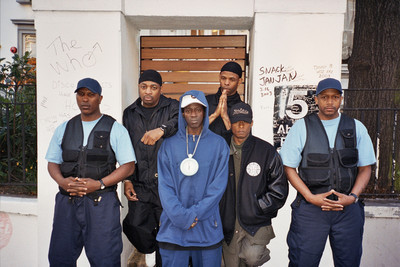 Chuck D's cell phone has just cut out for the sixth time, but the man still sounds undaunted, like a prizefighter who keeps peeling himself off the canvas even after his eyes have swollen shut.
"I'm driving through nothin' but mountain ranges," the Public Enemy MC explains of the series of dropped calls. "We can keep going though, no matter what."
Unsurprisingly, it takes a lot to silence this grizzled hip-hop lifer, whose voice still booms like shotgun fire reverberating in an empty room.
While fellow New York City MC Nas may have famously declared hip-hop to be dead last year, a sentiment that Chuck D can understand if not acquiesce to, Public Enemy has continued to tour and expound upon a power-to-the-people ethos that's manifested itself in a deep catalog of idealistic, confrontational calls-to-arms.
PE's latest disc, "How You Sell Soul to a Soulless People Who Sold Their Soul???," is as powerful and envenomed as ever, driven by terse, clanging beats and steel-toed rhymes that sound like a riot-in-waiting.
"We always try and stay consistent," Chuck D says. "So even if our core audience left, when they come back, they find out that much of our ideology is the same as far as making sure that people of color are respected, that human beings respect each other and governments understand that civilization is important without them getting in the way."
Of course, PE's revolutionary zeal has always been balanced by renegade hype-man Flavor Flav, rap's leering id come to life, who seems to have sprung directly from a cartoonist's pen.
Now living in Vegas, Flav has become a household name in recent years with his hit reality show "Flavor of Love," a goofy, wild-eyed spectacle that contrasts sharply with PE's serious-minded politicking.
"His whole style is to swing people our way," Chuck D says of his larger-than-life band mate. "We tell people, 'Don't believe the hype,' so if they think that Flav is going to be representative of the total behavior of Public Enemy, then they're believing the hype. Flavor is a hall of famer without the TV show, but the TV show has illuminated him to a different audience, and then when they see what we're about, they're like, 'Whoa.' "
This yin and yang presence has always defined PE, who've long been one of hip-hop's most theatrical outfits, touring with their own security team, the SW1's, who take the stage in military fatigues.
"I think that musically, we're always able to say that power and speed count," Chuck D says, his phone connection wavering, his voice doing anything but. "We can get across any point that we have to get across."
Schedule, News, Photos
PUBLIC ENEMY ONSTAGE WHEN: Saturday, 5-6 p.m. WHERE: Jokers Wild Stage