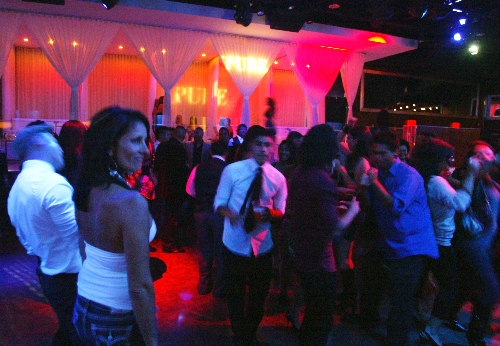 How does a pioneer Las Vegas nightclub like Pure continue to stay ahead of the curve?
By providing a fun, high-energy atmosphere? By giving patrons the chance to party along with A-list celebrities? By offering guests a variety of environments ranging from under-the-stars breathtaking to in-the-middle-of-it-all exciting? Sure, on all counts. But Matt Tiffany, Pure's general manager, figures there's also this: a premier level of customer service that allows every guest to feel like a VIP.
Pure opened at Caesars Palace on Dec. 31, 2004, and Tiffany figures that just as vital to the club's continuing success is "location, location, location, being inside Caesars Palace, right on the Strip, with a gorgeous view."
From the day it opened its doors, Pure also has been one of the most potent celebrity magnets in town, which makes it easier for guests to catch a glimpse of visiting A-listers.
"These huge celebrities would come, and they'd perform or just get a microphone and have a great night," Tiffany says. "Then they'd talk about what a great time they had here."
But, while A-listers have helped to put, and keep, Pure on the map, Tiffany says it's customer service that allows it to thrive.
"Anybody can get a bottle of Belvedere, I think, in any casino, because every casino has a club," he explains. "When you come to Pure, you're paying for the experience and you're paying for the VIP treatment."
Within the 38,000-square-foot club, guests also can enjoy four rooms that serve, in effect, as four miniclubs within Pure.
The White Room offers three bars, oversized seating and a raised VIP area above a dance floor. The Lounge has lush seating and "intimate nooks and crannies." The Red Room is a luxurious VIP haven. And the outdoor Terrace gives guests the chance to party under the stars and enjoy a killer view of the Strip.
"Here, the four different rooms are almost like four different experiences," Tiffany says.
Meanwhile, Pure's DJs do "a phenomenal job playing for the crowd," Tiffany says, building the club's aural palette mostly upon Top 40, hip-hop and house music.
Pure is closed on Mondays and Wednesdays. It's open from 10 p.m. to 4 a.m. Tuesdays and Thursdays through Sundays.
Covers vary, but figure on $20 for women and $30 for men. Unless there's a special event scheduled, locals get in for free on Tuesdays, Pure's locals and industry night.
For reservations and information, call 731-7873.
Contact reporter John Przybys at jprzybys@ reviewjournal.com or 702-383-0280.