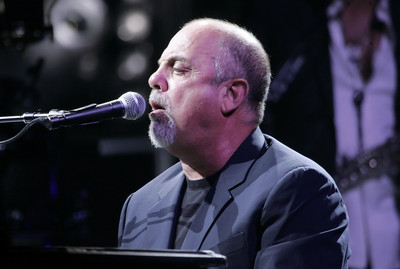 Thumbs up
Officials in Urbana, Ill., are honoring Chicago Sun-Times film critic Roger Ebert with a bronze plaque on the sidewalk in front of his boyhood home. The house, at 410 E. Washington St., is where Ebert lived from his birth in 1942 until 1961. In a column Tuesday, Ebert described the home as "a two-bedroom white stucco house with green canvas awnings, evergreens and geraniums in front and a white picket fence enclosing the back yard." Ebert began working as a critic at the Sun-Times in 1967.
Up for bid
A $60,000 Steinway baby grand piano autographed by Billy Joel is being auctioned to raise money for music students in New York City. The piano, autographed above the keyboard, is being sold for a program at Mount Carmel-Holy Rosary School in East Harlem. The program is run by Ten O'Clock Classics, a nonprofit group for which Joel is a board member. The Mount Carmel program is a feeder for the Music Advancement Program at the Juilliard School at Lincoln Center.
Will they?
Heidi Montag and Spencer Pratt of MTV's "The Hills" weren't at a panel for the William S. Paley Television Festival on Tuesday night because, according to the show's executive producers, they were preparing for their Saturday wedding. Adam DiVello said the show's crew was preparing to film the event. This isn't the first time the two have tried to wed on camera. They appeared at a Beverly Hills courthouse in December but didn't tie the knot. They said their Nov. 19 marriage ceremony in Mexico was only symbolic. Of the cast members at the panel, which included Lauren Conrad, Whitney Port, Audrina Patridge, Brody Jenner, Lauren "Lo" Bosworth and Stephanie Pratt, only Jenner, Bostworth and Pratt said they had been invited.
On a hunger strike
Next week, Mia Farrow will begin a hunger strike in solidarity with the people of Darfur. The actress and humanitarian says she will begin a "fast of only water" on Monday "as a personal expression of outrage at a world that is somehow able to stand by and watch innocent men, women and children needlessly die of starvation, thirst and disease." After the Sudanese government expelled international aid agencies from the country in March, Farrow said it moved her to begin the strike.
Feeling emotional
"It's an emotional day for me. That's good, that's OK. Lot of heart, lot of emotion." — Former Beatle Paul McCartney performing at the Coachella music festival in Indio, Calif., on the 11th anniversary of the death of his wife Linda.
Compiled by Melissa Sullivan from wire reports.