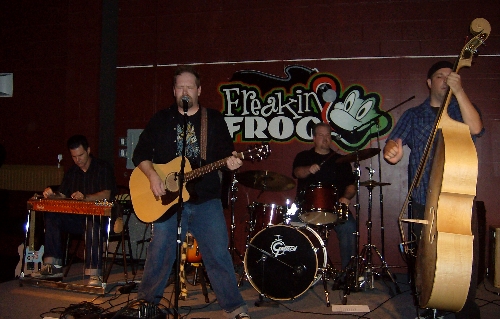 Connecting the dots between Johnny Cash and G.G. Allin — no, really — Quint & the Cowpunk Calamity come with some serious honky-tonk hellfire. Read on as the band's namesake tells us what's what:
What does Quint & the Cowpunk Calamity sound like?
"Kinda depends on: 1) How many beers you've had and 2) How many beers we've had. But really, it sounds like punk rock music played in a country-western style, with shades of rockabilly thrown in."
The band has roots in both punk and country. What are some of the shared traits between the two genres?
"There are two things to think about. One is boring, technical, music stuff. Many of the chord progressions and melodies of the punk music I love are very similar to old school bluegrass music. When I'm teaching guitar lessons, and the student is learning a traditional bluegrass tune, I will sometimes for fun start playing eight-to-the-bar power chords in a punk rock fashion instead of the traditional accompaniment and it works great. Sure, one genre uses more acoustic instruments and fiddles and steel guitars, and the other loud, distorted, out-of-tune guitars, but they're far more similar than a lot of people get.
"But the true similarity, I believe, comes not in the actual music, but in the attitude. What is punk rock? I have always believed it's about attitude. It's about being anti-establishment, not bowing to 'the man,' cherishing free thought and not following the mainstream. If this is truly the spirit of punk rock, then who's more punk rock than the outlaw country artists?"
Contemporary country has become synonymous with pop. What's your take on the state of the genre these days?
"Well, a lot of people are quick to say, 'Country music just sucks nowadays,' but I take a bit of umbrage with that. To me, mainstream music has always sucked to some extent. I think of mainstream music as the equivalent of a commercial. What you have are these giant corporations (major record companies) that are trying to sell their product. To do this, they produce a bunch of three- to four-minute commercials and call them songs. They then play these 'ads' on the radio in constant rotation all day long until people are brainwashed into liking them and buying the product.
"When people say that country music nowadays sucks, I have to say 'No!' Wayne 'The Train' Hancock is playing today. Steve Earle and Robert Earl Keene are playing today. Bob Wayne, Hank III and Eddie Spaghetti are playing nowadays, so there's a lot of good country music out there. You just have to go out and get it and not expect the radio stations or the corporatist system to throw it on your plate."
You guys make for some good drinkin' music. But what are some of your favorites when tippin' a few?
"Well, my philosophy is that it's never as fun to drink alone or with strangers as with good friends. With that philosophy in mind, I would say I like most to tip a jar while listening to my friends in bands like Jaxy & the 357's, The Lesser You, The Yeller Bellies, The Lucky Cheats, The Tinglerz, Monster Zero and especially The Lurks. One of these bands is playing locally practically every weekend, and anybody reading this should really head out and check out the local scene and have a drink. They really are fun bands to party with."
Hear Quint & the Cowpunk Calamity at myspace.com/cowpunkcalamity.
Contact reporter Jason Bracelin at jbracelin@review journal.com or 702-383-0476.