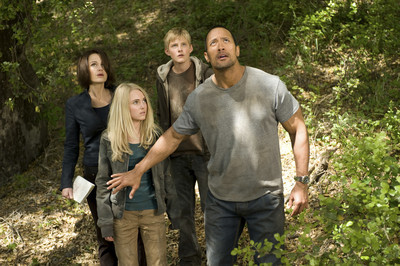 It's a thrill ride, all right. Just don't expect "Race to Witch Mountain: The Experience" to open at Disneyland anytime soon.
This "re-imagining" of the 1975 Disney favorite "Escape to Witch Mountain" promises, and delivers, fun aplenty. (To say nothing of multiple winks and nods to its inspiration, about two orphans with mysterious powers — and even more mysterious origins.)
In keeping with its 21st-century origins, this revamp goes the original bigger, if not always better, in almost every department.
It's got elaborate special effects and explosive action sequences. Instead of a scheming millionaire chasing the kids, there's a sinister government agency — and an extraterrestrial terminator. It's got an appealing star in action-guy-turned-Disney-guy Dwayne Johnson (the actor formerly known as The Rock), who reteams with "Game Plan" director Andy Fickman for another family-friendly romp.
And, of course, it's got Vegas — which proves more than ready for its latest cinematic close-up as a hotbed of watch-the-skies portents.
It's no coincidence that astrophysicist Alex Friedman ("Watchmen's" Carla Gugino), an ardent believer in extraterrestrial life, has come to the Area 51 gateway of Las Vegas to speak at a UFO conference that's more costume cavalcade than serious inquiry.
It seems a coincidence, however, that the cabdriver who gets her to Planet Hollywood happens to be Jack Bruno (Johnson).
The hard-luck Bruno, who drives up and down the Strip but lives at a ramshackle Fremont Street motel, has been trying to keep on the right side of the road after getting caught working as a local crook's wheelman.
But Jack's plan goes out the window when two teens, Sara ("Bridge to Terabithia's" AnnaSophia Robb) and Seth (Alexander Ludwig of "The Seeker: The Dark Is Rising"), jump into his cab and direct him to drive them to an isolated desert outpost.
Ah, but it's not any isolated desert outpost. And Sara and Seth aren't just any teens.
They're visitors from a distant world, on a mission to save their home planet, and ours, from impending disaster — and they need Jack's help to outrun the murderous cyborg chasing them. To say nothing of a relentless government agent (Ciaran Hinds) determined to add some real live aliens to his collection of UFO artifacts.
With all these story lines crossing, crisscrossing (and, in some cases, double-crossing), "Race to Witch Mountain" stays true to its title, hardly stopping to catch its breath as it zooms from one action sequence to the next.
Working not only from the 1972 Disney movie (and the Alexander Key book that inspired it), screenwriters Matt Lopez ("Bedtime Stories") and Mark Bombeck ("Live Free or Die Hard") manage to keep the multiple plot threads from getting too tangled.
They also institute some major changes, from the movie's Las Vegas setting to the creation, and elevation, of the Jack Bruno character as the movie's focal point. (In the original, it was all about the kids.)
Yet director Fickman (a native of America's other UFO capital: Roswell, N.M.) captures the genial, hokey-smokes vibe of those vintage Disney live-action adventures — and displays his obvious affection for the original "Witch Mountain" with numerous watch-for-'em inside jokes. (Which I wouldn't dream of spoiling.)
Fickman also makes great use of the movie's vivid Vegas-centric visions. Red Rock serves as an appropriate backdrop for some of the movie's spacier doings, while in-town scenes include such familiar sights as those ubiquitous Glen Lerner billboards. (Although Fickman just can't resist starting a breakneck car chase on the Strip, only to have the cars screech around a corner to zoom past the El Cortez on Fremont Street.)
But "Witch Mountain's" winning cast members manage to sell most of the malarkey with little difficulty.
Hinds (a familiar face in everything from TV's "Rome" to "There Will Be Blood") makes a suitably implacable foe, while "Spy Kids" veteran Gugino provides smarts, warmth and dizzy humor in equal measure.
Robb and Ludwig effectively embody flat-affect, wide-eyed alien teens who learn to unleash, and embrace, their inner children — to a point. Because they're in full command of the unearthly powers, however, they're never as vulnerable as their younger counterparts in the original.
Thus, it's no surprise that Johnson dominates "Race to Witch Mountain" with the same ease he used to pummel opponents in the wrestling ring. Utterly at home in the movie's slam-bang action sequences, Johnson also displays a wry comedic flair that often (but not always) overcomes the script's lamest lines. (Hey, not even the big guy can do anything with the likes of "We've gotta get this thing up in the air!" and an all-purpose "Let's go!")
Johnson's forceful presence can't help but dominate the proceedings — which may prove a definite drawing card for audiences. (It's also a natural set-up for a sequel.)
Yet, while "Race to Witch Mountain" may be diverting, there's nothing to suggest that, unlike its inspiration, someone will want to update it three decades from now.
Contact movie critic Carol Cling at ccling@reviewjournal.com or 702-383-0272.
RELATED STORY
Sin City, Disney collide onscreen
Review
99 minutes
PG; sequences of action and violence, frightening and dangerous situations, thematic elements
Grade: B-
at multiple locations
Deja View
Southern Nevada has long been a favorite setting for strange doings in the desert — and on the Strip — in a variety of memorable titles:
"The Amazing Colossal Man" (1957) — Radioactive fallout transforms an Army officer into a rampaging giant who stalks the Strip.
"Honey I Blew Up the Kid" (1992) — In a sequel to the 1989 Disney hit "Honey, I Shrunk the Kids," an absent-minded inventor (Rick Moranis) transforms his 2-year-old into an Amazing Colossal Toddler who towers over the Strip.
"Star Trek: Generations" (1994) — Valley of Fire State Park portrays the Planet Viridian 3 as Capt. Jean-Luc Picard (Patrick Stewart) turns to legendary Enterprise commander James T. Kirk (William Shatner) to vanquish a murderous foe.
"Mars Attacks!" (1996) — After landing in Pahrump, the little green beasties hit the Strip (and blow up the Landmark), in director Tim Burton's sci-fi spoof featuring (among others) Jack Nicholson, Annette Bening, Pierce Brosnan, Glenn Close, Danny DeVito and, as showroom legend Tom Jones — Tom Jones.
"Transformers" (2007) — Warring alien armies (inspired by the Hasbro toys of the '80s and the subsequent TV cartoon) bring their battle down to Earth — at, among other places, Hoover Dam.
— By CAROL CLING