'Ragtime' author, E.L. Doctorow, dies at 84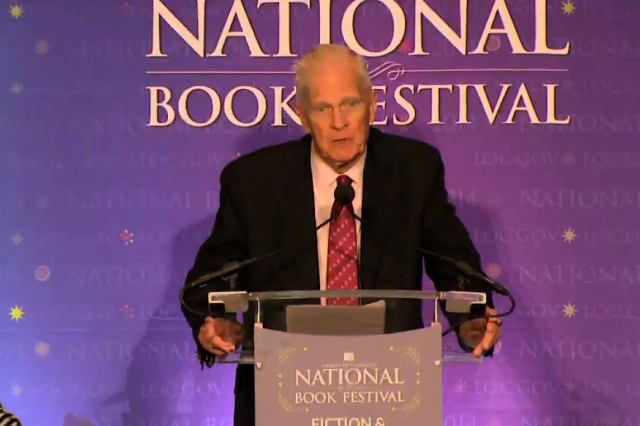 Novelist E.L. Doctorow, whose books were almost always about the past but often stirred comparisons to the present, has died. He was 84.
His son, Richard, told The New York Times and the Los Angeles Times on Tuesday that the cause of death was complications from lung cancer.
President Barack Obama, who purchased a copy of Doctorow's "Ragtime" on a trip to Washington's Politics and Prose bookstore in 2013, described Doctorow as "one of America's greatest novelists" in a tweet Tuesday.
"His books taught me much, and he will be missed," the tweet said.
Doctorow's books grappled with a variety of themes, mixing styles, real-life figures and fictional characters. They included the snapshots of Sigmund Freud, Theodore Dreiser and Coalhouse Walker Jr. in 1975's "Ragtime," the sunny memoir-like telling of 1985's "World's Fair" and the Bronx working-class argot of 1989's gangster tale "Billy Bathgate."
"I've always found it necessary to have the illusion that I don't have a style — that each book demands its own style," Doctorow told CNN in 2005.
Most of the books use fictive narrators, he said, and "each of those narrators has his own place in the world — his own language."
"Authors that are too aware of their style are in trouble," Doctorow said. "I know that Hemingway finally began to hear his own voice, and I think that was the beginning of the end for him."
Doctorow's work earned numerous honors, including the National Book Award, three National Book Critics Circle Awards and two PEN Faulkner Awards, according to his official website.
While many people described him as a historical novelist, Doctorow bristled at that characterization in an interview with NPR last year.
"I don't agree with that. I think all novels are about the past, the near past, the far past, some of them have a wider focus and include more of society and recognizable events and people," he said.
"The historical novel seems to me a misnomer, and many of my books take place in different places, in the Dakotas, or down south in Georgia or the Carolinas, so it's just as valid to call me a geographical novelist as an historical novelist. I think of myself really as a national novelist, as an American novelist writing about my country."